Modi's critics should never stop talking about 2002 riots
Modi's critics' unblinking focus on the 2002 riots all these years has compelled him to work harder than he otherwise might have to project himself as an agent of development. Perhaps they should never lose that focus.
A little over a month after the 2002 riots in Gujarat, the then Prime Minister AB Vajpayee, on a visit to the BJP-ruled State, counselled Chief Minister Narendra Modi - at an open forum, in response to a question from a journalist - to abide by "raj dharma" and not discriminate on the basis of religion or caste.
As Vajpayee's advice to Modi, delivered in his trademark halting rhetorical style, wound on, Modi, who was sitting right next to the Prime Minister, appeared ill at east over what sounded an awful lot like public criticism of him personally for his government's failure to control the riots. In contemporaneous videos of that moment (here), Modi's manner suggests a certain shiftiness; at one point, as Vajpayee holds forth on the essence of raj dharma, Modi mutters sotto voce: "Hum bhi wahi kar rahein, saab"  (I'm doing precisely that). Perhaps in order to save face for Modi, Vajpayee immediately responds to say that he believed Modi was abiding by those principles of governance.
The Modi of April 2002 was a vastly different man from the Modi of today - physically and philosophically. A low-level BJP fuctionary who became Chief Minister by happenstance, Modi bore then an amazing resemblance to a beady-eyed golly doll - unlike today, when he is fashionably attired in custom-designed kurtas  and has found a sonorous political voice. A newbie Chief Minister in 2002, his tenure had gotten off to a disastrous start with the Godhra train carnage and the riots that followed. He had none of the swagger that we see in him today, when on the strength of his developmental record of the past decade, he outlined for a packed audience at the India Today Conclave on Saturday an alternative developmental model for India.
For two hours, Modi spoke on how Gujarat had progressed under his watch over the past decade. Weaving his narrative with anecdotes that showcased his readiness to embrace good ideas from other States and his eagerness to experiment with developmental models, Modi made a case for replicating them at the national level. He urged his audience, in a manner of speaking, to reimagine India in the context of its infinite developmental possibilities if only political leaders could overcome ideological rigidity - and learnt to embrace good ideas wherever they may originate from.
It wasn't a political speech, but he did manage to score political points in a snark manner - as when he recalled specific instances when he had presented sound ideas on urban development to Prime Minister Manmohan Singh, and even sent him a feasibility report, which had sadly not seen the light of day.In contrast, he said, he had implemented it in Gujarat. "India doesn't need Acts, it needs action," he said, with a droll narrative about a hunting group that has left its guns behind in their safari vehicles and, when confronted by the lion, tamely pulls out its gun licence...
Likewise, Modi showed what was possible to do with the creaking old railways system - by conceptualising "pilgrimage packages" and involving the private sector.
In all these aspects - in pointing to the infinite possibilities that India held -  Modi sounded, as others have noted in an earlier context, like Ronald Reagan, who visualised America as a "shining city on a hill" (here). In Reagan's mind, America was a "tall, proud city, built on rocks, stronger than oceans, wind-swept, God-blessed,  and teeming with people of all kinds." It was a city with 'free ports, which hummed with commerce and creativity." The India that Modi asked his audience to imagine was much like that.
And yet, and yet, in the last five minutes of a two-hour-plus interaction, during which he kept the focus sharply on his developmental vision for India, Modi ran into that old ghost of the 2002 riots. Did he regret what happened on his watch, even if he had been cleared of personal culpability in the riots, he was asked. His response this time was markedly different from earlier times: far from sounding defensive, he said his views on the riots, including his submissions before the Supreme Court, were a matter of public record, and anyone other than the cottage industry that thrived on harping on the riots to advance their careers could take them as representing his views, he said.
That interaction symbolises the distance that Modi has traversed as a politician in the past decade, from someone who shifted uneasily when he was being lectured to on raj dharma - to someone who is asked at every forum about whether he is ready for prime ministership.
And yet, that interaction also showed that conversations about Modi happen in parallel universes. Modi himself, and his vocal army of supporters, appear to reckon that the events of 2002 bear no relevance today, and the only thing that matters is that Modi's vision for India should be given a chance to play out politically.
And with his detractors, none of his "accomplishments" in advancing Gujarat's developmental agenda - and in asking for them to be experimented with at a national level - count for anything because, in their estimation, he has expressed no contrition for the riots of 2002.
Both sides seem to be talking past each other; neither is willing to acknowledge that the other side has even half a point.
History doesn't allow for "what-if" scenarios, but it's possible to argue that much of the developmental agenda that Modi has embraced since 2002 emerged, at least in the early days, as a response to the compelling need for his administration to "move beyond" the 2002 riots. Much like the "social contract" that Chinese rulers drew up with their people in the wake of the Tiananmen Sqaure crackdown of 1989 - we will deliver development, but you must forget what happened in 1989 - Modi's emphasis on developmental advancement emerged from wanting to change the political narrative (more here). There is nothing in Modi's record earlier than 2002 that suggests he would become the developmental messiah that he is seen to be today.
In that sense,  the harsher the critics' focus on the 2002 riots, the more determined has Modi been in advancing his developmental agenda.  Over time, he has been able to connect the developmental dots far better than any other politician - and, more important, has been able to articulate them in a fashion that lay persons can relate to.  Some of his ideas today, such as the idea on solid waste management for India's cities (which he submitted to Manmohan Singh), would have been enthusiastically embraced by the UPA had they come from a Congress leader.
In other words, the critics' unblinking focus on the 2002 riots all these years has compelled Modi to work harder than he otherwise might have to project himself as an agent of development - and spin off ideas for reimagining India. That's an enterprise that's well worth continuing...
World
"Narendra Modi, the prime minister of India was right when he said the time is not for war. It is not for revenge against the West or for opposing the West against the East. It is the collective time for our sovereign equal states to cope together with challenges we face," Macron said.
India
The Cheetah Conservation Fund (CCF) said that India is now working with South Africa to bring cheetahs from there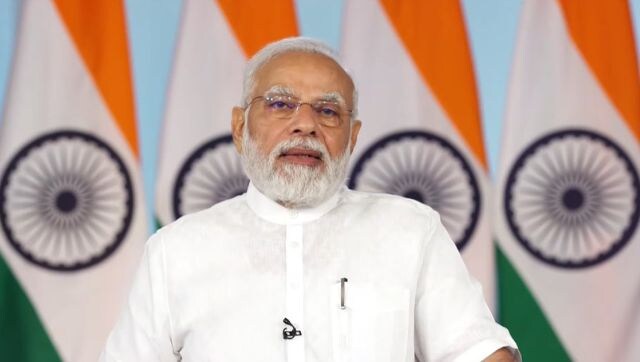 Explainers
Prime Minister Narendra Modi, on a two-day trip to Gujarat, laid the foundation stone for the terminal expected to be operational in 2026. The Bhavnagar project will be developed through a public-private partnership with Padmanabhan Mafatlal Group and the UK's Foresight Group taking the lead