Modi's challenge: Transforming from an Advani to Vajpayee
Brand Modi is trying to live beyond the First impression created about him - that of a Hindutva hardliner. He wants to abandon his Advani cloak and emerge as Vajpayee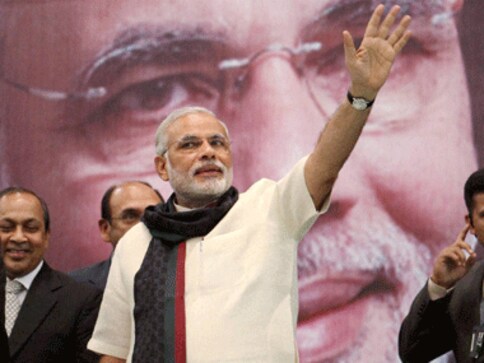 Is the Narendra Modi we saw yesterday the Modi India is willing to buy? The answer to this question lies in asking this question: will people believe that LK Advani can become an Atal Behari Vajpayee?
This is the challenge Brand Modi is up against, and for this we can learn lessons from the Advani-Vajpayee era, and how their brand images contributed to being who they were and what they could ultimately achieve.
Let's understand Brand Vajpayee first.
Journalist Tavleen Singh, in her very interesting book Durbar, recounts one of her earliest reporting experiences in Delhi. The year was 1977 and the state of internal emergency declared by Indira Gandhi was still in effect. The opposition leaders had come together to address a rally at the Ram Lila Maidan in Delhi.
The leaders started to arrive in their white Ambassador cars by around six pm in the evening. The ground was full. And the boring speeches started one after the other. As Singh writes in Durbar: "I thought people might start to leave unless somebody said something more inspirational. It was past 9 pm and the night had got colder although the rain had stopped."
But nobody had left. They were all waiting for a certain man called Atal Bihari Vajpayee to speak. By the time Vajpayee rose to speak it was well past 9.30 pm. The crowds clapped chanting 'Indira Gandhi murdabad, Atal Bihari zindabad'. As Singh puts it, "He acknowledged the slogans with hands joined in a namaste and a faint smile. Then, raising both arms to silence the crowd and closing his eyes in the manner of a practiced actor, he said, 'Baad muddat ke mile hain deewane.' (It has been an age since we, whom they call mad, have had the courage to meet).
He paused. The crowd went wild. When the applause died, he closed his eyes again and allowed himself another long pause before saying, 'Kehne sunne ko bahut hain afsane.' (There are tales to tell and tales to hear). The cheering was more prolonged, the last line of a verse that he told me later he had composed on the spur of the moment. 'Khuli hawa mein zara saans to le lein, kab tak rahegi aazadi kaun jaane.'(But first let us breathe deeply of the free air for we know not how long our freedom will last). The crowd was now hysterical."
Such was the connect Vajpayee had with the masses. Having heard him give speeches to a large audience of over a lakh, I can safely say his pauses, which became a butt of jokes later when people saw him make speeches on television, would mesmerise the entire audience when he spoke to them live.
In the Lok Sabha election that followed, the leading opposition parties came together to form the Janata party. Vajpayee's party Jan Sangh was also a part of it. The Janata experience was soon over and by the 1984 Lok Sabha elections the Jan Sangh, in its new avatar as the Bharatiya Janata Party (BJP), was down to two seats.
This is where Brand Advani made a difference to the BJP.
From 1984, Advani built the party on the ideology of hardcore Hindutva, taking the number of seats that the party had in the Lok Sabha to 88 in 1989 and 120 in the 1991. This fast rise of the party was built on slogans and ideas like "Saugandh Ram ki khaate hain mandir wohin  (i.e. Ayodhya) banayenge" and "Ye to kewal jhanki hai, Kashi Mathura baaki hai". Vajpayee took a backseat for a while. It is one thing to instantly connect with the masses when you address them and entirely another thing trying to build a political party from scratch. And this is where Advani flourished.
In the 1980s and the early 1990s, the BJP espoused causes like making temples in Ayodhya, Kashi and Mathura. It talked about banning cow slaughter, having a uniform civil code, and doing away with Article 370, that gives special status to Jammu and Kashmir. All this was music to the ears of voters across Northern and Western India and the party catapulted from being a political front of the Rashtriya Swayamsevak Sangh (RSS) to having some identity of its own.
In the 1996 Lok Sabha elections, the BJP won 187 seats in the Lok Sabha and was invited to form a government. At that point of time it was Vajpayee and not Advani who had played a larger role in reinvigorating the party, who became Prime Minister of the country.
While Vajpayee may have been a taller leader, there was practical considerations at play as well.
The BJP on its own did not have the strength to form the government. It needed other parties to support it either by joining the government or supporting it from the outside. And the chances of that happening were better with a moderate Vajpayee at the helm of things than a hardcore Advani who, by then, was looked upon as a man who had played an important part in bringing down the Babri Masjid. At least, that was the perception among a host of political parties.
So Advani had to make way for Vajpayee as Prime Minister. BJP's first tryst with power lasted less than two weeks and even with Vajpayee leading, it could not attract the support required to prove its majority in the Lok Sabha. But things changed in the years to come and Vajpayee was the Prime Minister from March 1998 to May 2004.
His moderate image and larger than life persona helped him rule the country with a rag-tag coalition of more than 20 political parties.
Narendra Modi is now trying to convert his image from that of a hardcore Advani of the 1990s to that of a more moderate Vajpayee who ruled the country. At least, that is the conclusion that one can draw from the speech he made at the Shriram College of Commerce in Delhi, yesterday.
In the speech he said several things that tried to project an image of a moderate 'Modi'. Lets sample a few lines.
- The youth of the nation has its finger on the mouse of computers and is changing the world. India's journey has gone from snake charmers to mouse charmers
- The ambassador of a nation asked me what major challenges India faces and I said the biggest one is that how we use our opportunities. When asked what the opportunity was, I said the youth. Europe buddha ho chuka hai, China buddha ho chuka hai.
- This nation is being ruined by vote bank politics. This nation requires development politics. If we switch to politics of development, we will soon be in a position to bring about lasting change and progress.
- We need P2G2. Pro-People Good governance
- Why shouldn't we make the 'Made in India' tag a statement of quality for our manufactured products?
If the above statements are viewed in isolation, Modi does not come across as a hardliner that he is typically made out to be. He comes across as a man who has some vision for India.
Politically this makes sense for both BJP as well Modi. If Modi is able to soften his hardcore image in the days to come, he might start to appeal to people beyond his home state of Gujarat and votaries of hardcore Hindutva. He might also start to appeal to political parties who currently won't touch him with a bargepole given his hardcore pro-Hindutva image.
This is very important in this era of coalition politics where no single political party can form a government on its own and sticking to any ideology becomes a burden beyond a point. If this strategy of projecting a softer Modi does work, it would mean that the BJP would be going back to its soft Hindutva strategy that it followed during the reign of Vajpayee. As we all know this strategy worked wonders for the BJP till it was abandoned in favour of the India Shining strategy.
A softer Modi will continue to appeal to the traditional supporters of the BJP and at the same time appeal to those who currently have doubts about him. That seems to be the idea behind the new Modi that India saw for the first time in Delhi yesterday.
Whether that happens remains to be seen. As marketing guru Seth Godin writes in All Marketers are Liars: "Great stories happen fast. They engage the consumer the moment the story clicks into place. First impressions are more powerful than we give them credit for."

Given this, getting rid of first impressions in the minds of the voter is very difficult unless you are the Congress party, and do not stand for anything. So it remains to be seen whether the people of India will buy the new story that Modi is trying to project at the national level. But then we all have to start somewhere.
Vivek Kaul is a writer and can be reached at vivek.kaul@gmail.com
Politics
Accused of sidelining veterans, Narendra Modi today reached out to the elders in BJP, hailing the "sacrifice" of "four generations" of partymen and leadership of Atal Bihari Vajpayee and L K Advani and said they continue to inspire him
Politics
Veteran BJP leader LK Advani, who created a flutter by voicing apprehensions of imposition of Emergency again in India, on Friday said he was against "one-man shows" in political parties and that today's leaders should be modest like Atal Bihari Vajpayee.
Politics
From a patriarchal system where the elders of the Rashtriya Swayamsevak Sangh and of the party decided things, Modi has forcibly brought in elements of an open system where merit and democratic appeal inside the party will determine its direction.