Modi's barb on Sonia over AgustaWestland leads to vocal protests by Congress
For the second successive day, Congress members in the Lok Sabha tried to raise the issue of Prime Minister Narendra Modi's remarks about Congress president Sonia Gandhi on the AgustaWestland chopper deal
New Delhi: For the second successive day, Congress members in the Lok Sabha tried to raise the issue of Prime Minister Narendra Modi's remarks about Congress president Sonia Gandhi on the AgustaWestland chopper deal during election rallies in Kerala and Tamil Nadu.
As soon as Question Hour was over around noon, Congress members tried to raise the issue.
Speaker Sumitra Mahajan said she was disallowing all adjournment motions and added that a "privilege motion" from Congress member M. Veerappa Moily was under her consideration.
She, however, did not allow members to raise or speak on the issue.
The Congress members kept protesting with slogans like "Pradhan Mantri jawab do (Prime Minister please reply)" during Zero Hour.
The Congress members insisted on a response from the government on the prime minister's comments.
On Monday, too, Congress members had tried to raise the issue and had later staged a walkout during Zero Hour after their repeated attempts to raise the issue in the lower house of parliament were not allowed by the chair.
Congress members, led by Mallikarjun Kharge, on Monday sought a clarification from the government on a statement by Prime Minister Modi linking the "Italian connection" in the chopper deal to party chief Sonia Gandhi.
Prime Minister Modi on Sunday during election rallies in Kerala said it was not the Indian government but a court in Italy that has named the Congress chief.
"Do you have anyone you know in Italy? Do you have relatives in Italy," Modi asked the crowd at an election rally, and then answered the query himself, "Everyone knows who has an Italian connection."
The issue has also figured in the Rajya Sabha during the last two days.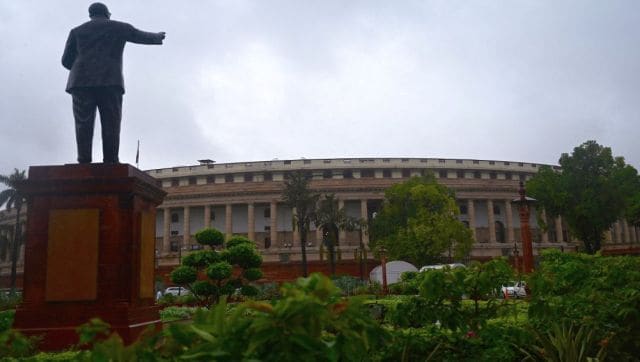 India
Prime Minister Narendra Modi along with Rajya Sabha Chairperson M Venkaiah Naidu, and Lok Sabha Speaker Om Birla will launch the new channel on International Day of Democracy
Politics
Earlier on Saturday, the home ministry reduced Supriyo's security category from the 'Z' to 'Y' category
Politics
Addressing the foundation day of the All India Mahila Congress, Gandhi said that the ideology of the Congress was completely opposite of the BJP-RSS and only one of the two ideologies can rule the country.