Modi, Rahul are 'rakshasas' of corruption in India, says Kejriwal
Speaking during a Google Hangout in association with Network 18, Arvind Kejriwal said it was a 'communication problem' that led to the perceived anger among people.
Aam Aadmi Party national convenor Arvind Kejriwal on Monday defended his party's decision to quit governing Delhi 49 days after taking oath but admitted the manner in which it was done was sudden.
Speaking during a Google Hangout in association with Network 18, Kejriwal said it was a communication problem that led to the perceived anger among people.
"I admit we suddenly resigned... no one expected us to and people were shocked with that... the decision to resign was fine but it came as a shock. If we had to go to the people and explain they would have been fine with it," he said during the Hangout which was moderated by editor-in-chief of IBN-18 Rajdeep Sardesai.
Here are the highlights of what Kejriwal said on various issues:
On quitting government within 49 days and facing re-elections
After we quit the government, both the Congress and BJP ganged up against us. The Congress party did not want elections to happen again because of a hung assembly. We did expect elections to happen along with Lok Sabha elections. There was no need for an assurance from the Lieutenant Governor, it should have happened as natural course. We were the ones who went to the Supreme Court. If we had to run away why would we be ready to contest elections again?
On the allegations that they failed to govern Delhi
There are two types of people : those who have experienced the benefits of our 49 day government -- reduction in CNG prices, electricity rates, decrease in corruption among others. Now that we have gone, they are upset. They are angry that we quit, but they want us back.
The other set of people are those who wanted Kejriwal for CM and Narendra Modi for PM. This section of the middle class is very angry that Kejriwal is now contesting against Modi.
On perception that Mukhtar Ansari withdrew to give AAP support
We have not spoken or had any meeting with him. We have also not asked for his support. He has not said whether he will support us, he has just decided not to contest. There are no Mukhtar Aansari supporters, there are only his workers. I can categorically assure you that we will have no communication with him.
On contesting against Modi only from Varanasi
I didn't know he was going to stand in Vadodara... he had initially said only Varanasi, I asked the people during a rally and they agreed. I didn't think he would run and contest from two places.
If there indeed is a Modi wave why should he contest from two places? He should have just contested from one. What is he so afraid of? Also, what do I gain by contesting against Modi? Is it to get media coverage?
On whether he is hungry for power
If I wanted to go to Parliament, I would have just contested from Delhi and won. That is not my aim. I want to tell the people that Sonia, Rahul and Modi are all the product of one political system. Modi, Rahul are the rakshasas of corruption in India.
On pre-poll surveys giving AAP dismal numbers for the upcoming polls
When AAP contested the Delhi elections, you'll had said the same thing. There is something divine happening in this country... I'm returning from Punjab after campaigning there and I have never seen such support before. I urge you to put your confidence in the people of India and not your surveys.
Whether Modi's promises of growth will be chosen by people over anti-graft
You think economic growth is possible without eradicating corruption? Fruits of economic growth will go to a few people. Growth in GDP doesn't translate to benefits for everyone, but only for a select few.
On whether AAP should have had a better strategy
Elections are not about my ambitions, if it was about an ordinary party, then yes we would have strategised a growth chart. AAP or Kejriwal isn't important for us, the country is.
Who fought the Delhi polls? Did anyone know our candidates? They were ordinary people who defeated Congress and BJP candidates who have won for 20 years.
AAP is a platform where people can come and clean up governance and politics in India.
On allegations of AAP candidates having criminal records
We are very careful about giving out tickets to candidates. Some have hidden their crime record from us and we gave them tickets. We then came to know about it only when they filed their nominations. We immediately cancelled their candidature.
The people you are talking about are those who have had cases against them due to activism. There are so many cases against me, I'm the biggest criminal in my party.
In fact, Prashant Bhushan does an investigation into potential candidates before it goes to the internal Lokpal.
On reservations in the education sector
There is a section in society facing untouchability and oppression in states such as Uttar Pradesh, Madhya Pradesh and Bihar. It still exists. Such people should get reservations and support from society. It has been proved that families of those who have got reservations, have benefited.
We felt that reservations should be limited to just one family member so that a larger number of people benefit.
If you have political will, education in government schools can be at the same level of private schools. In one generation we can level education across sections.
On being repeatedly slapped during rallies
I think it's tragic that people think I did it myself, as in stage managed it. We have attacked people like Salman Khurshid, Sheila Dikshit, Narendra Modi, Mukesh Ambani, Nitin Gadkari -- you think they'll just let us go so easily?
Have you ever thought about why BJP and Congress don't attack each other and instead only attack us? Because they have an understanding. Why hasn't the BJP government in Rajasthan initiated action against Robert Vadra in the land scams? Only we do. They won't because they have mutual interests.
Of course I'm fearing more attacks on me. Since when have attacks begun? since I went to Gujarat... since then it has been repeatedly happening. Since we have challenged such a big figure (Modi) you think they will spare us?
On AAP being synonymous with anarchy
Please go to people's houses and see the chaos inside them. So many Punjabi youth are facing drug problems. The drug problem has a green signal from political parties. Yes we are creating chaos but inside the homes of politicians. They are the ones saying there is chaos, we need to demolish this corrupt system and establish a new one.
AAP only an urban phenomenon?
Our priority is to improve condition of farmers. We must give rural areas more job opportunities. Everyone is migrating to urban areas. If we provide rural areas with infrastructure, the rural-urban migration will end.
Perception that we have no presence in rural areas is wrong. We went to Punjab and Haryana and we had many people welcoming us. Media has large presence in rural areas through penetration of television and people know about us.
On constant flip-flopping and AAP being in a hurry
I agree we have changed decisions sometimes, there is nothing wrong with that. We have changed our statergy, but no decision was illegal or immoral.
We are in a hurry because this country won't last for too long. We don't care if AAP remains or not, we have to save the nation.
On chances against Modi, Rahul
In Amethi, we are going to defeat Rahul by 2 lakh votes. In Varanasi, people say they will vote against Modi. In fact, after resigning I travelled across the country and have not seen any Modi wave... It's only on your television screens.
On whether AAP is ready for investigation into foreign funding
You think we have to be ready for it? does the law ask you if you are ready for an audit? I-T will come and raid your house and just slap a notice on you. We don't have to be ready for it. we are a part of the country and we abide by law.
AAP has not got a single rupee from the Ford Foundation. The Home Ministry has said BJP, Congress have got foreign funding not AAP. I'm willing to go to jail if I have got foreign funding.
On whether AAP will play a role in forming government at the Centre
We will not support or take support from either the BJP or the Congress. BJP will get less than 200 seats, I don't know what will happen to the Congress.
Find latest and upcoming tech gadgets online on Tech2 Gadgets. Get technology news, gadgets reviews & ratings. Popular gadgets including laptop, tablet and mobile specifications, features, prices, comparison.
Politics
The Election Commission has allowed all recognised parties 30 star campaigners each, while for unrecognised parties the number is down to 20
India
India has been ranked lower than its neighbours, including Pakistan (88), Nepal (73) and Bangladesh (75), in the global report released recently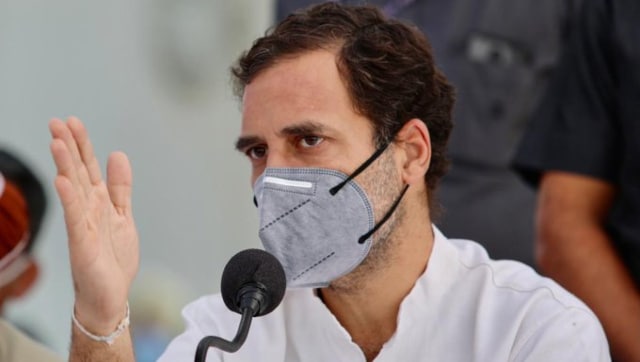 India
"The real danger to India isn't that our prime minister doesn't understand. It's the fact that nobody has the guts to tell him," Rahul said on Twitter, attaching a video clip of Narendra Modi suggesting use of wind turbines to produce oxygen