Modi-mukt Varanasi? Yogi-mukt Gorakhpur? Kapil Sibal's hints after Priyanka Gandhi's entry into politics
When the news of Priyanka Gandhi's entry into active politics broke on Wednesday, Kapil Sibal had welcomed her into the political realm, saying that she will 'energise cadres and be a catalyst for the rising fortunes of the Congress Party.'
Kapil Sibal's latest tweet on Priyanka Gandhi entering politics has raised speculations that she may also be readying to make her electoral debut in 2019 Lok Sabha polls

Sibal stopped short of naming any names but said that Priyanka will make Varanasi and Gorakhpur free of Modi and Adityanath

Earlier, Congress leader Abhishek Manu Singhvi had also commented that Priyanka's entry into politics will give sleepless nights to Adityanath and Modi
Kapil Sibal's latest tweet on Priyanka Gandhi's formal induction into Congress has raised speculations that apart from the party post, the Congress heiress may also be readying to make her electoral debut in 2019 Lok Sabha polls. In a not so veiled attack at Prime Minister Narendra Modi and Uttar Pradesh chief minister Yogi Adityanath, Sibal stopped short of naming any names but said that Priyanka will unseat ...... from the two high profile constituencies.
Sibal's tweet came on Thursday, a day after Priyanka took charge of the All India Congress Committee (AICC) in the eastern Uttar Pradesh. Taking to Twitter, Sibal wrote:
Modiji and Amit Shah called for a :

Congress mukt Bharat

With the entry of Priyanka Gandhi in UP (East) will we see a :

.............mukt Varanasi ?

.............mukt Gorakhpur ?

— Kapil Sibal (@KapilSibal) January 24, 2019
Rumours that Priyanka may also contest polls this year as Sonia Gandhi is planning to retire from electoral politics were already abound. However, after Sibal's tweet, news channels and political pundits quoted sources to report that she might take on the two tall leaders of BJP, Narendra Modi and Yogi Adityanath who contest from Varanasi and Gorakhpur respectively.
Earlier, Congress leader Abhishek Manu Singhvi had also commented that Priyanka's entry into the political arena will give sleepless nights to Adityanath and Modi, both star campaigners and top leaders of the party. "The appointment of the two young guns is definitely going to give sleepless nights for Yogiji and Modiji," Abhishek Manu Singhvi tweeted.
When the news of Priyanka Gandhi's entry into active politics broke on Wednesday, Sibal had welcomed her into the political realm, saying that she will "energise cadres and be a catalyst for the rising fortunes of the Congress Party." Various other Congress leaders also welcomed Congress president Rahul Gandhi's decision to appoint his sister.
Senior Congress leader and Madhya Pradesh chief minister Kamal Nath said that the move will give a big boost to the party's prospects in the upcoming Lok Sabha polls. "This (Priyanka's appointment) was long overdue and was in offing for about six months. This will be a big boost for the party in a state as important as Uttar Pradesh," Nath told PTI in an interview.
Former Delhi unit chief of Congress Ajay Maken tweeted, "This is just a brilliant move by Rahul Gandhi. Priyanka Gandhi and Jyotiraditya Scindia being made general secretaries of AICC and incharges of UP... Great announcements!"
Congress spokesperson Kumari Selja also responded to the news, and said that Priyanka's entry into politics will "further enthuse our party workers to defeat the nefarious agenda of the Bharatiya Janata Party".
Entertainment
In response to a Twitter user's appreciation post for Gandhi, Agnihotri wrote, "I like the ease with which he wears warm jackets indoors and goes without jacket outdoors. Also, ease with which he drinks chai outdoors and 5 course meal indoors. Easy drama. Easy followers. Good one."
India
'Ram Mandir is a symbol of pride for the nation. The work of Ram Mandir will be completed in the time given. Those who believe in division and not development will always criticise,' Yogi Adityanath said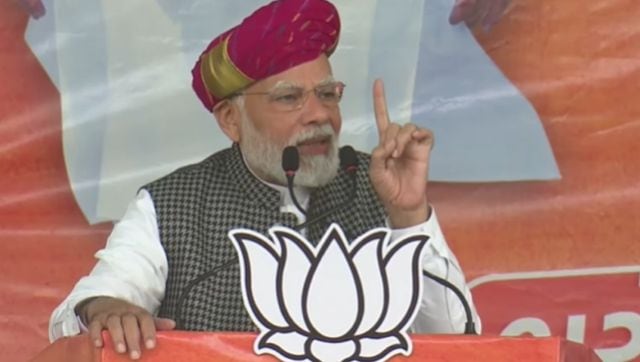 Opinion
In every way, Narendra Modi gains from this needless controversy before the nine state elections this year and the general election next year. And a master politician like him will not let this opportunity for his opponents to malign themselves go waste