Modi-led Centre is behaving like Congress: AAP's Kumar Vishwas' candid chat with Firstpost
Kumar Vishwas, a close friend of Arvind Kejriwal and Manish Siodia, has been one of the founding members of AAP. In a freewheeling chat with Firstpost, Vishwas spoke on a number of issues.
Kumar Vishwas, a close friend of Arvind Kejriwal and Manish Sisodia, has been one of the founding members of Aam Admi Party (AAP). It was at his house in Ghaziabad's Vasundhara where they strategised to go for a mass movement on Jan Lokpal with Anna Hazare. He created great deal of buzz when he contested against Rahul Gandhi in Amethi but refused to take any position in Delhi government. He is one leader in AAP who is not afraid of speaking his mind — like his "nationalist" position on Kashmir; or on Jawaharlal Nehru University and the controversies around it. On JNU, his position was contrary to the initial position taken by party convener Arvind Kejriwal.
In a freewheeling chat with Sanjay Singh of Firstpost, he spoke on a number of issues — AAP government's conflict with the Centre, Kejriwal's national ambitions, Punjab politics, Navjot Singh Sidhu's status, Prashant Bhushan and Yogendra Yadav's dismissal from the party and the list goes on.
Firstpost: Why has Kumar Vishwas gone silent? You are neither seen nor heard. The last time you were in public discourse when the JNU controversy was raging. Is there any particular reason why you've become so discreet?
Kumar Vishwas: I haven't gone silent. Yes, it is true that I am not a media-regular now. I don't think one should be there in news only for the sake of being in news. I have been given the responsibility as convener – Campaign, Overseas and Fund. Besides these, I am positively participating in all the major decision-making meetings. That is to help the party leadership and execute the decisions taken. I have my own standing, my own position. Being one of the three initial faces of the party, I deliver my duty with full commitment. My position on JNU has been known. It's there on the Twitter. There's no purpose in elaborating on that now.
FP: Since you are managing funds for AAP, are you facing resource crunch or have you been able to generate sufficient funds?
KV: We don't have piles of money but it is sufficient to sustain our campaign and party programmes. I do urge people to come ahead and donate funds for our party which aims at transparent governance.
FP: People in general think that you have a "nationalist" approach, and you seem to take pride in it, which has been proven in the past, as in the case of Prashant Bhushan's Kashmir remark or the JNU case. Does your nationalist approach clash with your party's perceived image and the way it works?
KV: The party thinks that my nationalist image and popularity works among youths and the middle class population. My popularity is used in all election campaigns. This belief also proved to be true in the second Delhi election. I was drafted in Delhi election campaign a bit later because prior to that I was busy with evolving campaign strategy. The public meeting I addressed against Kiran Bedi's constituency was right at the crossing of Dr Harshvardhan's house and the nationalist voters came out to vote for AAP.
FP: At times your personal view point appears to be closer to BJP's position than that of AAP.
KV: I don't hate any ideology, whether right wing or left wing. I don't compromise on nationalistic issues. My ideology is my country. Wherever I stand, I hate pseudo-ideologies. Not only in politics, but also in my professional life. I have an ideology too — I am a performer and when a big TV channel came to me asking me to participate in a TV show, I said that I won't compromise with my grace value just for the sake of appearing on TV. I told them that I would participate on one condition — the channel should donate a reasonable amount of money to Army's war widows fund, including my entire fees. But they refused, so did I.
I always stand for my ideology. For instance, I have tweeted on Kashmir:
I had once told a senior BJP leader that my only difference with you is of a small Hindi mantra. You, in your morning prayer, say 'Prabho Shaktiman Hindu Rashtrang Bhoota'. I just wish this 'Hindu' should be 'Hind' so that it is a collective prayer for every being irrespective of demographics or caste and creed. So, my standing does not give me compulsion of following a particular pre-set ideology as per my political commitment. That is why I find myself in a position to tweet my stand on separatist forces, which, even a so-called nationalist BJP leader cannot do.
FP: Coming to Delhi government's functioning. When people had voted overwhelmingly for Modi government at the Centre and Kejriwal government in Delhi, they thought they would see a golden period in Delhi. Instead they only see daily confrontation between the Centre and the state. The Chief Minister and the ruling party is regularly charging Centre with one thing or the other. Don't you think Delhi needs governance than constant confrontation over statehood?
KV: India has a federal structure, which is well regarded by the political class and common people. When the political discourse is so vivid, at times conflict does take place. Though the interference by the Center seem to reach a new low in Delhi's case. In this case, the Centre is getting exposed. See what happened in Delhi. Prior to elections in Delhi, BJP had put out posters with Narendra Modi and their chief ministerial candidate Harshvardhan with the promise of full statehood to Delhi. From Atal Bihari Vajpayee ji to VK Malhotra to Vijay Goel — they have all talked about Delhi statehood and bills have been placed in Parliament.
FP: Why chase for something which is not possible? Do you really think Delhi will ever get statehood?
KV: Do you know that the actual advocacy of giving full statehood to Delhi was first coined by none other than the BJP? It is a strange irony that the party which has stood for the full statehood of Delhi, suddenly finds the demand to be 'asked for too much.' I think the BJP-led Centre is so intolerant that it will not consider giving statehood to Delhi. But when we ask for statehood and when BJP spokespersons start saying that it is not possible, the Centre stands exposed.
FP: That still does not explain why Kejriwal should get into a constant confrontational mode with the Centre, more particularly with the Prime Minister.

KV: What Congress did to Modi, the Centre is doing the same with Arvind Kejriwal. By attacking AAP government in Delhi on non-issues, the BJP is making a strong case for us in Punjab, Goa and Gujarat. They will lose there and we will win. As most of us know, the UPA government was drowned by two lawyers, this government will be drowned by one lawyer. Remember that was one of the reasons why Congress got reduced to 44 and today despite being the main opposition party it is not Congress's voice but a four member (Lok Sabha) AAP voice which is heard as the lead opposition. The exchanges between Twitter termed 'Bhakts' and 'AAPtards' on social media in all spheres is one such reflection.
FP: Does it suit Kejriwal's politics to be seen as a confrontationist in his approach?
KV: There may have been hundreds of arguments against Kejriwal, as the colleagues who left us said Kejriwal was arrogant, some other said he is ill-tempered, but no one has ever said or can ever say he is corrupt, so when you say that his government is corrupt and send CBI to raid his office, you are getting into a self-defeat mode. That move has boomeranged on Centre and the same is going to cost them in Punjab.
FP: But Kejriwal does not only respond on issues and situations concerning him and Delhi, but he speaks on everything and anything with singular purpose to target PM Modi.
KV: A good politician should do that and Kejriwal is doing the same. If AAP had got 40 seats in Delhi Assembly then it would have meant that people have given mandate to Arvind Kejriwal to govern Delhi only but people gave us 67 seats out of 70. This means that people want him to play role of main opposition party in country. People gave zero to Congress in Delhi.
FP: Coming to Punjab, is Kejriwal the CM candidate? Should AAP come to power there, will he abandon Delhi and go to Punjab as CM?
KV: There is no such prediction. No decision has been taken on Punjab. A good discourse should be that the people of the state be given a chance to decide on who should be there chief minister. Our party does trust the brains and veins of Punjab and its people who can decide on these issues when the time comes.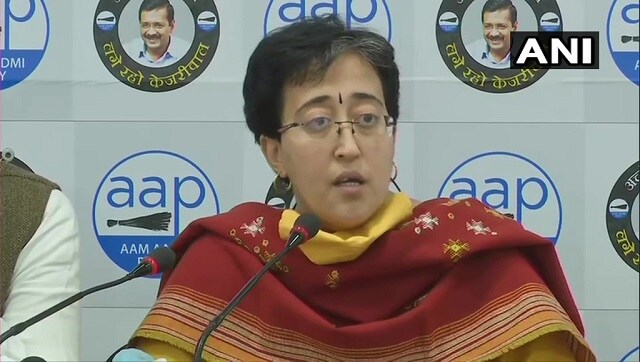 India
The complaint filed by Sanket Gupta said that AAP MLA Atishi held public meetings in the Rajinder Nagar constituency on 22 June at Sindhu Samaj temple, Old Rajinder Nagar, Delhi
Politics
AAP candidate for the seat Durgesh Pathak and former party MLA from the constituency and now Rajya Sabha MP Raghav Chadha also reached out to the supporters amid cheering from party cadres who lined the streets designated for the event in Regarpura area
Politics
Kejriwal is aiming to woo the traditional Congress supporters by focusing on the urban voter base and promising to implement the Delhi model of governance, which is centred on a number of freebie schemes