Modi is king of governance, says US Congress report
High praise for Modi and for Bihar chief minister Nitish Kumar from an independent research service of the US Congress.
Washington:  A report drawn up by the US Congressional Research Service has identified Gujarat under chief minister Narendra Modi as offering perhaps the best example of effective governance and impressive development in India, and observed that under his watch the State had become a key driver of national economic growth.
Gujarat is followed by Bihar, whose chief minister Nitish Kumar too comes in for praise for his governance and administrative skills.
"Perhaps India's best example of effective governance and impressive development is found in Gujarat, where controversial Chief Minister Narendra Modi has streamlined economic processes, removing red tape and curtailing corruption in ways that have made the state a key driver of national economic growth," the CRS report noted. (The full report can be accessed here.)
The CRS is an independent and bipartisan wing of the US Congress, and prepares periodic reports on issues of interest to the US lawmakers. The 94-page report on India was released by the CRS for US lawmakers on 1 September.
"Seeking to overcome the taint of his alleged complicity in the 2002 riots, Modi has overseen heavy investment in modern roads and power infrastructure, and annual growth of more than 11 per cent in recent years," the CRS report noted.
Gujarat, the report added, has attracted major international investors such as General Motors and Mitsubishi. The State, which has only 5 percent of India's population, now accounts for more than one-fifth of India's exports, it said.
Next in line for high praise was Bihar under Nitish Kumar. "Another positive example in 2011 has been Bihar, one of India's poorest states, where Chief Minister Nitish Kumar has won national attention through his considerable success in emphasising good governance over caste-based politics.
"He is credited with restoring law and order across much of the state, as well as overseeing infrastructure and educational improvements of direct benefit to common citizens projects," the report said.
"Kumar's Janata Dal (United) party, in alliance with the main national opposition BJP, won an overwhelming reelection majority in November 2010 state elections," the report said.
The report claims that the governance examples set in by Chief Ministers Modi and Kumar may have inspired  Uttar Pradesh chief minister Mayawati.
"Chief Minister Mayawati, who is widely believed to maintain national political ambitions and was at the forefront of a nascent "Third Front" in 2009, has shifted her own focus much more toward infrastructure projects such as road-building and improving the state's poor energy grid," the report said.
The CRS report also addresses  the ongoing Telangana movement in Andhra Pradesh, and the new Trinamool-Congress rule in West Bengal. It noted that  chief minister Mamata Banerjee faces a huge task in repairing "one of India's poorest states".
PTI
India
On 25 November, Ravindra Jadeja conducted a road show to campaign for his spouse Rivaba.
First Cricket News
''Extremely delighted & proud to receive the Guinness World Record for the largest attendance at a T20 match when 101,566 people witnessed the epic IPL final at @GCAMotera's magnificent Narendra Modi Stadium on 29 May 2022. A big thanks to our fans for making this possible,'' Shah tweeted.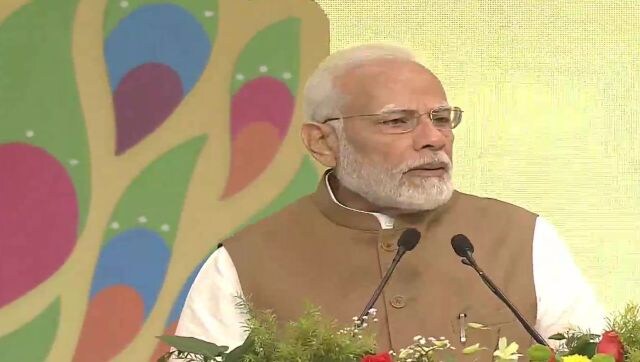 India
In September, PM Modi's carcade stopped to make way for an ambulance en route to Gandhinagar from Ahmedabad