Modi in Gujarat: Dearth of star campiagner forces BJP to lean on PM for upcoming polls
On his visit to Gujarat on Saturday, PM Modi will inaugurate the international airport at Vadodara and distribute kits to physically challenged tribals.
Ahmedabad: After handpicking two chief ministers in two years, it seems that the Gujarat unit of the Bharatiya Janata Party (BJP) is still not ready to field one of its state leaders as the face of the campaign for the forthcoming Assembly elections in the state. The only leader that it depends on, to be the face of the party, is Prime Minister Narendra Modi.
If his monthly visits to Gujarat are anything to go by, this strategy, it seems, is one that even Modi strictly stands by.
Modi started the series of visits to Gujarat back in August, when he paid tribute to the spiritual guru Pramukh Swamy. By visiting Sarangpur in North Gujarat, he not only paid last tributes to the religious leader but also ensured that he reached out to the influential Patels and non-resident Gujaratis – primarily followers of this sect and influencers in the community.
Though Modi did not make any political speech at that time but by saying that he had lost someone like a father to him, he was able to strike an emotional chord with Patels globally, who were perceived to be getting away from the BJP post the Patidar agitation.
Just a fortnight after this visit, Modi addressed a rally in Dhrol of Jamnagar in North Gujarat – his first since becoming the PM – the hub of the Patel agitation last year. His first rally in Gujarat was a clear message from his party and him to the opponents that he was back to win over the agitating Patels. Modi was there to inaugurate the Saurashtra Narmada Avataran for Irrigation (SAUNI) project. By delivering a speech in Gujarati, his first in two years, the message that BJP's star campaigner had arrived was clear.
A month later, in September, he came to meet his mother to seek her blessings for his 66th birthday. And just like last time, this visit too had a political agenda – after the Patels he wanted to reach out to the tribals. In this attempt of outreach, he chose to distribute kits to the physically challenged in the tribal district of Navsari in South Gujarat.
His visit on Saturday, to inaugurate the international airport at Vadodara, will also see him distribute similar kits to the physically challenged tribals in Central Gujarat.
"This is the PM's way of giving back to the city," said Bharat Dangar, BJP leader and Vadodara Mayor. He said that the people of this city had voted for him and that there was no harm if Modi kept visiting as, after all, this was his home state.
Political analyst Vishnu Pandya pointed out that the Gujarat BJP unit was dependent on Modi as there was no other campaigner of matching caliber was available to them.
"There might be popular leaders but they are restricted to their constituencies," Pandya said. He said that in the coming few months, the frequency of Modi's visits would increase and the target audience would be charted out by his party.
So it seems that while a handpicked CM, in the form of Vijay Rupani, has been placed to lead the state, the Gujarat BJP has no option other than to depend on Modi to lead them for the forthcoming Assembly elections.
India
Prime Minister Narendra Modi in his address to the nation today also asked people to exercise caution during Diwali, saying masks have to become a part of life till the pandemic is over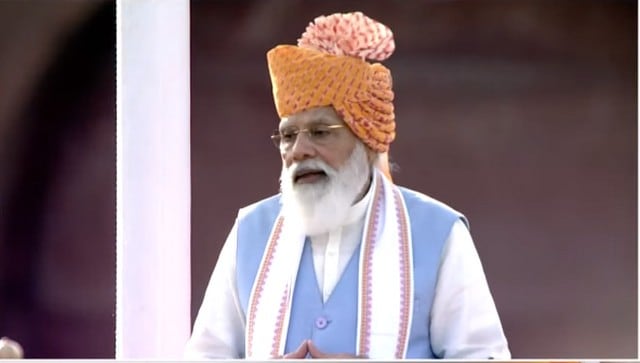 India
Responding to a question that opposition and critics term Modi an autocratic leader who takes all decisions on his own, Shah described the prime minister as a "democratic leader".
Politics
The Centre has increased the powers of the BSF by increasing its jurisdiction in poll-bound Punjab by up to 50 km from the international border