Modi govt must stick to its guns on land bill but should get basics right too
While the Modi government should stick to its guns on the land bill which will help to get some farmers off unproductive land and into gainful employment, it must also get the basics right.
By Rupa Subramanya
The Aam Aadmi Party (AAP) is known for its theatrics and its hunger for publicity but they got more than they bargained for at a recent rally against prime minister Narendra Modi's land bill.
While the circumstances are still murky and under police investigation, we do know that an individual died under mysterious circumstances at a political rally with the party leader and chief minister Arvind Kejriwal apparently aware of an unfolding tragedy. The AAP originally claimed that Gajendra Singh was a farmer in distress and that his death was a suicide. Now both claims have come into question. Was this a suicide by a farmer in distress or a publicity stunt gone badly wrong?
According to media reports, Singh's family contests the claim that he was in any financial distress and also that he had any intention to commit suicide. The family also claim that an alleged suicide note that the AAP's Kumar Vishwas read out from is a forgery as it was not in Singh's handwriting. All of these claims and counter-claims await police investigation and none can be verified at the moment.
What is beyond dispute is the desire of Modi's political opponents and critics in the media to create a spurious link between the narrative of farmers in distress and farmer suicides with the government's proposed amendment to the land bill.
It is often claimed that there is nothing short of an epidemic of farmer suicides in India. Yet, official data from the National Crime Records Bureau (NCRB) do not bear out this view. In its most recent report, farmers accounted for 8.7% of the victims of suicide, far below their share of the population. As a point of comparison, the category of "house wife" accounted for 16.9% of total suicides in 2013. Historical data also doesn't bear out the claim of a huge upsurge in farmer suicides. From the mid 1990s through the mid 2000s the share of farmer suicides in total suicides fluctuated between 15-16% and in fact has been coming down since then to the present level.
However, while claims of farmer suicides are exaggerated, the dire state of the agricultural sector is a reality. The newspaper Mint has constructed a "Rural Distress Index", which is based on growth of farm output, rural wages, and tractor sales. The last of these three is intended to proxy for "rural sentiment and demand". If this year's monsoons, as predicted by India's Met Department, are again below par for the second year in a row, it is predicted that the rural distress index may rise to a decadal high.
This tallies with earlier research which, based on government data shows that 65% of farmers, who have plots of less than a hectare, are not able to break even month by month and are only kept afloat by a variety of government schemes and periodic loan waivers by both central and state governments, usually in the lead up to elections.
So dire is the situation many farmers and their families would rather not be in farming at all. In a 2014 "State of Indian Farmers" survey, conducted by the Delhi based Center for the Study of Developing Societies, 28% said they wanted to get out farming. Of the 72% who claimed they liked to be farmers, 60% said it was only because it was a traditional occupation. Just 10% reported that farming gave themselves and their families a good life. Almost 62% of those surveyed said they would rather give up farming if they could find a better alternative off the farm in the city. As for the future of farming, a massive 76% of farmers' children say they do not want to continue as farmers.
The bottom line is that about 50% of the population working in agriculture produces only 18% of GDP. Indian agriculture is highly inefficient and unproductive.
While farmer distress is real, what is spurious but politically useful is for opponents of the Modi government to link farmer distress to the government's land bill. What the land bill seeks to do is to make it easier for the government to acquire land, whether agricultural or non-agricultural for important development, defence and infrastructure projects. It is completely illogical to relate controversies around the proposed land acquisition process to issues such as crop damage or farmer indebtedness, problems which have plagued farmers in Indian agriculture for decades.
Far more useful than posturing against the land bill for those who profess to be concerned about farmers in distress would be to tackle policy failures that relate directly to those sources of distress.
A recent Associated Chambers of Commerce & Industry of India (ASSOCHAM) study showed that only 19% of farmers ever reported having purchased crop insurance. A staggering 81% claimed to be unaware of the existence of crop insurance. Among the uninsured, 46% were aware of the possibility of crop insurance but said that they were not interested. As against this, 24% reported that they didn't have access to crop insurance, while 11% said that they could not afford the insurance premium.
If the results of this study are accurate, a very basic policy intervention such as making farmers aware of the existence of crop insurance and the benefits of purchasing it would go a long way toward easing difficulties when crop failure occurs for one reason or another.
Another low hanging fruit to be plucked is to ensure that the so called JAM Trinity of Jan Dhan, Aadhar, and Mobile actually function as the government intends. As announced in the Union Budget 2015, and explained in greater detail in the Economic Survey, the government is moving toward a system where all direct transfers whether to farmers or anyone else occur electronically, through a deposit in a bank account linked to an Aadhar card and a mobile number. The intention is to eliminate leakage and corruption which are rampant if compensation is paid in cash or in kind. However, this system has run into difficulties because the rolling out of new bank accounts under the Jan Dhan Yojana has itself encountered some difficulties.
A news report suggests that Rs. 460 crores which were supposed to be dispersed by the Maharashtra government to help drought hit farmers could not be paid out because it was supposed to be transferred directly to farmers' bank accounts, but that many of the affected farmers did not even have a bank account so that money could be transferred to. According to the report, 26 lakh farmers out of a total 90 lakh affected, or approximately a third of the total have not yet received compensation as they did not have bank accounts.
It's a no brainer that if the government intends to use the JAM approach then all of the intended beneficiaries of a relevant government program need to have bank accounts to say nothing of an Aadhar card or a mobile phone. While the government calls the Jan Dhan Yojana a success, and while it's true that many new bank accounts have been opened, many people as yet have not been reached.
An investigative report in the Wall Street Journal, documents many individuals who unsuccessfully tried to open a bank account but were turned away by bank officials looking for a bribe which the individuals were unable or unwilling to pay. The report also tells of bogus or duplicate accounts opened by people who already have a bank account but are trying to cash in on the benefits of having a new account linked to their Aadhar card. This again is something which can and should be tackled by the government that does not require it to pass controversial legislation but simply to ensure that a scheme already announced in the budget is actually implemented the way it was intended.
While the Modi government should stick to its guns on the land bill which will help to get some farmers off unproductive land and into gainful employment, it must also get the basics right. There is no point talking of administering government schemes through the JAM Trinity if many people simply don't have a bank account to begin with.
As for Arvind Kejriwal or Rahul Gandhi if they really cared about farmers in distress, they would be better served to focus on unglamorous but important implementation gaps such as the ones described above rather than grandstanding against the land bill at mega rallies in Delhi. That will only keep desperate farmers shackled to their land.
Rupa Subramanya is an economist based in Mumbai and co-author of Indianomix: Making Sense of Modern India. Follow her on twitter @rupasubramanya.
Subscribe to Moneycontrol Pro at ₹499 for the first year. Use code PRO499. Limited period offer. *T&C apply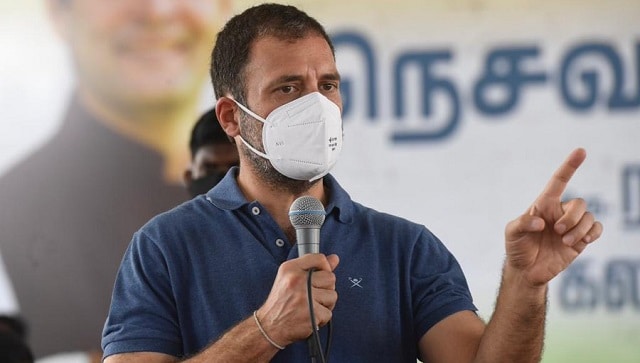 Politics
Gandhi alleged that the RSS is doing something 'fundamentally different' and filling up the institutions of the country with its people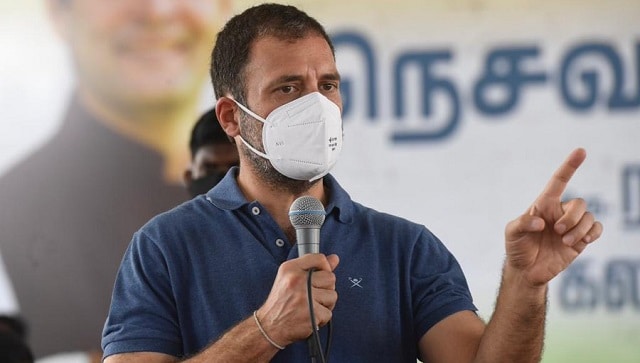 Politics
Touring southern Tamil Nadu for the second day as part of his second leg of campaigning for the April Assembly polls, Rahul said he counted on the people's support to defeat the BJP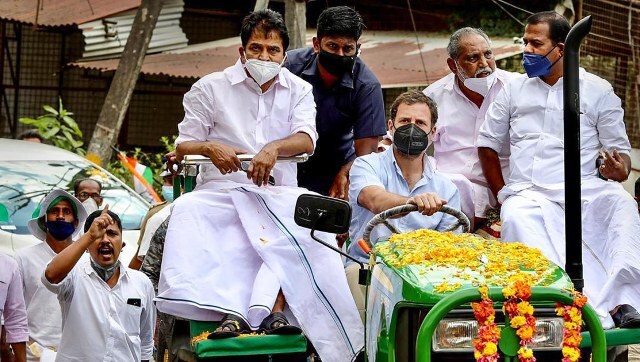 India
The Wayanad MP, who is on a two-day visit to his constituency in poll-bound Kerala, also took a dig at PM Narendra Modi for 'ridiculing' MGNREGA scheme