BJP ministers to highlight achievements as part of two years of Modi govt
BJP ministers will apprise the people of the achievements of the central government on its second anniversary on 26 May, a union minister said on Tuesday.
New Delhi: BJP ministers and parliamentarians will apprise the people of the major policy decisions and achievements of the Narendra Modi government, which is completing two years in office on 26 May, a union minister said on Tuesday.
During the month-long campaign, the ministers and MPs will also apprise the people about the laws and welfare measures not allowed to be passed in parliament because of obstruction by some people, Minister of State for Parliamentary Affairs Rajiv Pratap Rudy told reporters.
He said a meeting of the Bharatiya Janata Party parliamentary party was held and it was decided to expose the Congress for its "obstructions" in the Rajya Sabha that stalled various government steps.
"People will be told about all those who caused this obstruction," he said after the meeting, where Prime Minister Narendra Modi was also present.
The government has so far failed to get the Goods and Sales Tax (GST) bill passed in the Rajya Sabha, where the opposition holds the numerical advantage.
At the meeting, the Prime Minister spoke about the two years of the National Democratic Alliance government and said all ministers will travel to 200 main nerve centres across the country and inform people about its good works and achievements.
Modi referred to the Emergency imposed in 1975 by the then Indira Gandhi government and told party MPs that the younger generation should be apprised of the efforts to "crush democracy" on its anniversary on 26 June.
"We should inform the younger generation who were the people behind the Emergency," Modi is said to have told the MPs.
Newly nominated Rajya Sabha members, including Subramanian Swamy and Navjot Sidhu were also introduced at the meeting, Rudy said.
Answering questions on controversies pertaining to Modi's academic qualification, Rudy said, "The Congress and Aam Aadmi Party's claims are a bundle of lies. All the facts have been put in public domain."
"If even now they want to raise questions, it shows their intentions," he said.
Politics
People of Assam have voted for the BJP for the second consecutive term as they have realised that there is no place for 'aatankwad' (insurgency) and 'andolan' (agitation) in the state, Shah asserted
India
As the Opposition creates ruckus in Parliament, the Centre says the controversy is an attempt to malign Indian democracy and its well-established institutions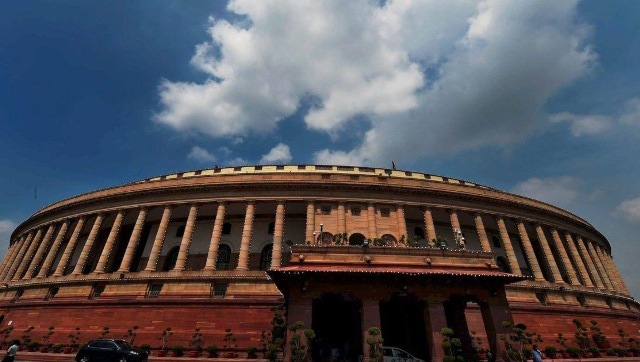 Politics
Monsoon Session of Parliament LATEST News Updates: The prime minister, while introducing ministers in the Rajya Sabha, said, Watch LIVE News, Latest Updates, Live blog, Highlights and Live coverage online at firstpost.com