AgustaWestland: After Modi vs Congress, it's now Swamy vs Congress
Prime Minister Narendra Modi can relax for a while. He used to be the staple fodder for Congress's line of fire but now Subramanian Swamy has taken charge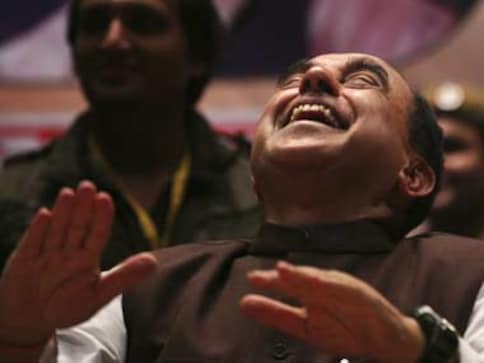 Prime Minister Narendra Modi can relax for a while. Till 11.30 am on Wednesday, he used to be the staple fodder for Congress's line of fire, name calling, slogan shouting, etc. Enter Subramanian Swamy.
Following his appointment to Rajya Sabha, everything changed. It took him only 15 seconds to hit the headlines and send the political temperature soaring.
From 'BJP vs Congress' or 'Modi vs Congress', it has now suddenly become 'Swamy vs Congress'. Sample some of the headlines in major print publications:
"On Day 1, Swamy sets Rajya Sabha on fire", "Its Swamy versus Congress battle in Rajya Sabha", "Congress braces itself for a slugfest as Subramanian Swamy enters the limelight", "Swamy Takes Oath in Upper House, Puts Gandhis on Notice", " Agusta issue: Swamy fulfilling PM's 'muck raking' agenda, says Cong", "Won't lie low: Swamy rocks Rajya Sabha over AgustaWestland on first day".
Thanks to Swamy's 15 second speech on day one, and equally brief intervention on day two, we know that words like Sonia Gandhi and the Italian Constitution can't be said in Rajya Sabha. These words have been taken as provocative innuendos pointed as Congress benches and have been expunged from the records.
The ordinary citizens so far had known that unparliamentary words (all comprehensively complied) couldn't be taken in either House of Parliament. Then comes the headline, "Swamy Unnecessarily Provoking, Says Rajya Sabha Deputy Chairman."
On Wednesday, Rajya Sabha Deputy Chairman PJ Kurien had told him, "I am not admonishing you as this is your first speech in the House (after being nominated to the Upper House), But the name is expunged."
The sum and substance of the last two days of proceedings is simple – 'Swamy rocks', no matter how one may look at it. In his twitter account, he introduces himself as "Former Union Cabinet Minister & five term MP, Harvard Ph.D in Economics, Professor, BJP member, I give as good as I get."
A known Nehru-Gandhi family baiter, the three-day old parliamentarian – in his current avatar as Upper House member – is living true to his punch line personality profile, "I give as good as I get."
Swamy has the singular distinction of being expelled from Rajya Sabha and then getting elected to Parliament for five more terms. In 1976, when he was a first term MP on a Jan Sangh ticket from UP, he was expelled after a parliamentary panel found his conduct derogatory to the dignity of the House. Following this, he got elected for five more terms – Thrice as MP Lok Sabha (twice from Mumbai North-East and once from Madurai on Janata Party ticket) and twice as Rajya Sabha MP (Once from UP on Janata Party ticket and currently as nominated member).
For his expulsion from parliament in 1976, he blames Indira Gandhi's dictatorial attitude. The then Lok Sabha member HG Mudgal was the first to be expelled from the Lower House in 1951. Swamy was the second.
Though he is a nominated member, he sits in the front rows of the BJP benches – right behind the two rows reserved for ministers. He also attends the BJP parliamentary party meetings. When he rose to speak in Rajya Sabha on Wednesday about the AgustaWestand VVIP chopper deal, and today on AMU, he rose to speak as a BJP member. It's a different matter though that on both the occasions, he could only speak for a few seconds. On both occasions, the moment he rose to speak, the Congress members went on alert mode, ready to pounce on him orally.
See what Swamy had to say in the last two days. Yesterday, he began by saying, "Now, before coming to my notice, it was touching to see the Leader of the Opposition relying on Mr Michel for what he said orally. But the High Court of Italy has recorded a letter written by Mr Michel stating that is the main...", and all hell broke loose. Congress members entered the well of the House and went berserk, so much so that the marshals had to be called to keep the situation under control.
Today, he stood to respond on the Aligarh Muslim University status row. He began by saying "I have no problem with a minority institution, but article 27 and several other articles prohibits a state from financing minority institutions." As the Congress members raised objections to his statement, he referred about Italian Constitution to them. What followed was total pandemonium in the House. It was perhaps too much for the Congress to tolerate.
Leader of Opposition in Rajya Sabha Ghulam Nabi Azad said, "We had no objections to Swamy's clarification. We have a problem with his reference. It is only his second day, and in two days you have expunged (him) twice. How many times are you going to expunge his words? He doesn't know the difference between street words and parliamentary words."
Azad's party colleague in Congress, Jairam Ramesh, said, "In the process of making a clarification, Dr Swamy needlessly and provocatively has brought into the reference the constitution of a European country. It is needless and deliberate."
As disturbances continued, Vice Chairman Kurien made some strong observations against him.
But Swamy is relishing his moments of glory. He took to twitter saying:
PTs may have seen how Congis regard speaking Sonia's name is unparliamentary and to be expunged!! Next time I will call her Tadakka

— Subramanian Swamy (@Swamy39) April 27, 2016
Politics
All Congressmen must rise above themselves and think in the interest of the party and the country, advised the Rajasthan chief minister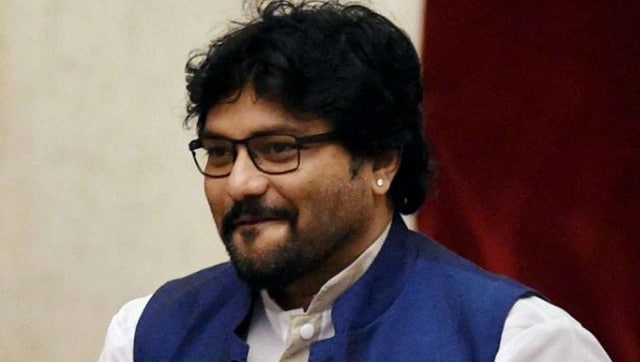 Politics
Supriyo had differences with BJP since the day he was dropped as a Union minister
Politics
Addressing the foundation day of the All India Mahila Congress, Gandhi said that the ideology of the Congress is completely opposite of the BJP-RSS and only one of the two ideologies can rule the country.