Editor's Note: Pressure has been increasing on junior foreign minister MJ Akbar to resign after his return to India from an official trip. Akbar has been accused of sexual misconduct  by at least 14 women journalists as part of the #MeToo movement in India. This article has been edited and republished to highlight the latest news updates in the controversy involving the former journalist.
***
MJ Akbar's case could well be a defining moment in Indian politics: the way accusations of sexual conduct are perceived and the subsequent action by political bosses. It's also a defining moment for social media in India and its impact on politics: he may become the first minister to have been forced to resign because of growing pressure on social media.
Generally, if an individual was convicted of such a crime or if there was a criminal case against him or her, they would be asked to quit the ministry or any other influential post. There is no FIR against Akbar. Fourteen women have accused Akbar of sexual harassment. The incidents allegedly occurred 15-20 years ago. No criminal case is possible.
But presuming that the allegations of the women are to be believed, coupled with the narrative created around Akbar in the media, there isn't much left for the junior external affairs minister to explain. And he has offered none. His Twitter account has been silent since 6 October.
Akbar, who was on an official tour of Africa, returned to India on Sunday, and even though pressure is increasing on him to resign from his post, for once, his ministry isn't saying much. He may however, issue a statement later, as he told reporters upon his arrival at the Delhi airport.
It was earlier reported that Akbar would return from Nigeria on Friday. Then it was reported that Akbar was in Equatorial Guinea, as per his original schedule, and would return to New Delhi Sunday.
A senior minister had told Firstpost that Akbar would be "asked to go" upon his return. While this amounts to sacking, Akbar may spare the BJP further embarrassment by making an 'honourable exit'. The onus is now on Akbar.
With regards to the delay in decision making, senior BJP leaders suggest it didn't augur well for the government to take action while he was touring abroad or cut his trip short to seek an explanation.
There is a well laid out procedure for bilateral visits of dignitaries, junior or senior ministers that must be adhered to, the leaders said. The minister represents the country, they add.
Propriety also demands that Akbar be given a chance to present his side of the story and respond to the charges to leadership. And considering BJP chief Amit Shah is not in the national capital, the meeting would not be possible today. The final word on Akbar's resignation will only come after such a hearing.
The BJP brought Akbar back from political oblivion (after being a Lok Sabha MP from Kishanganj on Congress party ticket in 1989 and a favourite of ex-prime minister Rajiv Gandhi), made him first a party spokesman, then a Rajya Sabha MP and finally a minister of state in the high-profile external affairs ministry. His elevation surprised many.
Akbar had been a harsh critic of Modi, calling him a "Hitler whose enemy was the Muslim community" and "for whom a Hindu life was worth twice the life of a Muslim" and so on. However, it seemed like Modi was content to let bygones be bygones and induct Akbar into the Union council of ministers in 2016.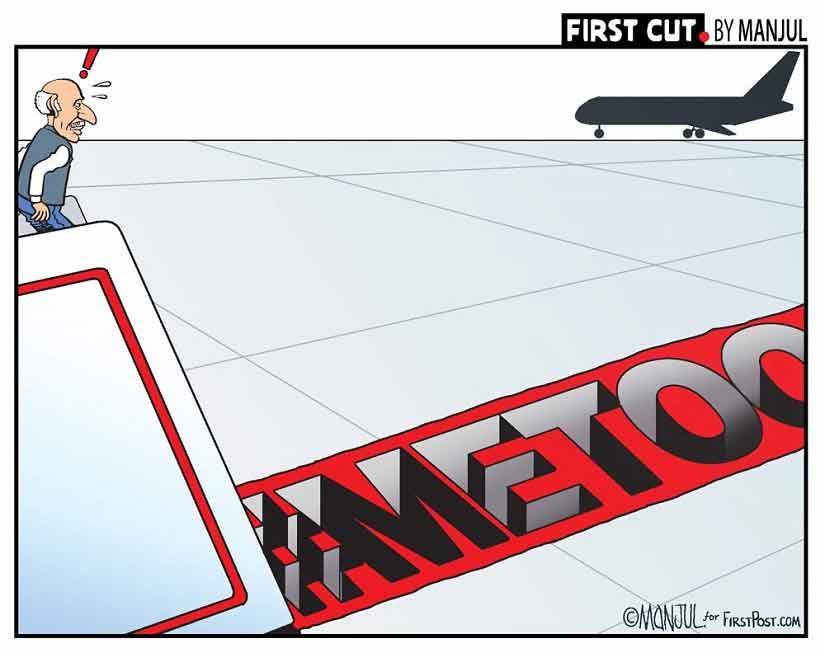 It must be noted that Modi has the distinction of being first political leader to have realised the power of social media. Modi used it to his great advantage (and the BJP's) in the 2014 general election and continues to do so.
The #MeToo campaign on social media has taken by storm the urban Indian society and Akbar has now become the most high-profile person in India to have been pressured to resign following accusations of sexual harassment. Modi cannot let the same social media be turned against him and his party.
Besides, any action against Akbar would also create a precedent. This is the first time such allegations have been levelled against a minister on social media. Whatever action the party decides to take against Akbar will have to be replicated if something similar emerges on social media against other leaders. The BJP wants to deliberate before taking any action.
Modi's ideological alma mater, the RSS takes pride in Vyakti Nirman (personality building). Recently, RSS chief Mohan Bhagwat spoke at length on Vyakti Nirman at his three-day lecture series in Delhi. What Akbar stands accused of goes directly against what the RSS chief was talking about. Some years ago, the RSS took strong action against one of its faces (not because of any allegations of sexual harassment but because a certain act by him was considered a case of moral turpitude). These accusations against Akbar allow Modi the chance to prove that he means what he says about the dignity of women.
***
Network 18, of which Firstpost is a part, has received complaints of sexual harassment as well. The complaints which are within the purview of the workplace have been forwarded to our PoSH committee for appropriate action.
Your guide to the latest cricket World Cup stories, analysis, reports, opinions, live updates and scores on https://www.firstpost.com/firstcricket/series/icc-cricket-world-cup-2019.html. Follow us on Twitter and Instagram or like our Facebook page for updates throughout the ongoing event in England and Wales.
Updated Date: Jan 08, 2019 13:16:06 IST