Mizoram polls: At 74, MNF chief Zoramthanga is in comeback mode, says 'Congress won't even get 10 seats'
People are really fed up of the present Congress government in Mizoram, says Mizo National Front chief Zoramthanga.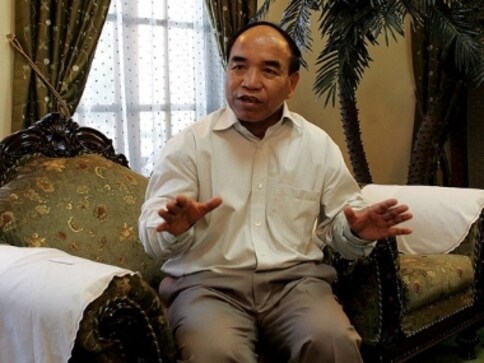 The tranquillity in Mizoram hides a 20-year-old violent past when Laldenga's Mizo National Front (MNF) led an incessant armed insurgency till 1986 when an accord was signed. After Laldenga's demise, his close aide Zoramthanga took over the MNF and has been the chief minister of the state for two consecutive terms till 2008 before losing power to the Congress' Lal Thanhawla who is the incumbent chief minister. With polls slated for 28 November and on a comeback trail, Zoramthanga, a sprightly 74, spoke to Firstpost. Excerpts from the interview:
How do you rate your prospects this time?
Because of the lack of development and the lifting of prohibition and allowing the sale of liquor as well as the mismanagement of the financial position, people are really fed up of the present government. Moreover, there is big anti-incumbency, so we believe we shall be able to form the next government. Many people say the Congress will not even get 10 seats. All political pointers are also indicating as such.
I understand these three issues are your main poll planks…
There are other priorities too. One of the biggest issues that have to be dealt with is acquiring self-sufficiency of food. Mizoram has a lot of cultivable areas where farming is not happening. But if we cultivate and mechanise it appropriately, it is quite sufficient to feed the whole population of Mizoram three-four times over. We should focus not just on rice but also in winter crops and vegetables like wheat, onions etc. and also undertake more cropping seasons. In October, if we harvest the rice, the next five months are ideal for vegetables which thrive very well in such conditions. Besides self-sufficiency in food, it can also bring more income to the people.
Another aspect of this is to properly identify the crops and take steps for their processing and marketing.
The other priority is development, specifically in the sense of building link or arterial roads. It is one of my personal aims. Unless we link our agricultural and forest potential with every village in the state and replace the present 'head load' system, the economy cannot progress.
I must bring out the importance of bamboo here. We need tissue culture and modern laboratories to grow bamboo seedlings so that we are able to produce bamboo in bigger amounts. A lot of this kind of research is happening in Hosur (in Tamil Nadu) which we need to replicate. With such facilities we will be able to produce huge quantities of bamboo. It will be the green gold of Mizoram. And in 10 years time, not five years as bamboo needs five years just to mature, I believe we will be able to reap the fruits in seven, eight, or 10 years. My final intention is to make bamboo the total substitute for timber.
Mizoram has been a big votary of organic farming…
Yes, it is. Again coming back to bamboo, organic crops need organic fertilisers. Here we should again focus on bamboo. While making bamboo vinegar, we have some residual leftover in a concentrated form which when diluted with water can be very good for organic farming as it makes an excellent for organic fertiliser.
To your mind, what are the social costs of easing prohibition?
After prohibition has been lifted in Mizoram about four years ago, more than 500 policemen have died because of this cheap and low grade liquor that is brought in from outside. More than 6,000-7,000 local people have died because of alcohol consumption. It is like a big plague.
There is a thinking that liquor ban has led to big increases in the use of illicit drugs and narcotics?
This was the argument of the anti prohibitionists in the beginning. On the contrary, after easing prohibition, drug consumption has only increased. All statistics indicate that. Once you slip in one line, you will also slip in the other line. So lifting of prohibition is a very dangerous thing for Mizoram.
As in any other state election, corruption is also an inevitable poll plank …
The moot point here is financial mismanagement. Whatever little revenue the state gets should be used as seed money for furthering socio-economic development which has not been happening. It is in a state of total shambles.
A vital pillar of the Mizo society is the Church and the NGOs. Before elections, in all Christian-dominated states of the North East region, the Church issues sermons for people to vote free and fair. But Mizoram has been an exception in the magnitude and intensity it responds to the sermons. What makes Mizo society unique in this aspect?
Firstly, even the Church is an NGO. Mizo society is a very regimented society. And whenever the Church and NGOs take a total stand against a certain issue, there are no two ways to it. That way there is no survival in politics, as is the case with prohibition this time. It has become the headache of every parent here. That is why the present chief minister is renovating his old house. He knows he is not coming back to power.
Mizo society is also very homogenous...
Absolutely. That is why it is so regimented and so controlled. It has been like this from the beginning.
Does it work out?
Yes, it works very well. Pre-election community feasts where huge amounts are spent have totally stopped.
also read
India
Senior Congress leader Sandeep Dikshit slammed Kejriwal's attempts to reaching out to leaders of non-BJP parties to garner support against the ordinance so that the Centre's bid to replace it through a bill is defeated when it is brought in Parliament.
India
Congress leader Jairam Ramesh has tried to undercut the history of the scared Sengol as 'BOGUS'
India
Thiruvavaduthurai Adheenam said they would reveal the true history of the Sengol and Nehru from the time of India's Independence and Transfer of Power at a presser Friday evening