Mizoram polls: Aizawl FC owner contesting elections explains why football is 'the biggest industry' in state
Politics in football is never a good thing, but the reverse, albeit a rarity, is likely to bring much good cheer.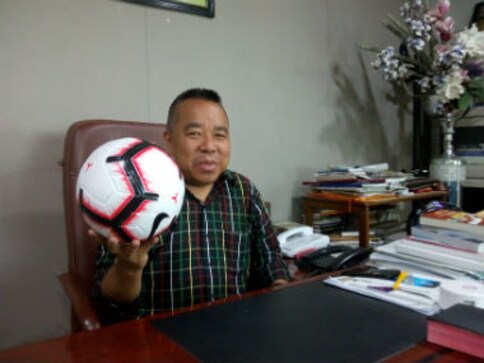 Politics in football is never a good thing, but the reverse, albeit a rarity, is likely to bring much good cheer — whether you are a sports lover or not. And playing the centre-forward position in this foray is the poster boy of Mizoram football Robert Romawia Royte – "call me Triple R," he says – a flamboyant personality replete with fast cars and super bikes.
A self-made man and the main force behind the rags-to-riches story of the Aizawl Football Club (AFC), which won the I-League in the 2016-17 season, Royte is contesting the state Assembly election to be held on 28 November on a Mizo National Front (MNF) ticket from the Aizawl East-II seat. Books have been written on the stunning rise of the club.
"Football is the biggest industry in Mizoram and I am the industrialist," Royte says. "Every other business is running a loss but from football, we are gaining. A lot of money is being pumped into Mizoram because of football."
With players like Jeje Lalpekhlua, the highest goal scorer in the Indian Super League till now, and many other Mizo players of his level earning about a crore rupees every season, a lot of money is being poured into this hilly northeastern state.
Royte would, of course, be happy with due recognition being accorded to the beautiful game. "It is a declared industry in Brazil, Sweden, Spain, South Korea and England where it is has been lucrative. It is not so here maybe because of ignorance or act of omission on part of the government, but in practical terms, football is the biggest industry in Mizoram. For a small state with a population of about 12-13 lakh, we send 4-5 Mizo players to the Indian national football team all the time."
The status football holds in Mizoram is unquestionable. The location of the Mizoram Football Association bang opposite the Raj Bhavan where the governor resides, and almost next to the state Assembly building, may be symbolic of the game's standing.
Royte can, of course, teach a thing or two when it comes to the business of football, and he has gone international. The former footballer owns 11 football academies across Mizoram, Tripura and one in Myanmar (Tahan Aizawl Football Academy). Tahan is a town in Myanmar largely inhabited by Mizos.
"Although Mizoram had such huge football talent, it never had a professional club. In 2012, I took over the Aizawl FC where I was the president since 2011. I introduced a corporate style of functioning and that was the beginning of professionalism in football in Mizoram," says Royte.
The new style of functioning has now led to a huge pool of about 300 talented footballers in Mizoram. They include the senior team which has been playing the I-League, about 35 footballers in the junior team, 35 in the under-18 team, 35 in under-15 and another 35 in under-13, besides others in the football academies.
"I believe in building of teams, not in the purchase of players. 90 percent of the players in my teams are homegrown. Even in big teams like Mohun Bagan or East Bengal, how many of the players are locals?" he says.
Asked if politics would be his new priority, though he had also unsuccessfully contested the last parliamentary polls as an independent candidate, Royte says: "Football has been my passion since childhood. It is not a switchover from football to politics. Football will continue till my death. Football will always be a part of my life."
With cricket teams being set up in all northeastern states at the behest of the resource-rich Board of Control for Cricket in India (BCCI) and taking the immense popularity of the willow and leather game into account, does he see football's popularity being threatened?
"Football is everywhere in Mizoram; it plays a very important role in every family. People play for a sense of self-satisfaction and for happiness. Cricket is a very important game, but there is no chance of it overtaking football in this region and in Mizoram. Cricket will, of course, grow, but it will never be at par with football," Royte says with a lot of assurance.
The 51-year-old has a new dream now. "I am building a residential football academy about 15 km from Aizawl where boys will live and dream football. I have already invested about Rs 5-6 crore there."
Boys? What about girls, or women's football teams where north-easterners haven't done too badly?
"I had a strong desire to build a strong women's football team but apathy and lack of financial support put paid to my plans. I must say this that the manner in which the All India Football Federation organises the tournaments and the manner in which they treat the women's teams was a revelation. That is when I thought it was perhaps too early to build a women's team," he says. Clearly, the man means business.
Football
The Asian Football Confederation has allocated three slots to India — one in the Champions League group stage, one in the AFC Cup group stage, and one slot in the AFC Cup Qualifiers.
Football
Qatar rejected the allegations, saying they were part of "smear campaigns" by European media.
Football
Third-placed Atletico Madrid moved three points clear of Real Sociedad in LaLiga table with their last-gasp victory at Montilivi.