Out of town Kejriwal turns Twitter gladiator and L-G tours US as chikungunya, dengue rule Delhi
When dengue, chikungunya and malaria are keeping people in Delhi on their nerves, the Chief Minister was engaged in a bitter twitter war and name calling with two media editors — Shekhar Gupta and Rahul Kanwal.
Who rules National Capital Territory of Delhi any way? Who has the responsibility to keep the city clean and ensure that people don't die due to lack of basic hygiene? Even if one leaves aside the long held aspiration of developing Delhi into a world class city, people here have a reason to ask their rulers basic questions relating to their living conditions.
Delhi has a popularly elected government with Arvind Kejriwal as chief minister and six cabinet Ministers. Until few days ago it also had 21 MLAs acting as parliamentary secretaries to assist the ministers in their official work.
But as of today where Delhi is reeling under severe health crisis, only one minister, Kapil Mishra who heads tourism, art, culture, languages, Gurudrawa elections and water is present in Delhi. One minister Sandeep Kumar was recently sacked after a sex CD relating to him had surfaced. All other ministers are out of Delhi. Chief Minister Arvind Kejriwal is in Bengaluru, Manish Sisodia is in Finland, Imran Hussain too is abroad for Haj, Satyendra Jain was in Goa (who just reached Delhi late afternoon), Gopal Rai is in Chhattisgarh. Lieutenant Governor Najeeb Jung, whom the high court on a petition filed by the ruling AAP, clarified to be administrative head of the city state too is touring abroad, the USA.
The situation for ordinary citizens couldn't be more bizarre. More so, when the world know that during this period of year parts of Delhi get waterlogged followed by the attack of dreaded mosquito born diseases — dengue and chikungunya. Pathetic scenes of hundreds of dengue and chikungunya patients flooding Delhi hospitals and news of so many people dying is reported year after year.
But those who have been tasked by the people and taken oath under Constitution to assume office (elected as Chief Minister or nominated as L-G) to make it a better place to live and work aren't really bothered about it. Their heart doesn't seem to bleed on issues of popular concern. Instead, their heart gets pumped up with oxygen and fresh blood only to fight for power, to be called 'I am the boss, my word should be the law'.
Surely, when they all were planning the tour, they knew that at this point in time, Delhi would be headless, neither the king would be here nor the courtiers. But who cares, when they are busy playing a childhood game passing the buck. A relentless and endless blame game continues and one can pass the responsibility without blinking an eye through Twitter sitting anywhere in the country or outside of it, or even when one is supposed to be in a hospital.
When media reported about three chikungunya deaths with reports of Delhi Chief Minister and Health Minister away from the city, kejriwal used Twitter to make a most insensitive comment to pass the blame on L-G.
https://twitter.com/ArvindKejriwal/status/775497017837707264
Kejriwal had preferred to be on election campaign in Punjab to salvage his party's prospects there even when he had called a special one-day session of Delhi Assembly to discuss urgent pending business. The task to lead the treasury benches of ruling AAP was left to his Deputy Manish Sisodia. If that is the case then the question which naturally arises, does Delhi even need an elected Chief Minister?
According to a NDTV report, around 1,000 chikungunya cases, 1,100 dengue cases and 21 cases of malaria have been reported so far.
When dengue, chikungunya and malaria are keeping people in Delhi on their nerves, the Chief Minister was engaged in a bitter twitter war and name calling with two media editors — Shekhar Gupta and Rahul Kanwal. Responding to a tweet by Shekher Gupta "1st malaria deaths in 5 yrs, 1st Chikungunya death now. While Delhi govt safely out conquering Punjab, Goa & Gujarat", Kejriwal twitted "Rajniti Karni hai, khul kar samne aao. Pahle Congress ki dalali karte the, abb Modi ki? Aise logon ne patrakarita ko ganda kiya." In another tweet Kejriwal said "do shabd apne malik ke bare me bhi bol dijiyejo duniya conquer kane chale hain".
To a tweet by Rahul Kanwal "CM Kejriwal in Bengaluru. His deputy in Finland. Imran Hussain on Haj. LG too abroad. North MCD Mayor away. While Delhi is in ICU! Wah re" and another tweet "AAP seems to have decided that running Delhi is not their responsibility. Let LG run the capital. They will focus on winning other states", Kejriwal reacted by tweeting:
https://twitter.com/ArvindKejriwal/status/775607002756177920
Turn to the winter of 2013 and 2014-15, when Delhi Assembly elections were held twice within a space of 15 months. Kejriwal offered himself to be one stop solution to each and every problem that plagued Delhi. But as soon as he assumed power whether for a month-and-half in 2013-14 or since February 2015, he and his party spent too much of negative energy in tackling his in-house challengers, Prashant Bhushan, Yogendra Yadav and Co. and then Prime Minister Narendra Modi. His idea was by challenging Modi and by calling him names, playing both hero and a victim at the same time he would emerge as the sole challenger to Modi and the BJP in 2019 parliamentary elections. To him L-G was a mere small pawn, whose constitutional position didn't need to be taken into account. Since he had 67 MLAs in the house of 70 and all voted by people in his name, his word should be taken as law. He conveniently forgot that government runs through well laid out norms and not by whims.
Didn't he blame Sheila Dikshit for all the ills in Delhi in the run up to the Delhi elections? The problem with Kejriwal is that he never got down from activist mode to a more serious governance mode. He didn't keep any portfolio with him and as the time passed and his political ambitions grew he became a virtual non-resident Chief Minister.
The Constitutional limitations of the Delhi Chief Minister has been too well known and it would be too foolish to consider that Kejriwal of all the people didn't know about it. But then since the time the first Delhi assembly was elected as per the provisions laid down in 69th Constitutional Amendments Act 1991 and Government of National Capital Territory of Delhi Act, in 1993 and Madan Lal Khurana assumed office, the system worked smoothly. The L-G had the same powers as he has today but there never was a public spat, least of all, a daily affair. When BJP leader Khurana became chief minister, a Congress government was at the Centre and when Sheila Dikshit took over and remained chief minister for 15 years, early parts of her rule had a BJP government at the Centre. But there was never a clash. In fact, the first Metro train in Delhi ran when Delhi had a Congress government and Centre had a BJP government.
Kejriwal surely had different ideas about himself. He thrives in confrontation at varied levels and wants that he and only he should be counted. That is proving to be disastrous for Delhi.
Who should people of Delhi blame for their current ills? After all, they had voted for BJP in all seven parliamentary seats to make Narendra Modi prime minister and to AAP in 67 out of 70 seats to make Kejriwal chief minister. They thought their vote would turn Delhi a cherished place to live in. Little did they know, they were calling for anarchy in Delhi.
India
To make the movement of visitors easy, the three existing platforms have been connected to subways. The platforms will have a seating facility that can accommodate at least 480 people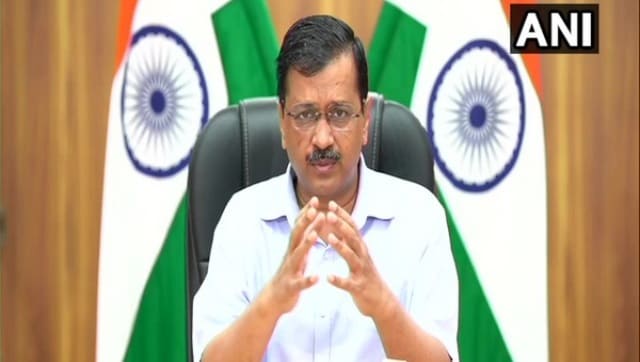 India
The Delhi government has allowed academic gatherings at schools and colleges from Monday under the seventh phase of the easing of lockdown. Students, however, won't be allowed to physically attend educational institutions
India
Prime Minister Narendra Modi on Sunday urged people to nominate their choice of persons, who are doing exceptional work at the grassroots, for Padma awards.