Misa Bharti's Rajya Sabha nomination exhibits Lalu's brand of 'family first' socialism
Lalu Prasad Yadav's proclivity for socialism has well and truly come home. He has nominated his daughter Misa Bharti as a Rajya Sabha MP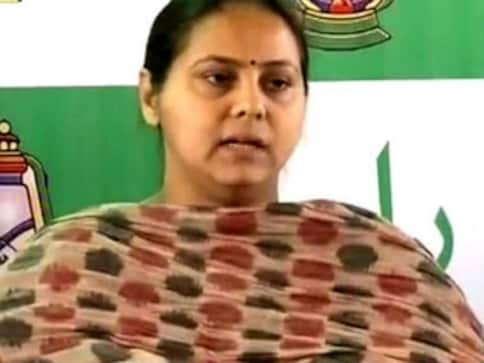 Lalu Prasad Yadav's proclivity for socialism has well and truly come home. He has nominated his daughter – Misa Bharti – the eldest of his nine children, as a Rajya Sabha MP. Come the Monsoon session of parliament, she could be honourably seated among the Opposition in the Upper House as the face of the family-owned Rashtriya Janata Dal (RJD), embarking on her journey into national politics.
Misa is set to become an MP now as her father believes that it is time to settle her position in politics. Only two years ago, she had fought and lost parliamentary elections from Patliputra to an old family-loyalist-turned-BJP-rival, Ram Kripal Yadav. The onus of victory or defeat in that election, in any case, was not on her. It was her father who was fighting a proxy battle against one of his own erstwhile protégés. The result in May 2014 was a moment of ignominy for the RJD chief, temporarily souring the family settlement plans.
Lalu has since avenged that humiliating defeat by securing a triumphant victory in the 2015 Bihar Assembly elections over BJP. His party won 8o out of the 100 seats it contested and in doing so became the single largest party in the State Assembly – he helped ally JD(U) win slightly fewer seats than him, and made an otherwise laggard Congress win handsomely.
His two sons – Tejashwi and Tej Pratap – won with elan. Tejashwi became the deputy chief minister and Tej Pratap a senior minister; it didn't matter that both were first timers in the Assembly. The two brothers directly reign over six state ministries – road construction, building construction, backward class development, health, forest and environment, and backward and extremely backward class welfare ministry.
Deputy Chief Minister Tejashwi now speaks on behalf of the government on all subjects, including law and order, a portfolio held by Chief Minister Nitish Kumar. He even places official advertisements solely featuring him, without a mention or a photo of the chief minister.
That's not the protocol, but then he is the leader of the single largest political party and thus a projection of this kind is understandable from his, or father Lalu Yadav's, mother Rabri Devi's and RJD's perspective.
Their rule is flourishing in Bihar. Jungle Raj is back in the state. But the question remains, as they say in Hindi, 'Misa Bharti ka kya? (What about Misa Bharti?)'.
After losing the parliamentary elections, she kept herself out of public debate for about a year before hitting the headlines again in March 2015 following a Facebook post – a picture of hers speaking from the podium of John F Kennedy School of Government, Harvard University, USA.
Her claims were rubbished within hours by Harvard. In a statement released to the media, Harvard said that it had not invited Misa as a speaker and that she was merely a part of the audience. The organisers also released the names of the dignitaries, including retired police officer and politician Kiran Bedi and actor Rahul Bose, who were invited as speakers.
That obviously hurt her, family elders and party workers. At the very least, she did actually venture to go to Harvard. Her only fault was to take a picture there, standing at the podium in an empty hall. Some argue that that was what many others would also do. It was a harmless innocent action of a young aspiring leader from a supposedly underprivileged community.
She was also the one – first from the 'Gen-Next' of the Lalu-Rabri family – to sweat it out, get a feel of the heat and dust in politics. Yet, she had nothing to show for it, at least till recently. She will now be an unofficial MP elect, till the result is formally declared in the next few days.
Her two younger brothers are well settled by now. During the last Assembly elections, she had shown her calibre by twisting a certain remark of Prime Minister Narendra Modi, and counter-charging him. She has her own fan following now. Father Lalu had to reward her, and make the world believe in her leadership qualities.
The Rajya Sabha's biennial elections provided the perfect occasion. But it could not be done without mother Rabri Devi sacrificing her own political ambitions, and father Lalu Yadav's letting go of his desire to get a big official accommodation in New Delhi.
If Rabri was nominated for Rajya Sabha, she would have got a bigger Type VII or Type VIII residence. As former chief minister of Bihar, she was entitled to that. But in the traditional sense, parents have always sacrificed to secure their children's future. Lalu and Rabri are only practising that social tradition.
In this round of Rajya Sabha elections, five seats from Bihar had fallen vacant. The RJD is the biggest gainer. Going by the present composition of the Bihar assembly, RJD will get two seats, JD(U) two and BJP one.
So far, RJD had only one seat, held by Lalu's old time loyalist Prem Chand Gupta. Misa could have the privilege of having veteran lawyer Ram Jethmalani as her fellow party MP. Jethmalani has been nominated by Lalu as reward for the legal advice he is giving to the RJD chief in the fodder scam case. Jethmalani has lately become a Narendra Modi baiter, and is thus politically useful to the RJD. It remains to be seen how long Jethmalani remains beholden to Lalu's generosity.
Misa, in all likelihood, will have the distinction of being the leader of RJD parliamentary party with Jethmalani and Gupta as members. As far as family-first socialists go, Lalu is no exception. He is only following the socialist tradition set by elders like Mulayam Singh Yadav, Deve Gowda and regional party chieftains like M Karunanidhi, Sharad Pawar etc.
In JD(U), Nitish Kumar has rewarded Sharad Yadav for stepping down from the post of party president without creating a fuss. Yadav has been nominated again for a Rajya Sabha seat. So has RCP Singh, a former IAS who happened to be Nitish's principal secretary, and is now his eyes and ears, apart from being his perceived fund manager. RCP Singh was given precedence over the likes of KC Tyagi and Pawan Verma.
The BJP gave a surprise nomination to its former state president Gopal Narain Singh, leaving its prominent leader Sushil Kumar Modi out in the cold.
also read
India
The Rashtriya Janata Dal has caused a lot of stir by comparing the new Parliament building with a coffin. In a tweet, RJD posted a picture of the building alongside a coffin with the caption: 'What's this?'
India
A bunch of opposition parties has boycotted the grand opening ceremony of the new Parliament building
Explainers
According to an RTI reply, India spent around Rs 200 crore on salaries, allowances and facilities for Rajya Sabha MPs over the last two years with around Rs 63 crore spent on their travel alone