Trade union strike on Friday: Why Arun Jaitley's minimum wage formula backfired
In this backdrop, one cannot blame the trade unions for taking their protest to the streets with their demand for decent minimum wages.
The central trade unions, except the Rashtriya Swayamsevak Sangh (RSS)-affiliated Bharatiya Mazdur Sangh (BMS), have decided to stick to their Friday (2 September) pan-India strike plan, despite Union Finance Minister Arun Jaitley's last minute efforts to make peace. The Congress and Left-aligned trade unions are together on this issue while the BMS is caught between a rock and a hard place, since its continuing involvement in the strike plan will backfire politically.
Jaitley did so by increasing the minimum wage for unskilled, non-agricultural workers to Rs 350 per day from Rs 246 currently, nearly half of what the trade unions had demanded (Rs 18,000 minimum pay a month or about Rs 692 a day) and announcing a two-year bonus. This was mostly a trade union appeasing strategy and not a solution to the core problem of wage disparity in the unskilled labour sector. In this backdrop, the trade unions' decision to go ahead with the strike plan isn't a surprising one.
The point here is a minor wage revision was never a solution to resolving the larger anomalies present in the wage structure of India's significant number of unskilled laborers. Instead, the Narendra Modi government should have gone for a detailed relook at the wage problems faced by unskilled labourers by addressing the methodological issues, said Anshul Prakash, associate partner at Khaitan & Co. "The trade union appeasing steps wouldn't work to address the core problems. There is a need to bring in uniformity in wages," Prakash said.
There are mainly two problems here — the absence of a uniform wage structure between the Centre and the state spheres and also a comparative index of wages across different segments of labor such as construction, sweeping and cleaning and those work in stone mines, among others. Till now, the government doesn't have a clear methodology to arrive at the wages for unskilled workers. It's mostly done through informal discussions with the trade unions or different ministries or by simply putting out a circular. There aren't wide, scientific consultations or methods to see whether the wages drawn by these unskilled workers are mapped to the prevailing costs of goods and services, recorded in the consumer prices index.
According to government data, as on 31 March 2015, the number of contract workers engaged in the central sphere is 19,03,170 while the figure for contract workers working in the state sphere is not centrally maintained. The contract workers are governed by the Contract Labour (Regulation & Abolition) Act, 1970 that covers only those establishments and contractors that employ 20 or more workmen on any day of the preceding 12 months.
Unless changes are brought in the law to ensure a uniform wage structure across labour segments and ensure minimum wage linked to the inflation, there wouldn't be a permanent solution to the wage-related concerns of the employees. At Rs 350, a contract laborer will receive a monthly payment of Rs 9,100 assuming they work on 26 days. This is against the Rs 18,000 wage set by the 7th pay commission for central government employees, and hardly suffice to sustain the basic needs of rural households where only one member of the house has employment.
The impact on rural households on account of the widening gap between the income and their expenditure is particularly severe given the skyrocketing costs of essential food items and services. A look at the consumer price inflation shows that food prices continue to be the pain area. The CPI food index, in July, rose from 137 to 138.8 (in percentage terms from 7.79 percent to 8.35 percent), the veg index rose to 165.5 from 159.7 (though percentage terms a tad lower at 14.06 percent from 14.81 in June). Similarly, pulses and products rose to 177.4 from 174.3 (in percentage terms 27.53 percent from 26.86 percent).
Cost of food and other essential items is one part. There has been a sharp increase in the costs of various services as well, making life for common man difficult. This part is likely to get impacted further when the goods and services tax (GST) kicks in pushing up costs of services further up. Also, there is no comparative mechanism on how the government arrives at ages for work in different segments in the central and state spheres.
In this backdrop, one cannot blame the trade unions for taking their protest to the streets with their demand for decent minimum wages. More than that, clarity and uniformity in the methodology on arriving at the wages is warranted. What Jaitley has done now is only a trade union appeasing strategy, which is already backfiring. A deeper look into the whole issue is in order.
(Kishor Kadam contributed to this story)
Politics
Explaining his statement, Dattatreya Hosabale said Nation and State are two different things. While a nation is a "cultural concept", State is that which is established by the Constitution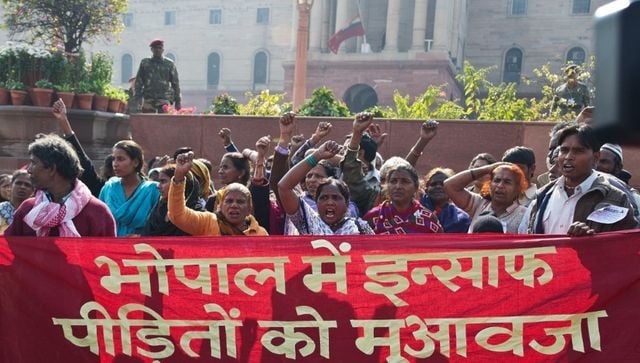 India
Rejecting the Indian government's curative petition that sought more funds for the victims of the 1984 Bhopal gas tragedy, the top court said it would open up Pandora's box. The American company, Union Carbide, responsible for the disaster had paid the survivors Rs 715 crore in damages in 1989