Minimum city blues: whither Kolkata?
Mamata Banerjee has inherited a decaying brand that lost its cosmopolitanism years ago. But Kolkata wants to play catch-up with New Delhi and Hyderabad. With Didi in the Writers' Building, the question everyone's asking is: Can Kolkata get its groove back?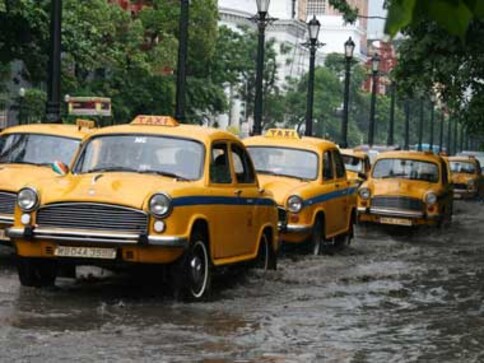 As the airplane veered across the sun-baked expanse of central India, I glance at the little navigation monitor in front of me. The aircraft is a little arrow shooting eastward from Mumbai on a map of browns and greens. A daisy chain of cities dot the landscape on-screen— Mumbai, Delhi, Bangalore, Colombo, even Tashkent. But there is no sign of the plane's destination. My hometown Kolkata seems to have literally fallen off the map.
This is the city that Kingfisher Airlines, and India, forgot. Trams still trundle down congested streets. The old mansions molder in a state of genteel decay. Its politics remain trapped in a cycle of opposition — bandhs and counter bandhs, rallies and counter-rallies.
This is the Kolkata that Mamata Banerjee inherited on Friday. And this is the Kolkata that I came back to after almost two decades in America.
"Why did you come back?" everyone asks in disbelief.
Banished from Eden (Garden)
This is a city that's grown used to being abandoned. First the British abandoned it for Delhi in 1911. Industries followed suit right after. Now its own children are leaving in droves. In 2006, Kolkata had 21 Assembly constituencies. In the 2011 elections, Kolkata had 11, its population declining relative to the rest of the state. It is a maximum city sinking into minimum. Even the cricket World Cup bypassed its hallowed Eden Gardens stadium this year.
Kolkata feels like a graying city. My sister stands in line to pay the property taxes. She says the room is filled with senior citizens, clutching canes and tax bills. Someone says they should have a separate line for seniors. Another responds, "What's the use? Almost everyone here is a senior citizen anyway."
Right before the elections, Mamata organised a special train to Bangalore from Kolkata for desperate youngsters stranded by the Air India strike. It was an example of the can-do minister delivering for her constituents. Ironically, the youngsters were heading to Bangalore for medical college examinations. "I want to study outside Calcutta, and Bangalore is the best choice. It offers more career opportunities," Debdatta Biswas, a Class XII student, told The Telegraph.
Karnataka has 4,500 medical seats on offer. Bengal has 1,205, although West Bengal ranks fourth in terms of population, while Karnataka is number nine.
The city has its fans, many of them foreigners, who find a certain melancholy romance in Kolkata's crumbling cityscape. They want to take photographs of it before the neon-bright malls gobble it up. Journalist Ruchir Joshi dubs it "decay tourism". The city has a certain allure, especially in black and white photographs – cracked and worn, faded by sun, stained by rain. "Gentle decay was always part of Kolkata's identity," says novelist Amit Chaudhuri.  "But the gentle decay had a cultural vibrancy and playfulness. Now there is only decay."
The stock answer to all of Kolkata's woes has always been more investment. Trinamool promises that as well. Investment brings infrastructure. Culture, that amorphous thing that puffs up Bengali dhotis with pride, will surely follow, the TMC poobahs assure us.
Rubbish, says Ruchir Joshi. "Culture grows like a good fungus alongside the investment and infrastructure, sometimes as a resistance to it," he says. Amit Chaudhuri agrees. He says when he was growing up in Bombay, he knew of no city as exciting as Kolkata. "Newspapers, magazines, annuals for children, the Children's Little Theater, Uday Shankar's Shankar Scope," he remembers. "It was encountering a world that belonged here and nowhere else."
Mamata might make the trains run on time. But it's going to be harder to revive her hometown's mildewed culture. It's not just about removing the dustcover. The rot runs deep.
"The shit is not hitting the fan. It's hit the fan," says V. Ramaswamy, longtime grassroots organiser and social planner. "There is just no real urban community anymore except perhaps among the poor." In Kolkata, vacant plots of land used to be neighborhood playgrounds. Boys from all social classes played there even if the rest of their lives never intersected. "But the chartered accountant's son and the sweeper's son were both in the Puja committee together," says Ramaswamy. "That's unthinkable now." The vacant plots of land are gone. Houses have been replaced by gated apartment complexes.
The house where I grew up has been demolished as well. In its place stands a boxy apartment building with big black gates and spikes on top. When I signed the death warrant of our old house, I remember wondering what would happen to the men who sat on our stoop every morning drinking tea, reading the newspaper, and smoking Wills Filter cigarettes. They moved to the porch across the street. But now that house too has been pulled down. The new flats in Kolkata no longer have the old porches, the rowaks that faced out towards the city and the world.
Kolkata, anxious at having been left behind by the rest of India, has been grasping blindly for progress, setting up IT-sectors and wooing any and all investment. Tehelka reported about how the city is planning to double its luxury hotel capacity even though the venerable Oberoi Grand keeps a third of its rooms shuttered for lack of business. It's as if it wants to find a short cut to becoming the new New Delhi or the new Hyderabad, keeping up with the Mehta's by building flyovers, malls and mini-Gurgaons. Yet that train left the station long before Mamata became the railway minister. "You have to take from the outside but not copy," says Ranabir Samaddar, head of the Calcutta Research Group. "China takes but it doesn't take blindly."
There's always Bihar
What the city has lost is not just industry but a sense of cosmopolitanism that once drew people like Amit Chaudhuri to it. It was a cosmopolitanism that was rooted in Kolkata's love for its language but not limited by it. The Left Front read it wrong when it uprooted English from its primary schools to shore up Bengali pride. "It was cosmopolitan, not nativist," says Chaudhuri.
Ranabir Samaddar remembers how a young man named Serge came all the way from Sorbonne to tell Bengali students to come out and protest when Parisian students were striking in 1968. "What happened to that age of global restlessness?" wonders Samaddar. "What has happened to Kolkata?"
The Bengali became timid and conservative, clinging fiercely to everything that was disappearing. Its old clubs are located in houses which proudly proclaim Thomas Babington Macaulay once lived here (yes, he who said "a single shelf of a good European library was worth the whole native literature of India and Arabia"). Their doormen enforce dress codes with starchy vengeance. No slippers. No collarless shirts. No jeans. But denim shirts are fine.
The challenge for the new Kolkata is going to be  can it get its groove back without trying to take the dustcover off its old Raj glory?
For that to happen it needs to first swallow its pride. Samaddar says that is already happening. "The Bengali being upper nose and upper caste always said at least we are better than Bihar," he says. "Now that myth is broken."
It has to accept the fact that the cultural hegemony of what Calcutta thinks today, India thinks tomorrow, is over. Rabindranath Tagore is dead and has been for 70 years. He has been the opium of our masses for years.  "The Bengali bhadralok is like Marie Antoinette," says Ramaswamy. "If (the masses) can't have bread, give them Rabindrasangeet." In Tagore, the arts became part of a humanist world view.  In modern Kolkata they have become just another sit-and-draw competition.
Living under one party for so long, Kolkata has become used to a politics of patronage. The danger is for all the talk of change and paribartan, Kolkata will just switch its patronage wholesale from one party to another. The Trinamool assiduously wooed the Left-leaning culturati of the city to give its own image an intellectual facelift. Now Mamata's paintings sell for crores. Yet no one writes satirical riffs about the politician as an artist.
Relocating Kolkata in new India
Trinamool's campaign literature makes heady promises about reviving a golden Bengal. All national resurgences need a bit of that golden age myth. But this is a city that has to realise the old brand has expired. The British are not coming back to set up jute mills and gentlemen's clubs.
Sumit Roy, the founder of Univbrands whose tagline is "growing people who grow brands" thinks a rebranding might be possible, not just a facelift. "The Bengali is lazy but with a high degree of emotional intellect," says Roy. He points out Bengalis have done very well for themselves—  outside Bengal. He sees a future for the city in areas that are about "understanding people, and how they work. Not manufacturing but communication, making processes work better."
"It must be homegrown," agrees Samaddar. "But we need an open mind. This election, at least has shown that passive, stagnant politics can open up." In a city where the mantra has been "cholchhey cholbe" (if it kinda runs, why fix it) there's suddenly an appetite for change.
Making change actually happen requires something more — discipline and a will to work. "The two most prominent parties both have politics of stop work," says Roy. A friend said the auto-rickshaws in his neighborhood, Buddhadeb Bhattacharjee's constituency, ceased work as soon as the exit poll results came out. "I wonder if this is the legacy of Left-ism or just innate Bong-ness," he mused.
Change without change
If Mamata is going to revive Kolkata, she's going to need to give it a strong dose of tough love. Yet for now, the Trinamool is going the easy route – appealing to that innate Bengali sense of exceptionalism.
"Please make way for others," the over-excited Trinamool announcer kept saying to the throngs gathering at Mamata's house as the election results came out. "International media have come from all over the world to spread our leader's words to the world. Please allow them access to this sacred spot, this holy place, the thatched hut from which Bengal's second liberation struggle was launched."
Just outside the leader's "thatched" house, while her ecstatic supporters flung clouds of green gulal at each other, stood a young popsicle vendor selling frozen colas in plastic sachets. In the baking heat, at one and two rupees a pop, he should have been doing brisk business. He'd even taken care to have the day's colors – green, orange and white in addition to regular cola. But business was terrible, he complained. Trinamool was just giving away cold drinks at the head of the street for free, he grumbled, ruining his business.
I bought a two rupee popsicle and gave him a 10 rupee note.
"No change," he sighed.
On the taxi ride home, I handed the driver a 100 rupee note. "No change," he shrugged.
In a city electric with the promise of change, real change, it seems, is still hard to find.
Football
The large cutouts and banners of Lionel Messi and Diego Maradona in the streets depict the enthusiasm of the soccer aficionados of Kolkata.
First Cricket News
Pat Cummins has opted out of IPL 2023, where he represents Kolkata Knight Riders, in favour of international cricket for Australia.
First Cricket News
The English batter played eight games for Kolkata Knight Riders earlier this year, scoring 169 runs an average of 24.14.