Migration from Bangladesh: A humanitarian issue highly politicised in West Bengal
India has had a long history with Migration especially across the eastern border. After independence, migration has become more political and less humanitarian.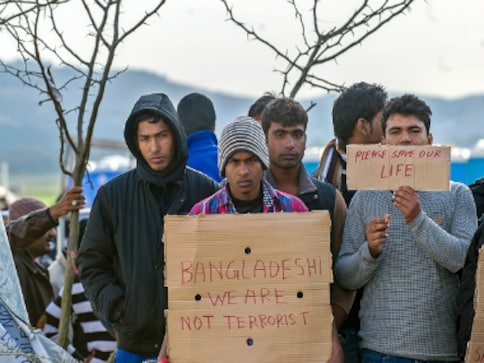 India has had a long history with migration, especially across the eastern border.
After India attained independence, immigration assumed a political dimension and reports of migrants posing a threat to national security have surfaced over the years.
Usually a topic not acknowledged by most political parties, the BJP's top priority in this year's West Bengal Assembly election is to drive infiltrators out of the country and seal off the border. Whether BJP will be successful or not in doing so is a multi-dimensional issue but the crux of the matter lies in the fact that a humanitarian issue is highly politicised.
A brief history of migration in West Bengal
In 1971, the civil war in the erstwhile East Pakistan, nearly 10 million Bangladeshis — mostly Hindu — came into West Bengal to escape the atrocities like murder, rape and forced conversion to Islam. Subsequently, a lot of Muslims from Bangladesh also started fleeing to West Bengal because of extreme poverty in their state.
The start of the migration can also be pinned onto the Liaquat-Nehru pact (1950). On 8 April, 1950 India's then prime minister Jawaharlal Nehru and his Pakistani counterpart Liaquat Ali Khan signed a treaty stating that minorities in the both countries should be provided complete equality — which also included the freedom of movement.  
Another report published in International Business Times in 2012 quoted an Indian official saying that the rise in the number of mosques and restoration of the older ones indicates a rise in the Muslim population, however this can't be result of population growth alone and is largely credited to Bangladeshi Muslims settling in the state.
What the figures say
According to an NDTV report from 2014, there were about 20 million Bangladeshis present in West bengal at the time, however there are no reliable figures available.
According to an international NGO called Concern Universal, close to 50 Bangladeshis cross over to West Bengal every single day, said a report in India Today.
The census of India report from 2001 states, "Statement 12 on migration by last residence shows that there were 4.9 million persons who migrated from the neighbouring countries, constituting about 96.9 percent of the total migrants from abroad. The bulk of these migrants were from Bangladesh, who were around three million in number."
It further adds that the "bulk of international migration shown above relates to '20 years or above' category, pointing towards migration at the time of partition or the formation of Bangladesh in 1971. Large-scale migration from across the border seems to have declined after that, except in the case of Bangladesh."
As of 2001, there were around 259,204 migrants that came into West Bengal. The Census data however, does not segregate the countries from which these migrants came.
Politics of Migration
According to a report in The Statesman, Mamata Banerjee wants to grant citizenship to Bangladeshis living in India for more than five years - "I will ask the Centre to authorise the district magistrates in granting citizenship cards to people, who have crossed over the border and have been residing here for five or more years," she said at a press conference on 18 February, 2016.

In West Bengal's previous municipality elections, 50% of the vote share went to the Left parties and these municipalities were mostly situated in along the Indo-Bangladesh border, this could be her reasoning behind the move, reported Business Standard.
Narendra Modi and the BJP have been very vocal about their intolerance towards the Muslim populous in the country. For over a year now, the BJP has been asserting its stand on immigration, Muslim terror and Mamata's 'appeasement politics'.
In a 2015 NDTV report, Modi was quoted as saying, "You can write it down. After 16 May these Bangladeshis better be prepared with their bags packed", during one of his rallies in Serampore which is a border town in West Bengal, sharing a penetrable border with Bangladesh.
Modi also said that Hindu migrants from Bangladesh would get Indian citizenship as they 'should not suffer in other countries'.
Migration is not new to West Bengal, or to most to states in the North east for that matter.  But the issue of illegal immigration is raked up only around elections. 
An India Today report suggests that the Left Front government in West Bengal has always been in support of immigrants, even extending a political helping hand and encouraging more people to come to India.
A report in Scroll suggests that in Uttar Dinajpur, another border town, Hindu refugees from Bangladesh have pitted themselves against Muslim Badiyas or Bhatiyas, who have been around for over two decades now. The Hinuds suggest that the Muslim who claim to be from Malda and Murshidabad, towns close to the Bangladesh in West Bengal, are actually from Bangladesh and hiding this fact from the government.
The report further states that the BJP, in neighbouring Kishnaganj, have launched a campaign to evict the Muslim Badiyas from the area and even claim that they are illegal Bangladeshis. Whereas, Badiyas in the Uttar Dinajpur claim that they provide the labour for agicultural activities and that evicting them would only hurt the economy. They claim that everything the BJP is doing is just communal politics to get more votes in the bank.
However, the local population of Surjapuri is unfazed by immigrants. Their stance is simple — they came here because the land is more fertile and there is not reason for them to be treated differently, says the Scroll report.
A Reuters report from 2014 states that Narendra Modi's government was open to a land swap with Bangladesh that would have helped in solving the border dispute as well as help thousands of people living along the 4,000-odd kilometre long stretch. Through this land swap Modi wanted to seal off the entire border area and stop infiltration.
However, a report in Quartz suggests that West Bengal shares the largest border with Bangladesh, one that stretches for 2,216.7 kilometres and sealing it would be a feat.
A humanitarian perspective
A report in Russia Today says that most crossing the border are Bengali speaking Muslims that are trying to escape poor economic conditions. Nearly 80 per cent of the the country's population lives in rural areas and almost 53 per cent is categorised as poor by the World Bank. The cultivated areas in the nation is declining by 1 per cent every year.
The report further states that immigrants in West Bengal works mainly as labourers in farm lands, industries and also construction workers.
There is no bilateral agreement between the two countries as of yet and this lack of consensus between the two nations is what has created a population that feels like it belongs neither here nor there. The Russia Today report further adds that it is along with economic impoverishment that makes the immigrant population vulnerable to criminal activities and in turn threatens India's security.
also read
India
PM Modi will deliberate on issues related to health, skill development, women empowerment and infrastructure development, with an aim to make India a developed nation by 2047
India
He said, 'we have to bring to the international stage our personality, our culture, our heritage. So when Prime Minister Modi motivated the world to celebrate the practice of yoga, it wasn't just a cultural or a fitness exercise he was advocating'
India
Senior historian Kapil Kumar pointed out that opposition leaders such as former Congress chief Rahul Gandhi make an extra show of religiousness by visiting temples and even claim to be 'janeu dhari brahmins' ahead of elections while disowning cultural and religious values as voting is over