Middle class losing patience with Modi govt; BJP's declining hold in urban seats shows group feels neglected
The urban middle class saw in Narendra Modi a leader who could fulfil their aspirations. But there is now an overriding impression among them that the prime minister has taken them for granted, perhaps driven by a belief that they have no other alternative.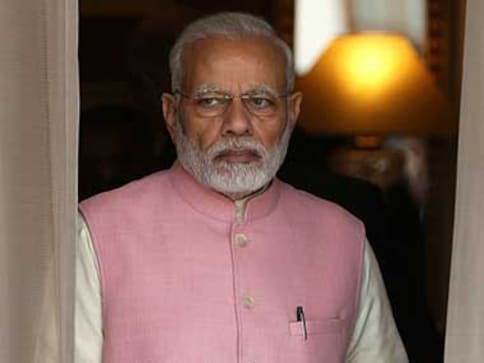 Post facto election analysis done immediately after results are announced is like blind men describing an elephant. One trend, however, is clear in even the most perfunctory scrutiny — the BJP is losing its traction among the urban middle class. The earliest set of data indicates that not only has the BJP's supposedly impregnable voter base eroded (at least coinciding with Narendra Modi's move to the Centre), the Congress has also eaten into this pie. The concomitant swings have created a perceptible gap into which fell the party's hopes of retaining the Hindi heartland states of Chhattisgarh, Madhya Pradesh and Rajasthan.
Its hold over urban areas had helped the BJP clinch the tough fight against the Congress in Gujarat last year. Among the 42 urban seats in Modi's homeland, spread across eight major cities, the BJP had bagged 36, while the rest went to the Congress. This was a slight dip compared to the BJP's performance in 2012, when it had pocketed 38 urban seats to Congress' four. In contrast, the BJP lost 14 rural seats to the Congress.
A year later, a shift in this trend seems to have swung the BJP's fortunes in at least two states — Madhya Pradesh and Rajasthan — where there was little to choose between the two parties in terms of vote share, which also consolidated the Congress' gains in Chhattisgarh. The mood of urban middle class voters seems to have darkened towards the Modi regime, fueled by an impression that to expand the BJP's footprint among rural voters, the leader on whom they had pinned their hopes has betrayed his loyal backers.
This sense of betrayal might be anecdotal — based on the experience of daily drudgery or unmet expectations — but it is a palpable discontent that is rising. When a party suffers from an erosion in its so-called "core" base, its job becomes complicated.
The Print points out that in Madhya Pradesh, Rajasthan and Chhattisgarh, the BJP won only 46 percent of the 80 urban seats, down from the 80 percent it had bagged in 2013. This translates to 37 out of 80 for the saffron party compared to its tally of 64 in 2013. Among these 37, the report notes, the BJP could retain only 32, while it added five newer seats. In Chhattisgarh, for instance, the BJP managed to win just 22 percent of these seats, down from 67 percent in 2013. But even in seats that the BJP retained in its kitty, its vote share took a nosedive.
Others have pointed out similar trends. The Times of India noted how the BJP conceded urban seats in Madhya Pradesh — considered its strongholds — to Congress in cities such as Bhopal, Jabalpur, Gwalior and Indore.
Anecdotal evidence from social media groups on platforms such as WhatsApp — the turf for the next battle to vie for middle class attention beyond Twitter and Facebook — reinforces this new trend. It suggests an increasingly cynical temper among the middle class for Modi, who not so long ago could do no wrong. While part of this cynicism could be the result of rival political parties upping their social media game, a major part of it is likely organic.
So how did the BJP manage to alienate the middle-class urban voter? The term "middle class" is a vague term, used interchangeably to address a large section of the electorate that comprises lower, middle, and upper-working classes, independent professionals, trading and business communities. Given India's scale and size, this addresses a huge social group that is as diverse as the nation. Yet, if there is one value that binds this amorphous group, cutting across numerous divides in terms of caste, community, class and religion in India, it is aspiration.
The aspirational nature of the social group presents any imaginative politician with an opportunity to appeal to a cross section of the electorate transcending all divides. In 2014, Modi sold his dream of "achhe din", and millions bought it. Conventional wisdom might hold that the urban middle class has always been a BJP voter, but data tells us the reality is more complex.
Sanjay Kumar, director of the Delhi-based Centre for the Study of Developing Societies (CSDS), and Pranav Gupta, researcher with Lokniti-CSDS, point out in Livemint that the BJP had lost a huge chunk of middle-class support in 2004 that contributed to Atal Bihari Vajpayee's defeat. Five years later, that support dipped further as "the Congress managed to take a lead even among the upper middle class". However, in 2014, Modi was able to "win back" the support of this volatile group, chiefly on the basis of his personal appeal. The authors write that 28 percent of BJP voters said they would have "voted differently if Modi had not been the prime ministerial candidate in 2014". "Among the middle class, this figure was higher still."
It is evident that Modi led BJP to huge gains among this group of voters, but this support was never unconditional. The point about democracy is choice, which involves an amount of transactionalism as well as loyalty in the decision-making process, but the transactionalism quotient is higher in this amorphous group's support compared to backing from a caste or community that tends to be stickier.
The urban middle class saw in Modi a leader who could fulfil their aspirations and were willing to hedge their hopes on him. But there is now an overriding impression among them that the prime minister — and it really boils down to him owing to the 'strong leader' image that Modi has carved for himself — has taken them for granted, perhaps driven by a belief that they have no other alternative. This has resulted in a sense of alienation, and this sense of alienation has deepened gradually over the past four years.
Firstpost spoke to a cross section of tax consultants, IT professionals, small business owners and salaried professionals. Nearly all of them had voted for Modi in 2014. This sample size is too random and small to qualify as a dipstick, but the near identical views point to some interesting takeaways.
The salaried professionals feel deceived by the fact that the Modi government has not touched Section 80C, related to deductions, or income tax slabs beyond tinkering at the edges and has, instead, piled on the cesses, an act that has been interpreted as "penalising the backers for their support". This lack of even a token of appreciation has aggravated the adverse sentiment against the Modi government, and many are inclined to vote against the BJP just to "teach the party a lesson".
Small business owners are aggrieved that demonetisation forced a change in their operations, and that grievance has been heightened due to the patchy implementation of the Goods and Services Tax (GST). Many in this category are grappling with the complexity of the process to file returns and are ending up swelling the kitty of chartered accountants, who seem to be the only tribe not complaining.
While the GST has failed to simplify the process for traders and business owners, it has not been able to bring down the taxes enough for consumers, many of whom feel that it is unfair to tax white goods such as washing machines, refrigerators, storage water heaters, etc. so high (at 18 percent), when these are necessities, not luxuries. There is also palpable discontent over high fuel prices and high interest rates, combined with low returns in small savings schemes.
Many of these impressions could be removed from reality, but that doesn't make it any less real for the voter, and consequently, political parties. If misinformation is, in part, causing dissatisfaction among voters, then the government has failed in its messaging. It is not the voters' failure.
These anecdotal impressions do have some backing from number crunchers. As Kumar and Gupta point out in their Livemint article, the Modi government had some sops for almost every interest group in the country except the middle class, who, instead, of any gratification in the forms of "tax cuts or sops, has had to contend with higher cesses".
If Modi had hedged his bet on more patience from the middle class, that seems to be running out.
Explainers
The grand jury that indicted Donald Trump has heard evidence of another hush money payment made to Playboy playmate Karen McDougal. Experts say this could mean additional charges for the former president or that lawyers are attempting to show a pattern with regard to paying off women
Explainers
Democratic lawmaker Aisha Wahab introduced the bill just a month after Seattle voted to outlaw caste discrimination. This issue has come to the fore in California since 2020 when the employment regulator sued Cisco Systems on behalf of a low-caste engineer. But some claim it will further fuel instan
World
The adjustments reflect a movement that is currently underway at museums all over the world, spurred by Russia's invasion of Ukraine