MGR's birth centenary: Actor's political career an offshoot of films which dwelt on meticulously-crafted political image
In the birth centenary year of MGR, the former chief minister of Tamil Nadu, Firstpost looks back at what made him an icon.
"Nan aanayittal athu nadandhu vittal ingu yezhaigal vethanai padamattar (If I promise and if that promise materialises, the poor will not suffer here)." An all-time favourite MGR song is being heard from a parked auto on Wall Tax Road, near Chennai Central Station. The driver is leaning against the back seat and is taking an afternoon siesta while tapping his legs against the resin cover of the auto on a hot and humid day. His auto had a big sticker of a woollen cap and dark sunglass-clad image of MGR.
Marudur Gopalan Ramachandran or MGR as he was fondly called is still a cultural-political icon among the Tamil population. Majority of the rural Tamil still believe that a politician should be like MGR, the champion of the poor, former chief minister and founder of the All India Dravida Munnetra Kazhagam (AIADMK).
He is still living in the minds of the people, replaying his clean, politically charged characters and those countless songs that once revolutionised the thinking of the marginalised. What stage plays achieved for the Communist Marxist Party in Kerala during the 1940s and 1950s, movie dialogues and songs did for MGR to help him become a legend.
MGR's popularity as a chief minister was just a crown on his hugely successful film career. For the people, he had already started his welfare measures when he acted in those movies and he had just implemented them when he got time to sit away from the movie sets. MGR for them was a saviour who was born on the studio floors in Madras and his posting as a chief minister was just an extension, a poetic justice that the plot had in store for an exceptional hero.
When the scriptwriters and songwriters burnt the midnight oil to bring out 'politically suitable' content for his movies, MGR was crafting a career, which is arguably unparalleled in Indian movie-political history. He handpicked the dialogue writers and lyricists when he realised that the time had come for his final plunge. He emerged from the shadow of M Karunanidhi after carefully nurturing his young wings under the shade of the towering DMK (Dravida Munnetra Kazhagam) patriarch. Under that innocent looking, ever smiling face of MGR, lay the face of a political tactician, who later would keep his once-friend Karunanidhi out of power for 10 consecutive years.
MGR's successful political career was an offshoot of his movies which dwelt on a carefully crafted and meticulously propagated political image. Ironically, it was Karunanidhi, MGR's bitter political rival later, who moulded the early years of MGR, both as a movie hero and a political powerhouse.
Kannadasan, the famous Tamil poet and writer took him to new heights. When Karunanidhi distanced himself from the fear of being sidelined by the growing popularity of MGR, Kannadasan too parted ways due to the difference in political opinion. MGR brought in Aarur Dass and RK Shanmugham to aid his climb to the top.
When Kannadasan fell off, MGR brought in the poet of the youth Vaali, to pen songs that announced the arrival of a man who could wipe away the tears of the poor. His 'Naan aanayittal athu nadanthu vittal'' summed up the social reforms that MGR was to carry out after he became chief minister in 1977, 12 years after the song was released. RK Shanmugham created dialogues that declared the arrival of a messiah, a fighter, a reformer and probably the best socialist ruler.
"It was CN Annadurai, the founder of Dravida Munnetra Kazhagam (DMK) who started using movies for political propaganda. Tamil Nadu, which had a poor literacy rate, had a huge fan following for stage plays and Anna's parent party, the Dravidar Kazhagam (DK) founded by Periyar had been using stage plays to spread its political ideology," G Dhananjayan, noted film historian and producer, elaborated on the connection movies had in Tamil Nadu politics. Without a bit of history on the umbilical connection that Tamils had with movies, the growth of MGR may not be well explained, feels Dhananjayan.
When Annadurai started using movies to propagate the political ideology as he felt it was the mass medium available to communicate to a largely illiterate audience, Karunanidhi shot to fame with his witty and politically charged writing. Karunanidhi, who was in search of an ideal hero who could win over the masses found MGR, who started off his career with side roles in Tamil movies in 1936 and his political career with the Congress.
Looking back at MGR's career, it is evident that he was not just interested in building a career in cinema and his target was something larger. Even when he was a small actor, he showed his enthusiasm in politics and had joined Congress in which he remained till 1953.
Karunanidhi gave MGR his first hit as a movie actor with a critically acclaimed 'Manthrikumari' in 1950. "The hero in the movie raised disturbing questions and was bold enough to raise his voice against the king. Karunanidhi's strong screenplay also ridiculed the religious beliefs and propagated atheism. MGR started to grow in stature as a movie star with this movie," Dhananjayan said.
When he started to get closer to Karunanidhi and through him in the Dravidian ideology, MGR did not think twice about dropping his 'Guruvayoorappan devotee' tag and gave a convincing energy while acting out rational dialogues in Manthrikumari.
MGR grew to a superstar status with his next movie, again written by Karunanidhi, 'Malaikallan' in 1954. The movie broke all box office records then and for the first time introduced the hero as a champion of the poor who had scant regard for the unprincipled rich. MGR by then had joined the rationalist DMK, launched by Annadurai and started propagating the ideals of DMK through his movies.
Kannadasan penned impeccable dialogues and lyrics to further the cause. "In Nadodimannan (1958), MGR shows the DMK flag on screen and that movie penned by Kannadasan depicted him as a king, who brings in social and economic reforms to help the poor. The movie had helped MGR very much to build his political career later," Ajayan Bala, film historian and Tamil writer says.
Kannadasan was the main dialogue writer and lyricist for MGR movies during his DMK period. "Both Kannadasan and Vaali purposefully incorporated lyrics to popularise their party ideology. Songs like 'Moonrezhuthil en moochirukkum' (Deiva Thaai, 1962, meaning - my life breath lies in three letters) directly referred to DMK and they also had songs to popularise the rising sun symbol of the party," Dhananjayan said.
MGR hardly took the pains to bring in new stories for his movies. The fodder for his political ambition was well available in other regional languages. So, he watched other language movies, remade those he liked and loosely adapted some others.
He selected the writers to redo the dialogues which would suit his swashbuckling hero and political warhorse image. "RK Shanmugham was the one who wrote more political dialogues for MGR just ahead of the launch of AIADMK. His 'Rikshawkaran' (1971), the story of a fighter against crime and social injustice, won MGR his first National Award for best actor," Ajayan Bala said.
Shanmugham already had given a major hit to MGR with his dialogues in 'Aayirathil Oruvan' (1965), which showcased MGR as a leader of slaves who fought against the powerful for their rights. Kannadasan's lyrics to the song 'Atho antha paravai pole vazhavendum' (Meaning - Oh! we need to live like that bird) infused a new sense of freedom among the marginalised and propagated the need for a classless society, an idea MGR strongly supported during his political heydays.
G Dhananjayan recalls MGR as a thorough politician who crafted his political career carefully in about 27 years of his movie career. "The dialogues were all created to make MGR a hero of the masses, a saviour of the poor and a master ruler. He never displayed any bad habits, either on the screen or off it. There cannot be one more MGR and the impact of movie stars in Tamil Nadu politics is passé," Dhananjayan said.
When MGR fell out with Karunanidhi and launched his political party Anna Dravida Munnetra Kazhagam (AIADMK) in 1972, the shrewd politician in him came to the fore. From 1972 to 1977, MGR extensively used cinema to build his image as a potential ruler of the state.
For MGR it was difficult to denounce Anna. He knew the pulse of the people and their affinity towards Annadurai. Karunanidhi had been playing the Anna successor card and MGR had to use his movies to counter it, to get a share of Anna for his success as well.
From 1972 onwards, all his movies had an elder brother character to whom the hero was always loyal. He called his elder brother 'Anna' and sought his advice. Dialogues like "Anna neenga sollaruthu thaan nan seiyum (Brother I will do only what you say)" and "Anna unga manasil enakku idamirunthal podhum (All I want is a place in your heart brother)" are among the ones he used to let the people know that he too is an Annadurai loyalist.
Dhananjayan remembers how MGR's political cunningness paid a rich dividend to him in 1977. He said, "Karunanidhi was in power at that time and the censor rules were strict. They were waiting for any direct political comment in MGR's movie to censor it. But MGR was so smart that he indirectly communicated his political aspirations to the public. Anna in his movies was a direct reference to Annadurai and the public could easily associate with it."
When Kannadasan as a scriptwriter and lyricist tirelessly worked to propagate the Dravidian ideology through his movies, Vaali, as a lyricist focussed more on boosting the image of MGR as a politician and superstar. Vaali's song in Anbe Vaa, 'Udaya suriyanin paarvayile' (meaning  - in the eyes of the rising sun) which refers to the party symbol of DMK was vetted by the censor board and Vaali was forced to change the beginning of the song to 'puthiya sooryanin paarvayile' (meaning - in the eyes of the new sun).
However, the song was sung in such a way that the audience could hear it as "udaya sooryanin paarvayile". Vaali continued to write for MGR and most of his songs became huge hits. The lyrics unmistakably positioned MGR as a mass hero and the saviour of the downtrodden.
Tamil cinema continues to entice millions of youths in the state and the Tamil heroes are inseparable from the Tamil psyche. However, as actor Charu Hasan once said, the time of Tamil heroes becoming political heads of the state has passed. The huge popularity these actors enjoy, which is now evident in their social media following, may not translate into votes.
"MGR did it with élan and later Vijayakanth tried it with average success. He had Liyakath Ali Khan to create politically motivated scripts like Shanmugham did for MGR. But still, he could not recreate the success of MGR. Tamil Nadu has changed as people are now better educated to make informed decisions. Though they have evolved, their craziness towards movies and movie heroes still remain but that may not get converted as votes," Dhananjayan, who has been closely following the developments in the film industry, said.
Tamil heroes, however, still hope to recreate the MGR magic. They tweak scripts to suit this purpose, ask the lyricists to come up with lines that could make a political statement. Vijay tried it with his latest movie 'Mersal' and Kamal Haasan, who had done movies with subjects varying from anti-corruption to anti-terrorism, is all set to test the ground with a new political party. But can anyone really manipulate cinema to launch their political ambitions like MGR did?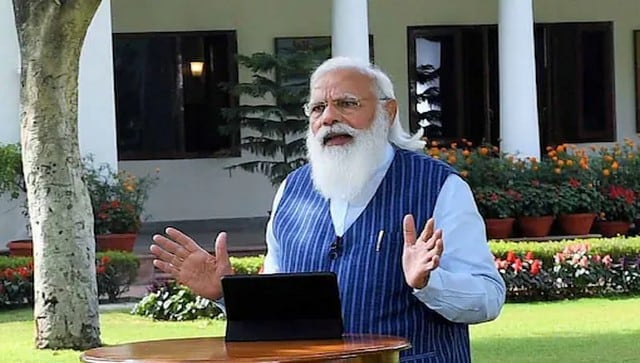 India
The reshuffle comes in less than a week after Prime Minister Modi last Saturday met secretaries of all ministries and departments to speak about required reforms in government processes.
Politics
His selection assumes significance as the dissension-riven Congress faces the Assembly polls in less than five months and the fact that Dalit voters comprise 32 percent of the state's electorate
Entertainment
The biggest limitation of RARA is its lack of emotional depth. The lead couple's arc remains agonizingly two-dimensional, where we know precious little about them apart from their love for their bulls.