A day after thousands of people attended the funeral of slain Hizbul Mujahideen militant in South Kashmir's Tral, a convention of Peoples' Democratic Party (PDP) was overwhelmed by youth, marking a stark contrast of political ideologies. In a politically vulnerable place like Kashmir, youth with diverse ideologies have found themselves in confrontational mode and are at the forefront of the changing dynamics of the politics.
What surprised many was the sheer number of youngsters who attended the youth convention organised by PDP's youth wing, which is headed by Waheed-ur-Rehman Para, at the residence of chief minister Mehbooba Mufti.
This was a sight worth beholding, for the same number of youth could have been throwing stones at security forces a mere hours back in south Kashmir.
"I came here (youth convention) because I believe government is the only solution for underdevelopment and can solve the problem of rampant unemployment in the state," Ubair Ahamad, a resident of Pulwama, said.
Political parties across the spectrum do not want to miss the c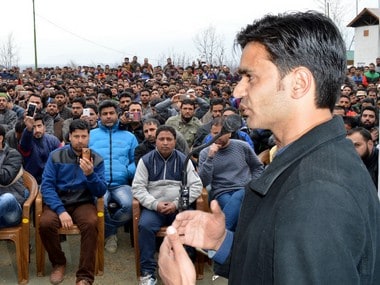 hance of winning the constituency of the youth, most of whom are very vocal about their political aspirations. Mainstream political parties have activated their youth wings to bring more youth into their fold while pro-freedom parties, without any formal recruitment, have found a ready-made population adhering to their programs.
The convention, held a few months after the last year's unrest in which around 100 youth were killed, thousands wounded, some blinded by pellets and hundreds arrested under Public Safety Act (PSA), was one of the latest doles offered by PDP which is witnessing a decline in its popularity graph among people since coming into power two years ago.
"Peoples Democratic Party is worried about it's image among people particularly in rural areas where it created mayhem during the unrest," Khalid Amin, a political science scholar, said. "But there are people who identify themselves with their ideology," he added.
Since the Amarnath Land row, Kashmiri youth have largely moved closer towards separatist groups resulting in million-strong marches during 2008 and 2010. The rallies, attended by lakhs of people in the Valley, proved to be a major embarrassment for mainstream parties like National Conference, PDP and Congress. This resulted in the ban of such rallies since 2010 in capital Srinagar for fear of the media glare they attract. The year 2016 also witnessed huge rallies in the rural areas which were out-of-bound areas for forces for months.
"It's a fact that people identify themselves more with pro-freedom parties particularly since last 10 years. The fact that they don't have to spend money, unlike the mainstream parties, to attract youth is also good for them," a senior Kashmiri journalist, who wished to anonymous said.
"Even after barring people from joining rallies, government couldn't engage people, particularly youth, in a political way. Otherwise, why would they throw stones to be heard?," asked the journalist.
On Tuesday, people resorted to social networking sites to castigate people for attending PDP's convention. But the number of youngsters who had joined the PDP youth convention was startling, considering the turmoil and tension in the air that is still going on in the valley.
"These people are left with no shame. How can they shake hands with people who killed and blinded our brothers," wrote a Srinagar youth, who was detained during 2016 unrest, on Facebook.
At the convention, Mehbooba tried to strike an emotional chord with the youth by reminding them of the past when she would help people in getting them released from police stations.
"I remember how people would request me to get their boys released from police stations. Our relation is made by God not by votes and I respect that," she told a large gathering of youth who had assembled at party's Youth Convention held at chief minister's official residence in Srinagar.
Mehbooba promised youth jobs if they help her in restoring peace in Kashmir. "I feel hurt when I see the stones in the hands of the youth who earlier acted as my bodyguards whenever I visited their villages. I want to tell you that give me peace in the Valley and I will provide you jobs in different departments," she said.
A senior political science professor in Kashmir, who is researching on street politics, however, said that both pro-freedom and mainstream parties have failed to engage youth.
"No matter most of the youth follow Hurriyat programs but the lack of strategy by Hurriyat leadership has given them a freehand on roads. They rule the roads during unrest which is dangerous in absence of a leadership. Anarchy is dangerous in conflict places and can lead to civil wars," the professor said.
"On the other hand, the deceitful politics played by parties like NC and PDP have also left youth disappointed. Come election and every party will promise youth jobs and other facilities but will forget them on coming to power," he said.
Updated Date: Mar 08, 2017 13:43 PM