Meghalaya polls: BJP in talks with like-minded political parties for alliance, says Ram Madhav
BJP General Secretary Ram Madhav on Saturday said talks are on with like-minded political parties to stitch a pre-poll alliance in Meghalaya
Shillong: BJP General Secretary Ram Madhav on Saturday said talks are on with like-minded political parties to stitch a pre-poll alliance in Meghalaya for the Assembly polls slated for February-March 2018.
Madhav was in Shillong to oversee the party's preparation ahead of Prime Minister Narendra Modi's visit to the state on 16 December to launch the Bharatiya Janata Party (BJP) election campaign.
"The scenario for a pre-poll alliance are emergingHow it will finally culminate. I can't say right now. But yes we are having a discussion with some political parties.
"We are preparing for both situations. We are talking to some parties. If no alliance is going to happen then we will be ready to contest in all the seats," he told media persons.
Asked if the BJP had held parleys with the National People's Party (NPP), which is a constituent of the National Democratic Alliance for a pre-poll alliance, Madhav refused to comment saying that he does not want to discuss anything on this as of now.
yaNPP's lone Lok Sabha member Conrad Sangma is supporting the BJP-led NDA government at the Centre and the BJP-led government in Manipur.
In response to a query, Madhav said that if finally the party does not have any alliance, then it will certainly contest in all the 60 seats.
He said that the party is going to fight the election in Meghalaya with utmost seriousness to oust the Congress-led Meghalaya United Alliance government.
"We strongly feel the state should be freed from the corrupt, inept and misrule of chief minister Mukul Sangma," Madhav said after a meeting of the core committee at the party office.
"The people of Meghalaya deserves better and the BJP is before the people of the state as an alternative for a better and brighter future," he added.
Madhav also said that the BJP's door is always open to right thinking and good leaders in the state, and they were appealing to all cross sections of people to join and support the party, as well as to all the relgious leaders in the state, both indigenous faith, Christianity and other faith to bless their endeavour.
On Modi's visit, he said, "The rally will be our launching pad for the election campaign in Meghalaya. We are going to the people with the slogan that Meghalaya deserves change."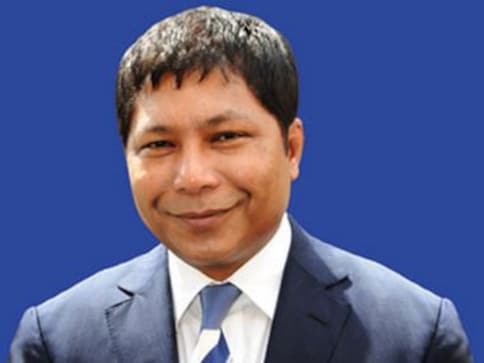 Politics
Meghalaya chief minister Mukul Sangma said the election results were not on expected lines and he would keep his cards close to his chest with regard to the Congress forming government in the state.
India
"We will empower self-governing bodies and work for greater say of women in administrative decision making as we believe that this will help Meghalaya get more benefits."
India
Meghalaya Chief Minister Mukul Sangma has asked railway officials to work out plans and design for rail connectivity between Shillong and Sohra.