Meghalaya Election 2018: BJP promises pension, jobs and pukka roads in manifesto, keeps options open for post-poll alliances
In a 17-page manifesto, BJP promised pension, 24X7 electricity to every household and job opportunity to every youth in Meghalaya among other tall promises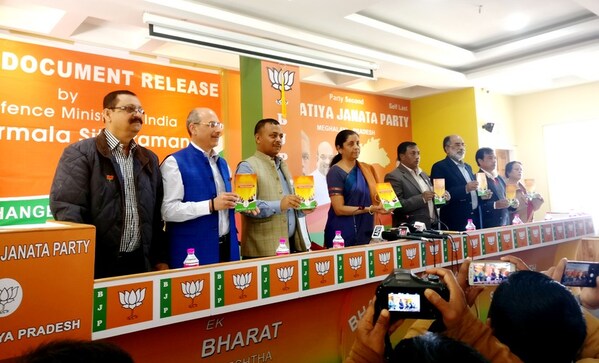 Shillong: Defence Minister Nirmala Sitharaman on Thursday released the Bharatiya Janata Party's election manifesto for Meghalaya — a state where the party has not tasted much success in earlier elections. The 17-page manifesto, referred to as 'vision document', said the party will resolve the contentious coal mining issue within 180 days of forming a government in the state, among other tall promises.
If voted to power in Meghalaya, BJP has also promised to provide free sanitary napkins to women from BPL families, pension to daily-wage labourers, 24X7 electricity to every household, a job opportunity to every youth in the state and pukka roads to connect every village to district headquarters, among several other schemes.
"The best road in Meghalaya is the one from Guwahati to Shillong, which was built by the Centre. If you travel to the Jaintia Hills, there is a stretch of 30 kilometres that takes more than six hours to cover. There are wooden bridges in Garo hills from where the chief minister comes. In the 21st century, schools and colleges are not there in the state. At the end of the day, Congress must see that 15 years is a long time. They couldn't provide schools, roads, employment, healthcare or a good administration," BJP's national spokesperson Nalin Kohli told Firstpost.
A few kilometres away, Congress leader Anand Sharma called a press conference where he criticised the BJP manifesto, saying the party was making promises it cannot fulfill. "I was told BJP has released its vision document, that it has promised the Sun, the moon, and the stars. They can promise more, because they are nationally known now for selling dreams, making false promises and betraying the mandate and people," he said.
Kohli says that BJP's poll campaign has highlighted Congress' poor track record in the state.
"The Congress party does not have an agenda of its own. They are running away from the fact that in 15 years, they have a list of unkept promises and scams, and therefore the focus of their campaign is to somehow stop the BJP. It is a campaign that reveals that they do not want to present their track record before the voters," Kohli said.
Kohli said the BJP has been slowly making strides in all Northeastern states.
"In Tripura, it is Left versus BJP. In Nagaland, BJP is an important player. For a party that has zero seats in Meghalaya, developing it to a point where the Congress party is completely focused on it clearly shows how well BJP must be doing here," he said.
Sitharaman, who released the BJP manifesto in the presence of Tourism Minister KJ Alphons and the party's state president Shibun Lyngdoh, said, "We are not here because it's election season. We are here because we believe positive change requires a lot of concerted effort."
"Change can be brought about by any party. But if you have an advantage like a certain party has had by being in power for the last 10 years, the longest duration of which the same party was also at the Centre, wouldn't you then expect a state like Meghalaya to get its due?" she added.
The BJP will contest 47 out of the 60 seats in the Meghalaya Assembly and has not announced any pre-poll alliances. However, the party has kept the prospects of post-poll alliances open.
"We feel people in Meghalaya see that BJP is doing a lot of groundwork which can make a difference to their lives. So, we have decided to stand alone in the elections," Sitharaman said.
"That is not to say we wouldn't want to have any association with like-minded organisations," she quickly added, keeping prospects of post-poll alliances wide open.
Campaign for 'change'
Billboards with BJP advertisements prominently featuring faces of Prime Minister Narendra Modi and party chief Amit Shah — among other leaders — can be seen along every road in the capital city of Shillong ahead of the 27 February polls. In other areas, saffron painted minivans carry the message "It's time for change," in English and in Khasi.
"I don't think it is only about the campaign. The important thing is the message we are carrying: the message of positivity, the message that 19 states in the country have BJP in their governments, and a message of inclusiveness and development," Kohli said.
Speaking with Firstpost, Member of Parliament from Shillong and Congress leader Vincent Pala questioned why these posters only feature leaders from Delhi. "Why don't they have the local president's or chief ministerial candidate's photo? I've seen these vans, not a single one has photos of local leaders — only Amit Shah and Modi."
Responding to the statement, Kohli said, "I am glad they are seeing our billboards, but if they had seen them more carefully, they would have noticed faces of Shibun Lyngdoh, our state president and that of AL Hek, chairman of our campaign committee."
"Narendra Modi is the most loved, popular, charismatic and credible leader of our country. If the Congress party does not have leaders who have credibility and work behind them, it is their problem," he added.
When asked why Congress is not investing in such advertising campaigns, state Congress' working president James Lyngdoh said, "We are working at the grassroots level here. You keep seeing billboards and advertisements of BJP saying it's 'time for change', but it's not a time for change. People do not want change. We are touching people's lives directly, we do not need such stunts."
Politics
Tejashwi Yadav, the 33-year-old younger son of the charismatic Lalu Prasad, has finally come back to centre stage as the kingmaker. He has demonstrated an ability to read the situation he finds himself in and make the best of it
India
Thirst for a public justice over ill-gotten wealth could be a very strong election plank. It will win over the poor and the middle classes
Politics
A possible split between the Nitish Kumar-led JD(U) and BJP in Bihar is on the cards. The alliance partners have been at loggerheads over the state Speaker, Cabinet berths and more. Now, former JD(U) president RCP Singh's quitting the party and his apparent proximity to BJP has escalated the tension