Meghalaya Assembly election: Campaigning ends in poll-bound state even as workers continue to defect, swap parties
Resignation of senior members in the last few months from Congress, BJP in Meghalaya has also led to an exodus of workers, which has affected campaigning.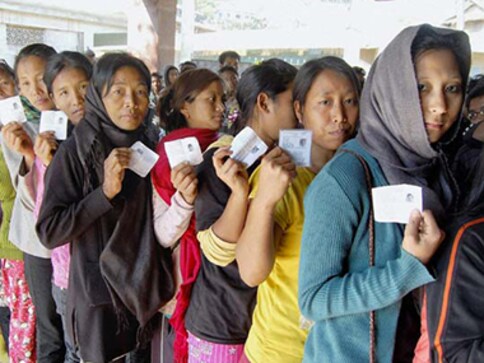 Shillong: The resignation of senior party members in the last few months from Congress and BJP in Meghalaya has also led to an exodus of workers. This has affected the election campaigning ahead of the Assembly elections on 27 February, which ended on Sunday.
Congress MLAs Prestone Tynsong, Rowell Lyngdoh, Sniawbhalang Dhar, Comingone Ymbon and Ngaitlang Dhar have joined the National People's Party, a member of BJP-led North East Democratic Alliance. Alexander L Hek, who was a BJP MLA from East Khasi Hills when he joined Congress in 2013, has shifted his allegiance back to the saffron party. From BJP, former district president of Shillong City Keith Pariat and three other leaders — William Marbaniang, Wallambok Thangkhiew and Sunshine Warjri — quit the party to join Congress.
All of them have taken their supporters along.
'Those quitting are a floating population'
In North Garo Hills, a Congress stronghold, the Resubelpara constituency has seen a massive withdrawal of support. As many as 42 Congress leaders, including presidents, secretaries, leaders of the district, block and primary committees, have resigned from the party.
"Another 3,500 Congress members resigned from the party since. It's because of the autocratic rule of the sitting MLA Salseng C Marak. He would never consult others while taking decisions regarding the constituency. He never listened to us when we came up with suggestions," says Chisal R Sangma, former district president of Congress from North Garo Hills.
The former Congress members from this constituency are now supporting an independent candidate and first-timer 30-year-old Braze Adoneza G Momin against Marak. "We are voting for Braze. His win is assured," Chisal says. He also maintains that the independent candidate is likely to support Conrad Mukul Sangma-led NPP while forming the government. "We are going to support NPP if they need help in forming the government".
Braze gives his point of view. "My constituency has a mixed population of Achik and Rabha community and 87 percent of them are farmers. They do not have a regulated market. They do not get a good price for their crops. The previous MLA from Congress had promised a lot to uplift their conditions, but it remained the same. People are frustrated with Congress. So, they have decided to support an independent candidate this time."
Marak says his party depended on new workers for campaigning. "The workers who quit Congress were a floating population. They move from one party to other depending on where they see the more benefits. One of the main factors could be money," he says.
In South Garo Hills' Chokpot Assembly constituency, claiming that popular support was for Congress MLA Bluebell Sangma, over 200 supporters of the party resigned after the ticket was given to Lazarus M Sangma.
Bluebell, who says she resigned according to the wishes of the people, is now contesting from Chokpot as an independent candidate. "People are unhappy with the Congress leadership. This has been the trend in the party, to rule as dictators. Surely, Congress is at loss. They have lost the confidence of a huge chunk of people in this constituency," she says.
Good that those not committed have left, says CM
Prestone Tynsong, a former minister in Sangma's cabinet, claims Congress will not get more than 15 seats in the upcoming polls. "It's because Congress has made a blunder in terms of its high command. The leadership in Meghalaya is an issue. Sangma functions like Congress and the government are his property. He failed to live up to the expectations of his colleagues and he will see the results of his misdeeds in the polls," he says.
Tynsong had been the minister of public health engineering in the 60-member Meghalaya Assembly since 2013. He was dropped from his position in August last year for "anti-party activities". In December 2017, he joined NPP.
Sangma, while denying any negative impact on his party, says, "It's, in fact, a good sign that people who were not committed to the party have left it before the elections. The present candidates are enough to win the polls. We had formed the government on our own last time and this time also we will win more than 30 seats alone."
"Sometimes, cleansing is also necessary for the party so that new faces, new ideas can be induced in the governance," he says.
Meanwhile, on reports of 5,000 workers quitting BJP, state youth president Egenstar Kurkalang called the figures inflated. He says many have also joined BJP "for the vision that the prime minister carries". "Some party workers quit and they were not loyal to BJP. More than the people who quit, we had many shifting from Congress and NPP. So, we were better placed for campaigning for the elections," Kurkalang said.
Former BJP member Keith Pariat says the party workers left because they were bypassed and sidelined. "BJP's present leaders there did not trust in strengthening the party at all. It will remain a debacle for the party."
The author is a Guwahati-based freelance writer and a member of 101Reporters.com, a pan-India network of grassroots reporters. She tweets @syedaambia1
Follow Meghalaya Assembly election results LIVE
India
The BJP's spending report showed that it spent over Rs 221 crore in Uttar Pradesh, over Rs 23 crore in Manipur, Rs 43.67 crore in Uttarakhand, more than Rs 36 crore in Punjab and Rs 19 crore in Goa
India
Bommai said that the ultimate truth will always triumph and the attitude of talking without any evidence will not last long
Explainers
Eight out of 11 Congress MLAs of Goa have left and joined BJP. Tune in to know why