Mecca Masjid blast case: Congress walked into Hindutva trap on 'saffron terror'; it may lose whatever is left of its credibility
NIA special court's acquittal of all five accused in the Mecca-Masjid bomb blast case has forced Congress into a corner from where it has no easy escapes.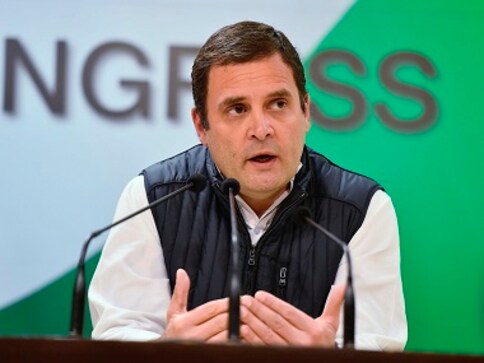 The Congress has walked into a trap of its own making. The NIA special court's acquittal of all five accused in the Mecca Masjid bomb blast case has forced the party into a corner from where there are no easy escapes. Little wonder that Rahul Gandhi on Monday bolted past reporters when they sought his opinion on the verdict. His Twitter account has also fallen silent. The Congress president and his party evidently have very little to say.
It needn't have come to such a pass. The Hyderabad court verdict in the 11-year-old case where nine people were killed in a bomb blast while offering their prayers inside the four-century-old mosque leaves enough ammo for the Opposition to target the BJP in the middle of an election season.
Metropolitan sessions judge Ravinder Reddy has resigned right after acquitting all five accused — head of Vanvasi Kalyan Ashram Swami Aseemanand, RSS pracharak Devendra Gupta, RSS functionary Lokesh Sharma, Bharath Mohanlal Rateshwar, member of Hindu Vichar Manch, and Rajendar Chowdary, a farmer. The timing has triggered feverish speculation and conspiracy theories.
The NIA has failed again to prove its case amid reports that 66 witnesses have turned hostile. Hindustan Times quotes an official associated with the prosecution to report that 78 out of 304 witnesses "were dropped as they were formal witnesses and their deposition didn't have a bearing on the judgment" while out of 226 who did, "66 turned hostile and didn't support the prosecution."
Times of India reports that NIA is unlikely to appeal against the verdict because it apparently has "little material evidence" against the accused. According to the report, chargesheets were filed largely relying on confessional statements and once the accused claimed that these were obtained under duress, the case fell flat.
The ruling left relatives of the victims distressed and helpless. Bangle-maker Syed Atiq told The New Indian Express that he has "lost faith in the judiciary". Muhammad Abdul Kareem, who was wrongly accused in the case, blamed the probe agencies.
It would seem this is a golden opportunity for the Congress to claim that justice has been denied to the victims and put the ruling party under pressure over the repeated failures of India's premier investigative agency to prove its cases in courts. Barring an odd comment from Ghulam Nabi Azad, the Congress has remained largely quiet and may continue to do so. Why is the Congress letting go of such a political opportunity?
The answer takes us to the heart of Congress' existential crisis. The Grand Old Party has diagnosed its fading electoral footprint as the result of being perceived as a "minority appeasement party", prompting a recent public lament from UPA chairperson Sonia Gandhi that "BJP succeeded in wrongly convincing people that the Congress was a Muslim party".
If an impression has recently gained ground that 'Shiv-bhakt' Rahul is a bit too eager to display his janeu-dhaari credentials, Sonia admitted that "Maybe... there is a bit of this because we have been pushed into a corner on that... And so, perhaps rather than going to a temple quietly, then maybe yes... a little more of public focus on that."
Sonia's comments and Rahul's extended 'temple run' (the venue has shifted from Gujarat to Karnataka) reveal Congress' belief that if it runs a "me too" campaign around competitive Hindutva, it might be able to stop an erosion of its Hindu vote bank and even poach BJP's core constituency. Theoretically, that should give Congress enough numbers to beat the BJP since minority votes will never go to the saffron outfit anyway.
There is one major problem with Congress' tactic. In a game of competitive Hindutva, it shall always lose to the BJP because its 'bhakti' would be perceived as an electoral compulsion, not arising out of a concern for core Hindutva issues that are rooted in BJP's historical, political and cultural ethos.
Among other things, Hindus are unlikely to forget that it was the Congress-led UPA that brought in sectarian laws such as the RTE and tried to push through controversial legislation such as the Prevention of Communal and Targeted Violence (Access to Justice and Reparations) Bill.
What Congress' desperate efforts to become a BJP-clone might end up doing is severing its ideological connect with the culturally centre-left ethos and make it a rootless party that seeks to disown its past, is uneasy of its present and unsure of its future. Nowhere has this dilemma been more apparent than its reaction to the Mecca Masjid blast verdict where it was forced to launch a desperate defence of its earlier stance on 'Hindu extremism' and 'saffron terror' while fending off BJP's verbal volleys.
In light of Swami Assemanand & Co's acquittal, the BJP asked the Congress to apologise for "defaming" Hindu religion and for coining the term 'saffron terror'. BJP spokesperson Sambit Patra in a news conference on Monday said: "A former official RVS Mani told the media today that Home Minister (P. Chidambaram) was involved in changing the files… To hide the truth, to change the truth and to change whatever was already submitted in the court through an affidavit, this is what Chidambaram and others in the Congress dispensation were doing just in order to prove saffron terror. Rahul Gandhi and Sonia Gandhi must apologise to the nation."
Congress sought to take refuge in semantics. It claimed that "Rahul or the Congress party has never used the words 'saffron terror'" and a party spokesperson added that "it is mere rubbish. There is nothing called saffron terror. It is our clear belief that terror cannot be linked to any religion or any community or caste."
The Congress may be technically correct in claiming that Rahul has never used the term "saffron terror", but these semantic juggleries serve to only prove Congress' duplicity. In one of its leaked cables, Wikileaks had exposed how Rahul, during a dinner with Timothy Roemer (then US ambassador to India) in 2009, had claimed that India faces a "bigger threat" from Hindu extremists than even Islamist terror groups.
According to the diplomatic cable, Rahul warned Roemer that though "there was evidence of some support for (Islamic terrorist group Laskar-e-Taiba) among certain elements in India's indigenous Muslim community, the bigger threat may be the growth of radicalised Hindu groups, which create religious tensions and political confrontations with the Muslim community".
He added that "the risk of a "homegrown" extremist front, reacting to terror attacks coming from Pakistan or from Islamist groups in India, was a growing concern and one that demanded constant attention", according to a report in The Guardian.
Not many would be interested in hair-splitting of the kind Congress is now being forced to propound. The party's defence, that it never used the term 'saffron terror', also falls flat. During a meeting with state police chiefs in 2010, then Union home minister P Chidambaram had cautioned the officers against "saffron terrorism".
"There is no let up in the attempts to radicalise young men and women in India. Besides, there is the recently uncovered phenomenon of saffron terrorism that has been implicated in many bomb blasts of the past. My advice to you is that we must remain ever vigilant and continue to build, at the Central and State levels, our capacity in counter-terrorism," Chidambaram had advised top police and security officers, according to a report in The Hindu.
Unless Congress wants people to believe that Chidambaram wasn't a senior leader of the Congress Party apart from being the home minister in a Congress-led UPA at the Centre, it is tough to understand how this statement can be disowned. Besides, there are enough examples of other senior Congress leaders and ministers making a connection between Hinduism and terrorism.
In 2013, Sushilkumar Shinde, then Union home minister, had claimed that BJP and RSS were promoting "Hindu terrorism", and had received backing from the party, according to a report in The Hindu.
In 2013, senior Congress leader Digvijay Singh, while addressing a Congress 'Mahasammelan' at Kukshi about 110 kilometres from Dhar, had said: "I have no hesitation in saying that all Hindu terrorists who have been caught have links with the RSS but it must be explained as to why all of them had links with the outfit."
One could go on but it's needless. What comes out of Congress' attempt to disown the past is a desperation driven by its need to appear pro-Hindu. It remains to be seen whether a cosmetic ideological shift will bring the party closer to power, or erode further whatever is left of its credibility.
Explainers
The engineer-innovator, who gained national fame after inspiring the lead character in the Bollywood movie 3 Idiots, is demanding an extension of the Constitution's Sixth Schedule for Ladakh and environmental protection from 'unchecked industrial and commercial expansion'
Opinion
While India is broadly in favour of globalisation and free trade, the Modi government has placed the national self-interest stage centre in the mix. It wants reciprocity and mutual advantage, or it tends to lean towards Aatmanirbharta
Entertainment
In response to a Twitter user's appreciation post for Gandhi, Agnihotri wrote, "I like the ease with which he wears warm jackets indoors and goes without jacket outdoors. Also, ease with which he drinks chai outdoors and 5 course meal indoors. Easy drama. Easy followers. Good one."