MCD Election 2017: Irrespective of results, introspection is need of the hour for AAP
AAP is liked by people because it's different. If it tries to become like any other political party, it will be doomed.
Aam Aaadmi Party, the hope of the aam aadmi (common man) of Delhi till two years back, is expected to get a drubbing at the hands of BJP in the MCD elections, as per exit polls.
Whatever be the results on Wednesday, the party needs to undergo serious introspection if it wants to resist the onslaught from BJP in Delhi. It needs to rethink its strategy, else retaining Delhi in the 2020 Assembly election and expanding base in rest of India would be difficult.
The party needs to identify key issues with its current set up and tweak its strategy for the upcoming elections.
Develop second rung leadership
AAP is a one man party, dependent solely on Delhi chief minister Arvind Kejriwal. Today, AAP is no different from regional parties like RJD, TRS, SP, BSP, TDP etc. which are all a one man show. It needs to empower its second rung leaders.
A good idea would be to depute the likes of Kumar Vishwas, Sanjay Singh, Ashish Khetan and Ashutosh in states where elections are likely to be held in the next two years. These people should be handed the responsibility to expand the party base, build cadres comprising young people and pick up and focus on issues of non-performance of governments in these states.
Bring back ex-colleagues
A patch-up effort should be initiated by Kejriwal to bring back party founders Yogendra Yadav and Prashant Bhushan into the fold. Their sacking has dented the image of the party. The party will gain from the expertise of Yadav, who knows a lot about the demographics and socio-economic background of different states – being a pollster earlier.
Bhushan brings with him his legal expertise and through PILs, he can help expose corruption in incumbent governments. Most likely, their Swaraj Party is likely to get a sub-three percent level vote share in the MCD election. But, whatever it gets would have translated to votes for AAP, had they been united again.
Curb over-ambition, have patience
AAP is a young dynamic party and like many youngsters, with dreams in their eyes, it wants to gain success quickly. It was able to form the government in Delhi in 2013, within a year of its formation. A party like BJP took 10 years to form its first state-level government.
AAP needs to have patience. It needs to build a strong base in states where it wants to contest. It can't win every state like Delhi in a short span. In Delhi, Kejriwal worked for years as an RTI activist and then with Anna Hazare for the India Against Corruption movement.
The party needs to have patience; their turn will come, especially with Congress on a decline and because of the need for a party to fill in the void.
Conserve energy, contest where AAP has a chance
It would be wrong to say that the party is all over the place. It did contest in only two states, in Punjab and Goa, out of five states which went to polls this year. It has to continue to look for building blocks in states where Congress and BJP are the main players, and there are no big regional parties.
Four states go to polls in the next one and a half years – Madhya Pradesh, Chhattisgarh, Rajasthan and Gujarat. BJP and Congress have been ruling the state for decades now, essentially making them bipolar contests. There is a clear need for an alternative party in these states.
Though AAP may not win any of these, it can start preparing a strong base for the next state elections. Chhattisgarh would not be an ideal place to contest – with Ajit Jogi forming his own party, the contest is already triangular. Similarly, Karnataka is a no go, as JDS is a dominant third party there. In Karnataka, the focus should be limited to urban seats, if at all.
Needs to perform in Delhi... stop the theatrics
AAP needs to perform in Delhi. It has done good work but the controversies (defamation, tussle with LG, corruption charges etc.) have robbed the party of its due credit. A clear demarcation between government and the organisation structure needs to be established.
Kejriwal can rise above this wall. Like Prime Minister Narendra Modi, he is the star campaigner for his party. But, even if he is needed to go to other states for rallies/campaigns, an impression that he is neglecting Delhi should not be generated.
AAP was born out of agitation politics so it's only natural for it to take the confrontational route for issues concerned with public welfare. However, it needs to appreciate the fact that it is now in power in Delhi and accept that it has to behave responsibly.
Go back to the roots
A party born out of a public movement needs more interaction with its support base. People voted for AAP because it valued public opinion on policies, manifesto, selection of candidates etc. This substantially increased voter engagement. It even conducted a poll, asking whether it should form a government with Congress or not.
These innovative ideas made the voters feel important. AAP needs to go and reach out to people, take feedback on policies/programs, re-initiate its public governance model, do regular surveys, among other things to regain voter confidence.
To sum up, AAP needs to re-establish its connect with the aam aadmi, which it has perhaps lost. Go to the battleground in poll-bound states, raise peoples' issues, and put pressure on the government to get them solved.
The fly-by-night operator model, with leaders bombarding voters during elections and then disappearing for the next five years – something that happened in Uttar Pradesh, Varanasi and Amethi – will not work.
AAP is liked by people because it's different. If it tries to become like any other political party, it will be doomed. The party needs to regain its Midas touch.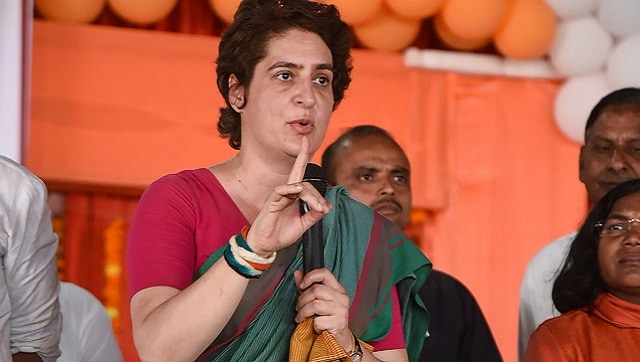 India
Priyanka said last week that people are going to change the government and the chief minister in the upcoming Assembly polls
Politics
Addressing the foundation day of the All India Mahila Congress, Gandhi said that the ideology of the Congress is completely opposite of the BJP-RSS and only one of the two ideologies can rule the country.
Politics
Chadha's sexist swipe came after Sidhu posted a tweet mocking Delhi CM Arvind Kejriwal over his government's notification of one of the Centre's three contentious farm laws