MCD Election 2017: Exit polls indicate that the people will punish Arvind Kejriwal, Delhi's absentee landlord
If the exit polls that give BJP three-fourth majority in three municipal corporations in Delhi hold true on counting day, there are two broad takeaways: Firstly, the Narendra Modi wave continues and secondly, Arvind Kejriwal's fall was as spectacular as his rise to power.
If the exit polls that give BJP three-fourth majority in three municipal corporations in Delhi hold true on counting day, there are two broad takeaways: Firstly, the Narendra Modi wave continues and secondly, Arvind Kejriwal's fall was as spectacular as his rise to power.
If the Delhi CM created history by winning 67 out of 70 seats for his nascent Aam Admi Party in February 2015, he will now be writing a fresh chapter in history—losing not just election after election but also the people's faith in such a short span of time—not to mention losing the plot while attempting to project himself as a national alternative to the BJP and the PM.
If the predictions made by the India Today-Axis and ABP-CVoter polls hold true, the AAP loss would be as humiliating for Kejriwal as the loss faced by the Congress and BJP in Assembly elections  just two years ago.
That, combined with the immediate aftermath of Rajouri Garden bypoll where AAP finished a distant third and forfeited its security deposit would conclusively prove that Kejriwal, in his two-year rule, has thoroughly disillusioned the people of Delhi with his perennial confrontationist attitude, smugness and non-performance.
This would also mean that by Kejriwal putting in too much negative energy in challenging his political rivals on issues real and imagined, spending too much time on social media, constantly ridiculing others, creating a sense of fear among voters (vote for BJP and get dengue and chikungunya), incessantly self-promotion and making the people pay crores of rupees to fight his battles, including defamation cases, is no substitute for governance.
Two years ago, people in Delhi saw Kejriwal as an anti-corruption crusader and a honest, good governance messiah who could make Delhi a better place to live and work. They placed all their trust in him. But if the exit polls are reflecting on counting day, it means that Kejriwal has shattered the hope and trust of the people and that they, in turn, have issues a stark warning to Kejriwal and his Aam Admi Party.
People also seem to express their dislike for Kejriwal taking Delhi for granted. He wants too much too soon—becoming CM of Punjab, as indicated by his deputy Manish Sisodia—having his nominee in Goa and then moving on to Gujarat. All this with the intention of becoming the sole challenger to Prime Minister Narendra Modi in 2019.
For all practical purposes, Kejriwal became Delhi's absentee landlord. It is true that as the convenor of AAP, Kejriwal had to travel to expand his party, but he never waited for his Delhi government to first stabilise.
His ambitions to become be a national political force and take pole position vis-a-vis the ruling BJP and PM Modi were far too overpowering to bother about governance issues in Delhi. The message was unambiguous in Goa and Punjab polls, and a bit later in Rajouri Garden by-polls.
The problem for Kejriwal and AAP is that instead of introspecting on their failures and reviewing their policies, they are living in a fool's paradise: Thinking their charm and charishma is infallible no matter how many mistakes they commit, how they keep on going back on their proclaimed political philosophy, or how many of their ministers and leaders are booked for variety of criminal and civil offences.
In a situation where Kejriwal and his team have done everything to place the blame elsewhere and boasted that their party is still as popular as it was in 2015, they have another easy alibi: Those time tested Electronic Voting Machines (EVMs) and the Election Commission are to be held responsible for their humiliating defeats.
Kejriwal has no proof that the Election Commission allowed anyone a free run to tamper with and manipulate thousands of EVMs. He has no eye witnesses, cameras or substantive arguments to back his claims. His only argument, made in one of his interviews, is that being an IITian, he knows that it machines could be tampered with.
The fact that Kejriwal has started crying foul about EVMs even as polling on Sunday went on indicates that he sensed that he was on a losing track and thus had to find some excuse. There were some reports of some EVMs malfunctioning, but those were corrected in due course. Let's be honest—any machine can have a problem—but one needs to understand the differences between a machine that is malfunctioning, non-functioning or one that's been tampered with.
Soon after the exit polls predicted that the AAP would be routed and a landslide victory for the BJP (AAJ Tak Axis 30 to AAP, BJP 211 out of 272 seats, ABP-CVoter 22 to AAP and 218 to BJP), AAP leaders such as Somnath Bharti came out with a conspiracy theory: That since EVMs had been tampered with to favour a particular party, a narrative was being built in the media to justify the results on Wednesday.
But AAP leaders conveniently forgot that the same logic applies to them: That they tried to build the false narrative on EVMs in the media even as polling was on to rationalise their impending defeat.
Business
The company will hold investor/analyst calls on 13 October to discuss the financial results for the quarter ending 30 September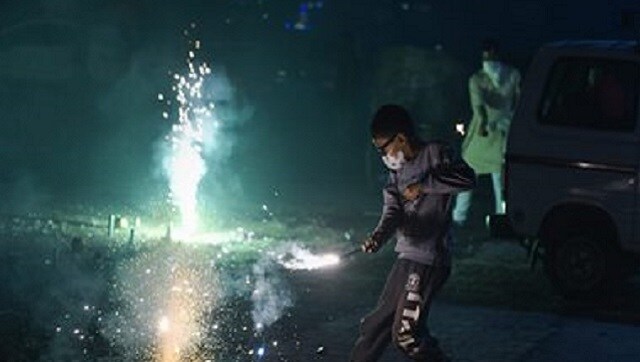 India
Arvind Kejriwal said the ban is in place seeing the severe pollution levels during Diwali for the last three years and appealed traders to not store crackers, unlike the previous year.
India
In trying new faces, the BJP seems to be focused on building a generation of political successors who can take over after a period of astonishing growth the party has seen under Modi and Shah