MCD Election 2017: Civic poll a referendum on AAP's performance in Delhi, says Manish Sisodia
Deputy Chief Minister Manish Sisodia in a tête-à-tête with Firstpost's Pallavi Rebbapragada explains where the BJP disappointed voters and why people should vote for the Aam Aadmi Party in the upcoming civic poll in the National Capital.
Kaun jaaye Zauq par Dilli ki galiyaan chhod kar (But who wants to leave the streets of Delhi, asks Zauq). In Delhi, this poet from the end of the Mughal era spent many years in lyrical rivalry with Ghalib. Creating sound and fury with their verses, the two would often drag the streets of Delhi into a war zone of egos. Generations come and go but Delhi's streets still welcome people who come here to fight for power and know the power that their words hold. Mere hours before the National Capital's 12 zones vote for 272 wards in the Municipal Corporation of Delhi (MCD) polls, Deputy Chief Minister Manish Sisodia in an exclusive with Firstpost shares his words of wisdom on the positives, promises and prospects of the Aam Aadmi Party (AAP) that won 67 out of 70 seats in the Delhi assembly elections of 2015. Edited excerpts:
Do you look at the election as a referendum on AAP's two years of being in power in Delhi?
Indeed. That is why we're conveying to the people of Delhi that we have delivered on our promise of 'bijli half, paani maaf'. We have brought the water supply to 300 colonies. This is the first state government that is dedicated to fixing both the quantity and quality related problems of government school systems. We have been able to regulate fees in private schools. A Central government report (of the Central Vigilance Commission) admits that in Delhi, corruption has come down by 82 percent. As compared to this, in the Central government, the report shows that corruption has gone up by 67 percent. When the Bharatiya Janata Party (BJP) came to power three years ago, Delhi was number 168 (out of 423 Indian cities) in the cleanliness survey of the Central government (Union urban development ministry). Four months ago, in another survey (Swachh Bharat rankings of 476 cities), MCD's Delhi zones had fallen to 398. This is happening despite the fact that the prime minister is stressing on the need to build a swacch bharat (clean India).
People have full faith that we will abolish residential house tax if voted to power. The problem with our country is that parties change but the circumstances don't. If the school fees are increasing, then despite a change in the party in power, it'll keep increasing. The reason for this is that there are all kinds of mafias at work. They affect people's daily lives in areas like electricity, water, hospitals or schools. These mafias bribe ministers and thereby secure their comfort zone within the state. They make money whenever there's an increase in rates. We have rescued electricity from the power mafia in Delhi, which doesn't want to work under our government. They are putting out feelers and hoping that the BJP comes back into power somehow so that the cost of electricity can be increased. This trend is visible in the recent victory of the BJP in Uttarakhand, after which electricity costs have gone up by six percent.
Chief Minister Arvind Kejriwal has said if voted to power, he will turn Delhi into London. What kind of change can the capital expect post an AAP victory?
On many lanes in Delhi, you'll find garbage dumps that cause a stench so strong that you need a handkerchief to cover up your nose with. This situation can be repaired. The amount of waste generated by us is no different from that generated by households in other parts of the world. The only difference is that waste is managed there and it is politicised here. There is corruption attached to the picking up of waste. By bringing an end to that corruption, we can clean Delhi's streets and garbage stations. We plan to put a system in place in which garbage is picked up from people's home and handed over to the management, so that locals can take pride in the fact that their city is clean.
The promise of a 'dengue-free Delhi' is part of your manifesto. In 2016, when the city reeled under a major health crisis and over 1,000 cases of chikungunya were reported, virtually the entire Delhi cabinet was out of station. When the aam aadmi is dying in the capital, is it correct to put the blame on the MCD or on Prime Minister Narendra Modi?
Since 10 years, the BJP has been the party in charge of the MCD. Under the Constitution, the primary function of cleanliness is theirs. We can contribute by cleaning some parts if they aren't able to. For instance, we have started cleaning PWD roads but we cannot clean the roads that come under the jurisdiction of the Nagar Nigam. It is a municipal function to ensure cleanliness of a city, by a regular collection of waste and maintenance of drains in order to prevent mosquitos from breeding. Our civic responsibility is health and we have worked on mohalla clinics and improved the distribution and management systems in hospitals. We have also improved government schools, regulated private schools and successfully delivered on our electricity-water promise. But, even if we have to hit a nail on a road we don't have authority over it, we have to take an NOC from the Nagar Nigam. The BJP should form its justifications and estimations on the basis of this reality.
One of Chief Minister Kejriwal's latest tweets is a threat to parents that if they vote for the BJP and their child contracts dengue, then they should hold themselves responsible. After two years of governing Delhi, why is there a need to scare the public like this? Can the MCD election be won on positives or will the AAP rely on promises?
BJP को वोट दिया तो अगले 5साल कूडा,मछर ऐसे ही रहेंगे।कल अगर आपके घर डेंगू हो जाए तो आप ख़ुद उसके ज़िम्मेदार होगे क्योंकि आपने BJP को वोट दिया

— Arvind Kejriwal (@ArvindKejriwal) April 21, 2017
Along with positives and promises, there are dangers. In the last three years, we have seen Modi raising the noble cause of cleanliness with good intentions. However, the MCD has remained incapable of keeping pace with the national call for sanitary practices. If the party comes back to power, the next five years will resemble the last 10 years. In order to sanitise, the BJP will have to be removed.
The Shunglu Committee has reviewed not one or two but 404 files of the Delhi government and found irregularities. At the same time, the Delhi Lt Governor has asked Delhi chief secretary to recover Rs 97 crore from the Aam Aadmi Party after a committee found out that certain ads were violations of Supreme Court guidelines. Right before a crucial election, how much have these incidents dented the party's image of fighting against corruption and nepotism?
We would have been worried had there been even a single corruption case of even one rupee in any of those 404 files. Not having sent the file to the Lt Governor of Delhi is being considered an irregularity. We feel that the government has to function and not every file must be sent to the L-G. That is a stand we have taken in the past and have raised the issue in the Supreme Court. Regarding the Rs 97 crore amount, they're accusing us of printing advertisements in newspapers. These ads were about the improvement of health and education in Delhi as also about a reduction in the cost of water and VAT. Foreign traders enter Delhi by showing a VAT paper and this can now be filed by SMS. The intention behind this is to welcome and boost foreign investment in the capital. For this purpose, state governments hold investment summits in other countries but all we have done is place ads. Open any Delhi paper, you will see ads from different states, from Kashmir to Kerala. The reason why we are being blamed is that a picture of the chief minister has been used in the ads. Firstly, not Rs 97 crore but Rs 50 crore were spent on ads. Secondly, if parties have to pay out of their pockets for printing a picture of their chief minister, then state governments across the country will have to take money from their respective parties. It is not a crime to publish a picture of the chief minister.
BJP Delhi president Manoj Tiwari is a Purvanchali heartthrob and popular with Delhi's vast Hindi heartland population. Do you think this eats into your Purvanchali voter share?
The same voters have seen the video of Tiwari insulting a lady teacher, who politely requested that he sing at a government function. In another video shot amid long queues outside banks during demonetisation, Tiwari went and sang. Later, in yet another video, he said the public was upset and that he managed to fool them with this performance. Tiwari may be a good singer, even I think he sings well, but there is a fundamental difference between being a good singer is also a good politician.

There's a degree of romanticism attached to a party that rises out of civil society. In the context of that, do you think of Yogendra Yadav-led Swaraj India as a threat?
I couldn't see their presence in the areas that I went to and the rest the results will tell.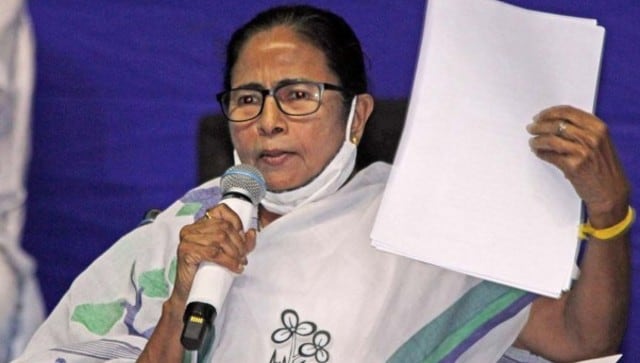 Politics
All this in the backdrop of #AbkiBaarDidiSarkar trending on Twitter, thus further fuelling rumours about a United Front.
Politics
People of Assam have voted for the BJP for the second consecutive term as they have realised that there is no place for 'aatankwad' (insurgency) and 'andolan' (agitation) in the state, Shah asserted
India
A Bench headed by Justice Rohinton F Nariman had given an ultimatum to the Uttar Pradesh government on Friday to either "reconsider" its decision or the court will pass orders.