MCD Election 2017: Big day for AAP, BJP and Congress; polls will have national ramifications
Delhi voted for municipal elections on Sunday, and in three days' time, we will know who has sent out the strongest political message. But before we get into the national implications, here's an interesting trend observed over the past 15 years: In the last three municipal elections, Delhi has voted for the party which is not in power in the state government. In 2003 and 2008, Congress won the state elections convincingly, but still lost municipal polls. There could be two reasons for this: a) Anti-incumbency against the state government, as municipal polls took place four years after the Assembly polls, in 2007 and 2012; and b) People wanted to maintain the balance of power — Congress at the state government level, while the civic body with the BJP.
If this trend holds true, BJP could be on its way to retaining the MCD yet again, as AAP is in power in the state. There is just one uncommon thing though: In 2017, these elections are taking place after just two years of the Assembly polls, not four.
The results will leave a clear mark on the national stage. Let's take a look at the three likely scenarios, and what implications each will have:
BJP victory:
A BJP win means the party's dominance over national politics continues. It is fast becoming the Congress of the 1950s-1960s, where it was the only national party with no viable competition. It will send out a clear message that there is no alternative currently to BJP. It would also indicate that Modi's popularity and non-corruptible image also continue to grow. People clearly feel BJP is the only party which can provide good governance and bring sustainable development. Its sabka saath sabka vikas philosophy touches the minds and hearts of the majority of voters in India. BJP has perfected the art of winning elections.
It also means that AAP has lost touch with the aam aadmi who propelled it to power in 2013 and 2015 at the state government level. People are losing faith in its leadership; people don't like theatrics and chief minister Arvind Kejriwal's ambition. The public also feels AAP has not fulfilled its promises. Its no longer a party with a difference. It is wasting time and effort in creating confrontations with the central government. As long as Congress and BJP were in power, things were running fine for AAP, but it needs to perform in Delhi where it was given a clear mandate before venturing into other states. The party needs to introspect. It may consider bringing Yogendra Yadav and Prashant Bhushan back into the fold.
As far as the Congress goes, defeat in Delhi would confirm BJP's dream of Congress-mukt Bharat is fast becoming reality. BJP has been successful in establishing that Congress is unfit to rule.
AAP victory:
An AAP win would prove that Kejriwal is the undisputed "king of Delhi"; that AAP's programmes and policies have been appreciated by voters; that people of Delhi still believe in Kejriwal as an anti-corruption crusader.
If it maintains its hold among the poor, downtrodden and the lower middle-class, it must be because citizens believe AAP is the only party which can clear the mess in Delhi. AAP would also be justified in demanding full statehood for Delhi, and more powers for the chief minister. Its arguments about interference from BJP, which is creating a hostile environment using the governor would also be accepted. It would be a positive referendum on everything which is AAP.
It will also show that people are fed up with BJP's corruption in MCD. People voted for clean governance. While they still love Modi, they don't find the local leadership of BJP capable enough of handling the problems of Delhi. They want the same government in the state as well as MCD, so that the rift between parties does not hamper the city's development. Thus, Kejriwal would have humbled the Modi-Shah jodi for a third successive time in Delhi.
It would have also established that the rate of decline of the Congress party is increasing by the day. The party needs serious surgery to revive itself. AAP could take some of the space that's left void by Congress' exit from the national stage.
Congress victory:
People may laugh at this option, but a Congress win could prove such critics wrong. It would show that the party is on a path to revival. It managed to wrest back its voteshare from Aam Aadmi Party. It still is the second largest party on the national scale, and is involved in a direct fight with BJP in a majority of Indian states. It just needs to hang in there. It will be a big confidence booster for the party, and also reiterate the fact that if local leadership is strengthened and given more freedom, things can turn around.
Another option could even be that different parties win the three different municipal corporations: East, North, and South. This could mean people voted for the best alternative in their concerned zones, and there was no wave in favour of any party across the state.
To sum up, the results of these elections are bound to have big ramifications on national politics. The exact implications and content of the message, however, will be known only on 26 April.
Amitabh Tiwari is an independent political commentator. He runs a popular blog on Indian politics and elections www.politicalbaba.com and can be reached at @politicalbaaba
Politics
When asked whether a Dalit would be his successor, the 78-year-old said, 'The BJP high command shall decide on it. I am not the one to take any calls.'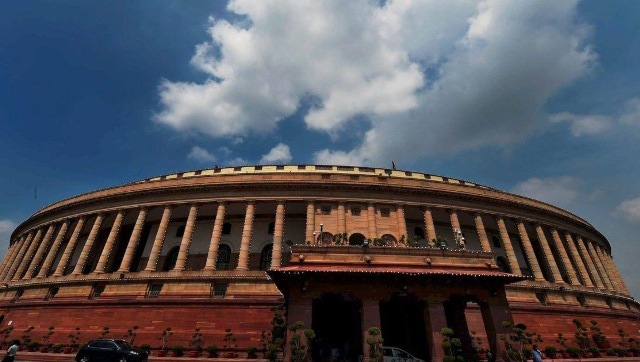 Politics
Monsoon Session of Parliament LATEST News Updates: The prime minister, while introducing ministers in the Rajya Sabha, said, Watch LIVE News, Latest Updates, Live blog, Highlights and Live coverage online at firstpost.com
Politics
People of Assam have voted for the BJP for the second consecutive term as they have realised that there is no place for 'aatankwad' (insurgency) and 'andolan' (agitation) in the state, Shah asserted