MCD Election 2017: AAP has lost ground since 2015, but BJP's weak local leadership may hurt party
Will Delhi forgive AAP's mistakes and give them another chance for the MCD election, like they did in 2015? Or will they prefer a national party whose local leadership isn't strong but has a popular central leadership?
Two days ahead of Municipal Corporation of Delhi (MCD) elections on 23 April, campaigning has been heating up. The Bharatiya Janata Party (BJP) is treating these polls as a prestige issue, especially party president Amit Shah and Prime Minister Narendra Modi. The BJP has suffered defeats at the hands of Aam Aadmi Party two times in a row in Delhi — in the 2013 and 2015 Assembly elections. In 2013, BJP had actually emerged the single largest party, but AAP, with Congress' help, had formed a government. In 2015, BJP won just three seats out of 70, a big embarrassment for a party that had swept all seven Lok Sabha seats just a year earlier, and was also leading in 60 Assembly segments.
A few days before polling took place in Delhi in 2015, BJP announced Kiran Bedi as its chief ministerial candidate, while Modi withdrew from the campaign. Perhaps it sensed defeat and found the right scapegoat.
This time, however, it's different. BJP has won and performed well in several municipal polls and state elections in the last six months. Even in a state like Odisha, where it hasn't been strong traditionally, it has done well. The party will credit the gains from demonetisation for this improved performance.
Today, one third of the country's MLAs are from BJP, while the party rules over 60 percent of the country's population. Modi's popularity is at its peak, and surveys predict 300 plus seats for the party if Lok Sabha elections are to be held today. All seems to be going well for the saffron party. In Assembly bypolls held last week at Rajouri Garden, the AAP candidate finished third and even lost his deposit. This has further boosted BJP's morale. A pre-poll survey conducted by ABP News also said BJP is likely to clinch the MCD polls.
Three chief ministers of BJP-led states — Shivraj Singh Chouhan, Yogi Adityanath and Raghuvar Das — will campaign in Delhi to lure the capital city's Purvanchal-based voters. This alone is unprecedented; never before have we seen chief ministers of other states participating in a municipal poll campaign. That three of them have done so proves the BJP's intent.
However, none of these star campaigners have yet arrived in the state. Party president Amit Shah is also unwell, and it's only been firebrand MP Smriti Irani and Delhi BJP chief Manoj Tiwari who have been the faces of BJP's campaign in Delhi. Could it be that the BJP is certain of victory and has already taking things easy? Or is it a repeat of the 2015 Assembly election, when top rung leaders pulled out at the last moment?
It's not all smooth sailing for the party though. There are a few chinks in its armour. It's suffering from anti-incumbency for 10 years of misrule. Denying tickets to sitting councillors is proof that all isn't well within the party.
But the BJP has managed to build a perception among people from all over the country that it's the only party which can govern properly. Considering Congress is out of voters' minds, and its central leadership appearing lacklustre, BJP's position is strengthening.
On the other hand, AAP has been embroiled in a lot of controversies. Charges of corruption against its ministers and MLAs have plagued the party, while brawling with the central government hasn't helped. Its founder Arvind Kejriwal's comments about rigged EVMs indicate he realises the slippery slope his party is on, and is trying to find excuses.
It will be micro-level local issues that will dominate the municipal polls. Candidates' profiles will matter more than the party's leadership. This writer was handling the campaign for a candidate in the last municipal election, but while his party swept the state, even unseating the party which was ruling for the previous 10 years, the candidate himself lost — he was unfortunately pitched against the city chief of the rival party, and the opponent just had far more visibility.
So while AAP's graph has surely gone down, a lot of factors will go in to decide who ultimately wins. Will Delhi forgive AAP's mistakes and give them another chance, like they did in 2015? Or will they prefer a national party whose local leadership isn't strong but has a popular central leadership? Turnout, polling booth management, candidate profile — these are all factors that will count for much more.
Politics
Several BJP leaders downplayed the impact of Mukul Roy's return to TMC, with Dilip Ghosh saying Roy himself wasn't sure whether the BJP 'gained anything'
Politics
Before his death, Prasada Sr who had contested and lost against Sonia Gandhi for the leadership of Congress was totally disillusioned with the Congress and Gandhis, in particular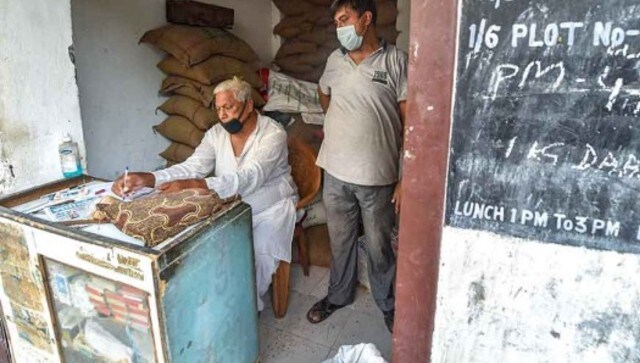 India
Terming the decision to reject the scheme "politically motivated", the Delhi government said that the doorstep delivery of ration scheme would have benefitted 72 lakh ration cardholders in the National Capital