Mayawati says she will resign from Rajya Sabha if not allowed to speak in Parliament: Ruckus over atrocities against Dalits
A major drama that unfolded in Rajya Sabha on Tuesday ended up with Bahujan Samaj Party chief Mayawati saying she has decided to resign from the Upper House after legislators created a ruckus when the former Uttar Pradesh chief minister was speaking about 'rampant' atrocities against Dalits.
A major drama unfolded in Rajya Sabha on Tuesday when an angry BSP supremo Mayawati said she will quit the Rajya Sabha after the Chair asked her to restrict her impromptu speech on anti-Dalit violence in Saharanpur in Uttar Pradesh. "I will resign from Rajya Sabha today," a visibly anguished Mayawati shot back when deputy chairman PJ Kurien asked her to wrap up her speech as she had exceeded the three minutes given to her to make her submission.
BSP chief Mayawati says will resign from Rajya Sabha today. pic.twitter.com/Dbf3UWrXDa

— ANI (@ANI_news) July 18, 2017
Mayawati, whose term in the Upper House is till April next year, argued with Kurien, asking how can she be prevented from raising the issue about her 'samaj' (community) and the Dalits. "I have not finished. You cannot do this."  "I have no moral right to be in the House if I am not allowed to put across my views on atrocities being committed against Dalits," she said.  Kurien said she can only call for a discussion after giving a notice under rule 267 that seeks adjournment of proceedings to take up an issue and not make a speech to initiate a discussion. A discussion can begin only after the Chair, on the advice of the government, accepts the notice and agrees for a discussion. Kurien rose from his seat in an attempt to calm her down but Mayawati rebuffed him, saying she has no right to be in the House if she cannot protect the rights of her community. "I am going to resign from the house," she said and walked out of the House in a huff.
Let me speak or I will resign: BSP chief Mayawati in Rajya Sabha. pic.twitter.com/c8ubFNgqu2 — ANI (@ANI_news) July 18, 2017
Speaking on developments inside Rajya Sabha, Mayawati said that she is well aware that there is a limit of 3 minutes in Zero Hour, but she was not speaking under the Zero Hour. She said that when she tried to make her point, the Treasury Benches stood up and disrupted her speech.
"If I am not allowed to speak right now, I will resign right away. I will come and give my resignation right now, if I am not allowed to speak right now," the BSP chief said after being asked to wrap up her impromptu speech on Saharanpur anti-Dalit violence.
"When I tried speaking about the weaker sections today in the Rajya Sabha, I was not allowed to speak. Why?" asked Mayawati at a press conference after the Upper House was adjourned.
"Laanat hai. Agar mai apne weaker sections ki baat sadan mein nahi rakh sakti to mujhe House mein rehne ka adhikaar nahi hai (It's shameful. If I am not allowed to speak out for the weaker sections in Parliament, then I have no right being inside either of the Houses). This is the reason I have decided to quit Rajya Sabha, I am not being heard, not allowed to speak," Mayawati said.
Mayawati also invoked BR Ambedkar and said that a similar incident had occurred with the Dalit leader who resigned and then later spoke to media over his reasons to quit Parliament.
Visuals of Mayawati getting frustrated with the House's way of functioning went viral. Visuals showed Mayawati slapping her desk, mumbling a few words and leaving the Rajya Sabha in a huff. Mayawati is the lone BSP MP in Rajya Sabha and her term ends in a year.
Let me speak or I will resign: BSP chief Mayawati in Rajya Sabha. #MonsoonSession pic.twitter.com/8CwlAqDfnB

— TIMES NOW (@TimesNow) July 18, 2017
Her party colleagues led by Satish Mishra followed her but were back in the House soon to raise slogans against the alleged anti-Dalit policies of the government. Minister of State for Parliamentary Affairs Mukhtar Abbas Naqvi said Mayawati was challeging the Chair. "She should apologise. She has threatened the Chair," he said.
BSP members immediately rushed into the Well shouting "Dalit virodhi yeh sarkar nahi chalegi, nahi chalegi" (anti-Dalit government will not be tolerated). Leader of the Opposition Ghulam Nabi Azad briefly prevailed upon them to allow him to make his submission.
Azad said the government at an all-party meeting before the start of the Monsoon Session had agreed to discuss any issue that the opposition wants to raise in the house. "Promise was made to us in the presence of the prime minister. You are going against that," Azad said.
He said the Opposition led by Congress has given notices to discuss crisis facing farmers, anti-Dalit violence and lynching of minorities. Responding to the barbs of the treasury benches to respect the people's mandate, Azad said the government has got a mandate to protect the Dalits and minorities and for development.
"You didnt get a mandate to massacre minorities and Dalits," he said adding the Congress was staging a walkout of the House in protest. Congress members then walked out of the House.
Soon thereafter, BSP members were back in the Well shouting anti-government slogans. After a solemn first day of Monsoon Session of Parliament on Monday, Tuesday was slated to be an active day with Opposition all geared up to corner the Narendra Modi government over issues ranging from cow vigilantes, farmer crisis and GST bill.
CPM general secretary Sitaram Yechury said the government policies were pushing farmers to suicide. Naqvi said the government was ready for discussion on any issue and the Opposition should give a notice. Kurien said the government was agreeing to having a discussion, so the Opposition members should return to their seats and start it.
"Shouting slogan is no solution. We can discuss. The Chair is ready to allow discussion on all subjects. Let us start," he said. But the Opposition members refused to relent, forcing him to adjourn the proceedings till 2.00 pm.
Earlier, Mayawati, elaborating on the incidents in Saharanpur, said the Dalits had agreed to the district administration's order not to take out any procession or install a statue of Bhim Rao Ambedkar on 14 April. But the followers of Maharana Pratap however took out a procession on 5 May, she said.
Before she could complete, Kurien asked her to sit and called the next speaker, saying "you cannot monopolise", angering Mayawati.
Follow the live blog on Parliament here.
With inputs from agencies
Find latest and upcoming tech gadgets online on Tech2 Gadgets. Get technology news, gadgets reviews & ratings. Popular gadgets including laptop, tablet and mobile specifications, features, prices, comparison.
Politics
This comes in the backdrop of a heated debate that reportedly ensued at a closed-door meeting of Congress Rajya Sabha MPs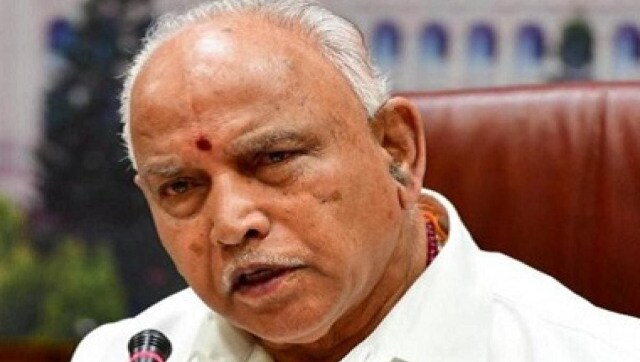 India
While calling off the lockdown in Bengaluru and Karnataka, the CM stressed on maintaining social distancing norms and wearing masks to contain the spread of coronavirus.
India
BSP chief Mayawati slammed the Yogi Adityanath-led Uttar Pradesh government and demanded a high-level inquiry into the incident.