Mayawati says 'immoral' BJP's victory for 10th Rajya Sabha seat will not affect SP-BSP tie up
Dubbing BJP's victory for the 10th Rajya Sabha seat in Uttar Pradesh as 'immoral', BSP supremo Mayawati and made it clear that the defeat will not affect its tie-up with former archrival Samajwadi Paty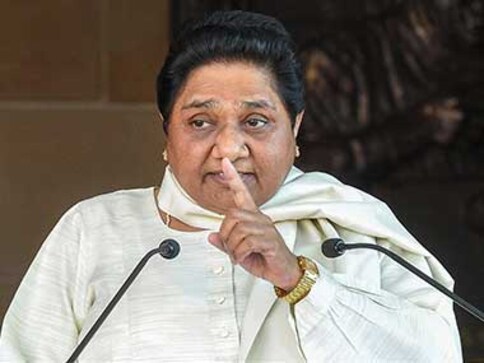 Lucknow: Dubbing BJP's victory for the 10th Rajya Sabha seat in Uttar Pradesh as "immoral", BSP supremo Mayawati on Saturday and made it clear that the defeat will not affect its tie up with former archrival Samajwadi Paty.
The former Uttar Pradesh chief minister also decried use of money, muscle power and state machinery by the state's ruling party to win the elections but refused to blame the SP.
"I would like to tell BJP that their malpractices will not succeed in breaking the ties between SP and BSP. The poll results of Rajya Sabha have not affected the SP-BSP tie up in any way. Not even by an inch," she told a press conference in Lucknow.
Mayawati said that the Bharatiya Janata Party tried to show its win in Rajya Sabha polls as "revenge" for the defeat in the bypolls to the Gorakhapur and Phulpur parliamentary constituencies but they forget that in Lok Sabha polls, people directly elect their representatives.
"This immoral victory cannot make up for their defeat in Gorakhpur and Phulpur. Even BJP is aware of this," she said.
Accusing Prime Minister Narendra Modi and BJP chief Amit Shah of misusing state machinery to make their candidates win, she said: "The BJP did not deter from indulging in malpractices. They exterted all their force to ensure that the BSP candidate does not win at any cost.
"The entire system was deployed to ensure that the newly formed ties between BSP and SP loosens. An environment of fear was created due to which there was also some cross-voting done."
Mayawati was reacting over Chief Minister Yogi Adityanath's claim in which he blamed the Bahujan Samaj Party's loss on the Samajwadi Party's "opportunism".
Taking a swipe at SP, Adityanath described it as "opportunistic" since it got votes of the BSP in bypolls to Gorakhpur and Phulpur parliamentary seats but failed to transfer its own in the election for 10 Rajya Sabha seats of the state.
He also cautioned the BSP, saying the results are a signal as its candidate Bhimrao Ambedkar got defeated by BJP nominee Anil Agarwal in a close contest for the 10th seat.
"The opportunistic face of SP has been once again exposed. It can take from others but can't give," Yogi told media persons after the BJP won nine out of the 10 seats.
Without taking name of Mayawati, he said the election results are a "signal for some" and "they should be cautious".
"Signals are enough for an intelligent person," he added.
In a nail-biting finish, the BJP managed to get all its nine candidates in the Rajya Sabha polls elected.
The BJP candidates were Union Finance Minister Arun Jaitley, party's national general secretary Anil Jain, spokesperson GVL Narasimha Rao, Vijay Pal Tomar, Kanta Kardam, Ashok Bajpai, Harnath Yadav, Sakaldeep Rajbhar and Agarwal.
Politics
Tejashwi Yadav, the 33-year-old younger son of the charismatic Lalu Prasad, has finally come back to centre stage as the kingmaker. He has demonstrated an ability to read the situation he finds himself in and make the best of it
Sports
"In eight years PM Narendra Modi gave a 'Sarva Sparshi, Sarva Samaveshi' government to the country. There isn't any area where reforms didn't take place," Amit Shah said
Politics
Addressing the same event, Amit Shah emphasised on vital sectors of development and asserted that if the countrymen fulfil resolutions for the development of the country in the next 25 years, India will become a Vishwa guru