Mayawati keen to join anti-BJP alliance but may play hardball with Congress over 'respectable' terms
The most important factor that will influence the outcome of alliance-building initiatives will be Mayawati's actual actions, rather than public pronouncements.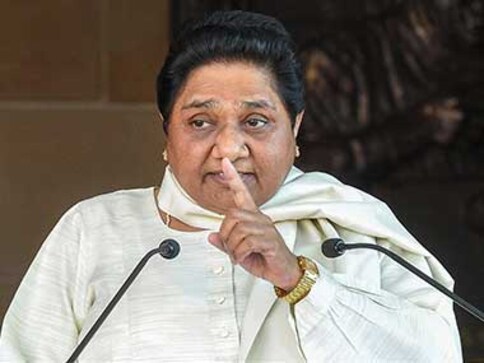 Bahujan Samaj Party (BSP) chief Mayawati has not exactly nailed her colours to the mast of a grand alliance against the Bharatiya Janata Party (BJP) for the series of impending elections set to culminate in those for the Lok Sabha next year, but what she has said does provide cause for quiet optimism among those who would like to see the back of the current regime.
What Mayawati has said is not, as a matter of fact, radically new. It is a reiteration of her position that the BSP is open to an anti-BJP alliance but only on 'respectable' terms. What is significant about this iteration, however, is the timing, with elections to three states — Chhattisgarh, Madhya Pradesh and Rajasthan — just around the corner. Negotiations with regard to opposition unity have already gathered pace, which is precisely what makes Mayawati's statement, made on Sunday, significant, especially since observers believe, with good reason, that the outcome of this round of Assembly elections will have a decisive bearing on the 2019 Lok Sabha elections.
What Mayawati has said is, first, that her 'sole' aim is to prevent Prime Minister Narendra Modi from returning to power. She has also signalled that she is open to an inclusive opposition alliance to achieve this objective. But the rider is that her party has to be given a 'respectable' number of seats.
It is hardly surprising or particularly significant, however, that Mayawati would like to keep her bargaining power intact. No one would seriously expect leaders of political parties to commit to an alliance without doing this. The devil, therefore, will lie in the detail. And the most relevant details, in this case, are the positions taken by the other relevant parties. It has been reported that the Congress leadership, led by party president Rahul Gandhi, is anxious to secure as many alliances as possible. It is not difficult to imagine that the party will go a fair distance to accommodate Mayawati.
Samajwadi Party (SP) boss Akhilesh Yadav has also made it clear that he is keen to keep as many allies as possible on board. Principal among them will, of course, be the BSP. He has said quite unequivocally that he is willing to take 'two steps backwards to accommodate the alliance partner'.
It appears, then, that the most important factor that will influence the outcome of alliance-building initiatives will be Mayawati's actual actions, rather than public pronouncements, which we all know are swathed in layers of ambiguity. The dangers of reading too much into what Mayawati says is especially high given her often unilateral ways.
Let us take, as example, her initial demands. It has been reported that Mayawati wants 30 of the 90 seats in Chhattisgarh, 100 of the 230 seats in Madhya Pradesh and 70 of the 200 seats in Rajasthan for starters. For 2019, she has reportedly laid claim to 40 of the 80 Lok Sabha seats in Uttar Pradesh. Her tally in the Assembly elections five years ago was one in Chhattisgarh, four in Madhya Pradesh and two in Rajasthan. In 2014, she failed to win a single Lok Sabha seat in Uttar Pradesh. It goes without saying, thus, that this ambitious charter is a bargaining position.
That is not the point, however. Two things are important in this context: the first is how reasonable Mayawati will be when she sits down with Congress leaders to sort out seat-sharing details for the Assembly elections, which are almost upon us; the second is how accommodating Congress leaders will be. We will discuss the Uttar Pradesh negotiations in a bit because the multi-party situation there offers a different dynamic.
In an ideal world, the two sides would be guided by the principle of 'winnability' to maximise seats for the alliance, but in a far from the perfect world that almost never happens. The surreal seat-sharing deal between the SP and the Congress in the 2017 elections in Uttar Pradesh, in which the latter was given an insane number of completely 'unwinnable' seats in a last-minute deal, is a classic example of this.
Having allowed matters to drift, thus necessitating eleventh-hour negotiations yet again, the Congress, as the senior partner, will not be in the best of bargaining positions in any of the three states. But the central leadership will have to impress upon state satraps that they will have to accept negotiated positions, assuming these emerge at all, in the interests of a larger opposition unity, with the 2019 elections in mind.
This enterprise will not necessarily be an easy one. Rajasthan Congress chief Sachin Pilot has already indicated that he is not interested in an alliance with the BSP. But the Congress cannot afford a cherry-picking approach. Though obstacles in the way of alliances in all three states are formidable, it is possible that Mayawati will be reasonable about what constitutes a 'respectable number of seats', given her compulsions in Uttar Pradesh.
That state remains at the heart of both the project of opposition unity and BJP's ongoing Hindutva push and programme of electoral engineering. Clearly, Mayawati does not expect that she will get 40 out of 80 seats. Even if the SP agrees to a fifty-fifty split, other partners, mainly the Congress and Ajit Singh's Rashtriya Lok Dal, will have to be accommodated. It would be absurd to expect that Akhilesh would agree to accommodate them solely out of his quota. Again, in an ideal world winnability and the need to bring as many caste agglomerations into the fold would have been the basis for talks. But in an imperfect world, Mayawati might push for more than her share of winnable seats in a more plural setting. There are indications that Mayawati and Yadav might do a deal in which the Congress would be squeezed. If that happens, the Congress can hardly protest too vocally given that its footprint in the state can barely be seen. All opposition leaders must also remember to keep the Bhim Army in the loop, especially after the BJP was forced to release its leader, Chandrashekhar Yadav or Ravana. The Bhim Army is a potent force and could play an important role in consolidating Dalit votes against the BJP. Opposition leaders will, however, have to convince Mayawati, notwithstanding the snub she delivered to Ravana on Sunday, that he is an ally rather than a threat to her pre-eminent position as the Dalit voice of Uttar Pradesh and India.
The next couple of weeks will show how things are likely to pan out. But it does now appear that if all opposition leaders, especially Mayawati, demonstrate a bare minimum of reasonableness and good faith, the prospects of unity are very real, despite the mountains that will have to be climbed.
Explainers
The engineer-innovator, who gained national fame after inspiring the lead character in the Bollywood movie 3 Idiots, is demanding an extension of the Constitution's Sixth Schedule for Ladakh and environmental protection from 'unchecked industrial and commercial expansion'
Opinion
While India is broadly in favour of globalisation and free trade, the Modi government has placed the national self-interest stage centre in the mix. It wants reciprocity and mutual advantage, or it tends to lean towards Aatmanirbharta
Entertainment
In response to a Twitter user's appreciation post for Gandhi, Agnihotri wrote, "I like the ease with which he wears warm jackets indoors and goes without jacket outdoors. Also, ease with which he drinks chai outdoors and 5 course meal indoors. Easy drama. Easy followers. Good one."