Manmohan Singh's objections deceptive: Attending dinner meeting with Pakistan officials shows poor judgement
Manmohan Singh needs to come down from his pedestal. His acts of pious outrage are becoming a little too common, as are his indiscretions.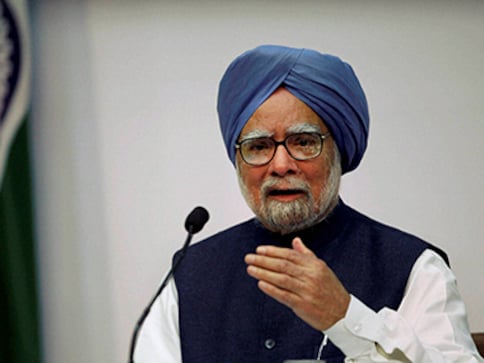 Narendra Modi's charge of Pakistani interference in Gujarat election is little more than political gamesmanship aimed at putting the Congress under pressure. From the details that have emerged, it seems likely that Congress leaders schmoozing with guests from Pakistan at host Mani Shankar Aiyar's residence last Wednesday had bilateral relationship and Kashmir on the menu along with the dinner.
Secretive though the meeting was and notwithstanding Congress' curious behaviour around it, there was probably no grand Pakistani conspiracy to meddle in India's electoral process. Modi has been trying to own the 'nationalism' space and in Congress' decision to hold a clandestine meeting with Pakistani diplomats bang in the middle of an Assembly election, he saw an opportunity to press home the advantage.
That said, Manmohan Singh needs to come down from his pedestal. His acts of pious outrage are becoming a little too common, as are his indiscretions. Since he has the habit of taking himself too seriously, the former prime minister needs to be reminded that this is a democracy, and no one is above reproach.
The indignant outrage that marks Singh's press statement cannot hide the fact that he has shown poor judgement on several counts in attending a Track 2 diplomatic effort at the residence of Aiyar, an individual who sees himself as a supra-Constitutional figure above all arms of the state.
One, unlike the Indian journalists and diplomats who had attended the undeclared dinner meeting, Singh isn't just a private citizen but a former prime minister. He remains bound by the oath of secrecy, and therefore his presence lent the 'private dinner meeting' a gravitas and legitimacy which otherwise would have been just another unofficial diplomatic soiree.
Given the fact that a serving Pakistan high commissioner was present and bilateral relationship was scheduled as an agenda, Singh clearly stepped out of his line in holding quasi-official talks with Pakistan government representatives in contravention of India's policy of not talking to the enemy state unless it stops exporting terror to India.
Singh's act of indiscretion not only sends a wrong message to Pakistan but also undermines India's stand and undoes the government's efforts in trying to diplomatically isolate Islamabad. Instead of seeking an apology, the former prime minister must clarify the reasons behind his decision to attend the meeting.
The BJP has been quick to point out that Opposition parties are also part of the state apparatus and as members of the Opposition, they had followed strictly the stand taken by the government of the day. "Senior Congress leaders must desist from such misadventure and come out with detailed facts on what transpired in that meeting and what was the necessity of having it under present circumstances. Yesterday, they were in denial about it and, today, instead of accepting it as a misadventure, they are trying to blame those raising the issue. When we were in the opposition too, we have followed the government's policy in this regard," Finance Minister Arun Jaitley told the media in a day of multiple news conferences by both parties.
Two, before engaging with representatives of a terrorist state bypassing the official channels of communication, the former prime minister should have kept the government in the loop. It isn't clear whether Singh had done so. It is poor defence to say that former Pakistan foreign minister Khurshid Mahmud Kasuri was given a visa and therefore, the government was aware of the modalities of the meeting.
Dr. Manmohan Singh shows the 'mirror of truth' and gives a 'reality check' to Prime Minister Modi, who has been driven by canards & false propaganda in face of imminent defeat in Gujarat. pic.twitter.com/QLQiPQDHxI

— Randeep S Surjewala (@rssurjewala) December 11, 2017
Singh himself admits that India-Pakistan relations were discussed. His undeclared presence raises several troubling questions that cannot be deflected on the pretext of getting "pained and anguished".
Three, Singh's dishonest protestations betray a logical fallacy. He accuses Modi of trying to spread "falsehood and canards" and for his "insatiable desire to tarnish every Constitutional office, including that of a former Prime Minister and Army Chief".
After denying that such a meeting had actually taken place, Congress later clarified that it was merely a dinner, and wanted to know "since when was this rule put in place that one has to seek permission from the government to host or attend a dinner?"
If we go by Congress' contention that it was merely a "social dinner" attended by private citizens, Singh stands deprived of his pretentiousness that he is a holder of a Constitutional office, and therefore his charge of Modi "tarnishing" such offices is absurd. After all, Singh is a former prime minister, not the incumbent at 7 Lok Kalyan Marg.
If, however, we take Singh's argument that he is indeed the holder of high office and Modi has made a cardinal error in sullying him and his position, the question that then arises is what business does the holder of a 'Constitutional office' have in attending a meeting with representatives of Pakistan government in direct breach of protocol? Did Indian citizens vote out Congress and elect BJP so that a former prime minister may set policy issues? Who gave Singh and his party the authority to violate India's stated position?
The optics of a former prime minister holding a clandestine meeting with actors of an enemy state that has fought three wars with India and continues to foment terror inside our borders aren't nice, and that too in the middle of an important election in a border state.
Singh's fulminations are useless. So are his arguments of trying to equate undeclared Track 2 diplomatic rendezvous with Modi's official meeting with Nawaz Sharif in Lahore. Modi went there as the prime minister of India, ex-PM Singh's effort is an undeclared, unsanctioned one.
Finally, Congress's defence is based entirely on the integrity of Singh's character, as if that alone addresses all questions surrounding the irresponsible act. Singh, too, tries to suggest that his track record of public service is enough to place him beyond scrutiny. One isn't sure whether an unqualified certificate of integrity can be issued against a former prime minister who presided over some of India's greatest scams. Congress may issue such certificates at will, and Singh may delude himself into taking those seriously. For the rest of the country, Singh's 'personal integrity' is an overplayed card.
Politics
Nana Patole's comments came in the wake of Maharashtra minister Eknath Shinde along with some Sena MLAs apparently camping in Gujarat's Surat city
Politics
Shinde said that so far they have not received any proposal from the Bharatiya Janata Party (BJP) and are not holding any talks with them
Politics
Nitin Deshmukh has extended support to Chief Minister Uddhav Thackeray