Manmohan Singh slams Narendra Modi's Pakistan remarks in video message; Amit Shah questions ex-PM's 'selective outrage'
While former prime minister Manmohan Singh hit out at Modi again on the eve of the second phase of the Gujarat polls, Amit Shah criticised Singh for attacking Modi.
The BJP and Congress continue to trade allegations and counter-allegations even as the final phase of voting in the Gujarat election draws near.
While former prime minister Manmohan Singh hit out at his successor Narendra Modi yet again, BJP president Amit Shah went after Singh for attacking Modi.
Upping the ante, on Wednesday, Singh put out a video slamming Modi for alleging that the senior Congress leader colluded with Pakistan to try to obtain a favourable result in the Gujarat election and said it was unfair to question the nationalism of public servants.
"I am deeply pained and anguished by the falsehood and canards being spread to score political points in a lost cause by none less than Prime Minister Narendra Modi. Fearing imminent defeat in Gujarat, desperation of prime minister to hurl every abuse and latch on to every straw is palpable," Singh said. He added he sincerely hoped that Modi would show "maturity and gravitas", as expected of the high office he holds, instead of concentrating his energy solely on scoring "erroneously conceived brownie points".
"I sincerely hope that he will apologize to the nation for his ill thought transgression to restore the dignity of the office he occupies," Singh added. Shah meanwhile, wondered if the Congress was pressuring Singh, saying it was not in Singh's nature to react sharply to anything. He also hit out at the 'selective outrage' showed by Singh against undemocratic language.
Shah said: "Ye Manmohan Singh ji ki prakritik pratikriya nahi lagti. Agar ye gussa prakritik hai to ye gussa tab kyu nahi aaya jab Modi ji ko maut ka saudagar kaha gaya, jab unke diye ordinance ko sarvajanik rup se fada gaya, jab unko neech kaha gaya. Unko pad ki maryada aur bhasha ki shalinta tab kyu nahi yaad ayi" (this doesn't seem to be a natural reaction of Manmohan Singh. If this is indeed natural, where was this outrage when Modi ji was called a trader of death, when an ordinance given by him was torn publicly or when he was labelled a lowly man. Why didn't he remember all this talk of undemocratic language and the maintaining the respect of a constitutional post).
Shah's reaction came after Singh expressed hurt at the "innuendos and falsehoods" against him. Singh said he did not discuss Gujarat elections with anyone else at the dinner hosted by Congress leader Mani Shankar Aiyar as alleged by Modi and nor was the Gujarat issue raised by anyone else at the dinner. "The discussion was confined to Indo-Pakistan relations. It is wrong and unfair to question nationalism of journalists, diplomats and public servants at the dinner," Singh said.
Shah responded by asking the Congress to come clean about what transpired.
Singh also asserted Modi "is setting a dangerous precedent by his insatiable desire to tarnish every constitutional office, including that of a former prime minister and army chief", and described it as sad and regrettable. The Congress needs no sermons on "nationalism" from a party and prime minister, those compromised track record on fighting terrorism is well known, he added. 
"Let me remind Narendra Modi that he went to Pakistan uninvited after the terrorist attacks in Udhampur and Gurdaspur. Let him also tell the country the reason for inviting the infamous ISI of Pakistan to our strategic air base in Pathankot to investigate a terror attack that emanated from Pakistan," he said. Shah hit back by asking Singh why did he not apprise the government about such a meeting and why he was talking about it only when it was "exposed".
Singh also said his track record of public service to the country over last five decades is known to everyone and no one, including Modi, could "lamely" question it to gain lost political ground. On the count of corruption, Shah stopped short of making any personal remarks against Singh but he did refer to the "monumental loot and plunder" under the UPA.
The BJP, earlier filed a case with the Election Commission, alleging that Rahul Gandhi violated the Model Code of Conduct in an interview with GSTV.
Gujarat votes for the second phase on Thursday.
The result of the elections will be declared on 18 December.
With inputs from agencies
Click here for detailed coverage of Gujarat Assembly Election 2017
Politics
A total of 39 political parties are contesting the elections and have fielded 788 candidates including 718 male candidates and 70 women candidates.
Politics
"Modi government has eradicated terrorism from the country and AAP's 'namoona' who has come from Delhi is a true benevolent of terrorism," said Yogi referring to Kejriwal while addressing a poll rally in Gir Somnath.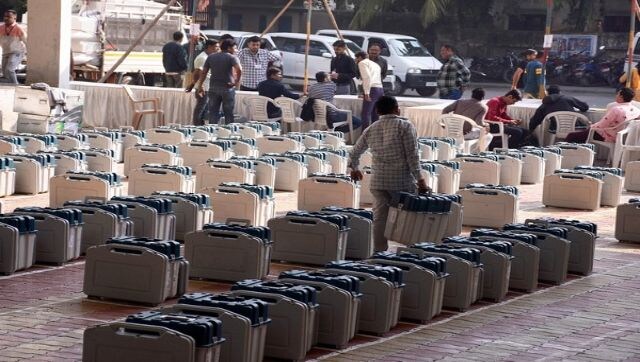 Politics
In the second phase, voting will be held in 93 seats, for which 833 candidates are in the fray from 61 political parties, including the BJP, Congress and the new poll entrant Aam Aadmi Party (AAP).