Congress is running in the pole position with BJP running a close second in the Manipur Assembly polls, as counting of votes progresses. According to IANS, out of 39 constituencies for which trends were available, the Congress was leading in 17, and the BJP in 14, while the Left was leading in four at 12.45 pm.
In the prestigious Thoubal constituency, Chief Minister Okram Ibobi Singh defeated his nearest BJP rival Leitanthem Basanta Singh and social activist Irom Sharmila, who received around 90 votes.
The dismal defeat of Irom Sharmila in Manipur Assembly election with only 90 votes in her hand marks the reality that the issue of repealing Afspa is hijacked by both the national parties Indian National Congress and Bharatiya Janata party.
Irom Sharmila's defeat is seen in the light of both the national parties taking up the issue of Afspa with much importance in their manifestos.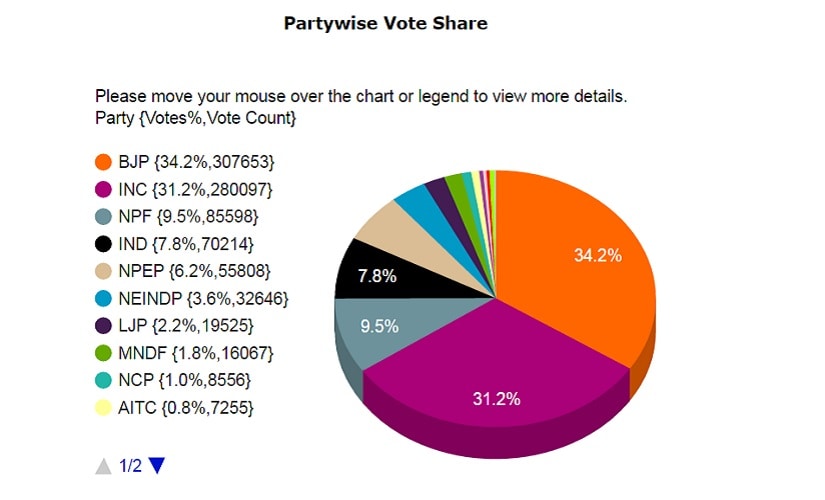 Partywise Vote Share. Source: eciresults.nic
As the election reaches its climax in Manipur, here is a look at the party wise break up of the results so far (Status Known For 38 out of 60 Constituencies):
| | | | |
| --- | --- | --- | --- |
| Party | Won | Leading | Total |
| Bharatiya Janata Party | 2 | 10 | 12 |
| Indian National Congress | 8 | 8 | 16 |
| Naga Peoples Front | 2 | 1 | 3 |
| Lok Jan Shakti Party | 0 | 1 | 1 |
| National People's Party | 2 | 2 | 4 |
| North East India Development Party | 0 | 2 | 2 |
| Total | 14 | 24 | 38 |
Here are the constituency-wise results in the state: (updated as per the latest results)
| | | | | |
| --- | --- | --- | --- | --- |
| Constituency | Leading Candidate | Leading Party | Margin | Status |
| Bishnupur  | KONTHOUJAM GOVINDAS | Indian National Congress | 5278 | Counting In Progress |
| Chandel (st) | LETPAO HAOKIP | National People's Party | 2099 | Counting In Progress |
| Churachandpur (ST) | PHUNGZATHANG TONSING | National People's Party | 177 | Counting In Progress |
| Heingang (GEN) | NONGTHOMBAM BIREN SINGH | Bharatiya Janata Party | 1209 | Counting In Progress |
| Henglep (ST) | T. THANGZALAM HAOKIP | Bharatiya Janata Party | 133 | Counting In Progress |
| Kangpokpi (Gen) | NEMCHA KIPGEN | Bharatiya Janata Party | 3335 | Counting In Progress |
| Karong (st) | D.D. THAISII | Indian National Congress | 3286 | Counting In Progress |
| Keirao | LOUREMBAM RAMESHWOR MEETEI | Bharatiya Janata Party | 538 | Counting In Progress |
| Keishamthong | LANGPOKLAKPAM JAYANTAKUMAR SINGH | National People's Party | 3262 | Counting In Progress |
| Khundrakpam (GEN) | THOKCHOM LOKESHWAR SINGH | Indian National Congress | 1609 | Counting In Progress |
| Khurai (GEN) | LEISHANGTHEM SUSINDRO MEITEI | Bharatiya Janata Party | 112 | Counting In Progress |
| Konthoujam | DR. SAPAM RANJAN SINGH | Bharatiya Janata Party | 2772 | Result Declared |
| Kshetrigao | NAHAKPAM INDRAJIT SINGH | Bharatiya Janata Party | 882 | Counting In Progress |
| Lamsang | WANGKHEIMAYUM BRAJABIDHU SINGH | Indian National Congress | 1326 | Counting In Progress |
| Langthabal | KARAM SHYAM | Lok Jan Shakti Party | 2331 | Counting In Progress |
| Lilong | MUHAMMAD ABDUL NASIR | Indian National Congress | 1268 | Result Declared |
| Mao (st) | LOSII DIKHO | Naga Peoples Front | 15414 | Counting In Progress |
| Moirang | PUKHREM SHARATCHANDRA SINGH | Bharatiya Janata Party | 622 | Counting In Progress |
| Nambol | NAMEIRAKPAM LOKEN SINGH | Indian National Congress | 301 | Counting In Progress |
| Patsoi | SAPAM KUNJAKESWOR (KEBA) SINGH | North East India Development Party | 1332 | Counting In Progress |
| Phungyar (st) | K. LEISHIYO | Naga Peoples Front | 4778 | Result Declared |
| Saikul (st) | YAMTHONG HAOKIP | Indian National Congress | 1178 | Counting In Progress |
| Saitu (ST) | HAOKHOLET KIPGEN | Bharatiya Janata Party | 343 | Counting In Progress |
| Sekmai | HEIKHAM DINGO SINGH | Bharatiya Janata Party | 2532 | Result Declared |
| Tamei (ST) | AWANGBOW NEWMAI | Naga Peoples Front | 1416 | Counting In Progress |
| Tamenglong (ST) | SAMUEL JENDAI KAMEI | Bharatiya Janata Party | 1469 | Counting In Progress |
| Tengnoupal (st) | D. KORUNGTHANG | Indian National Congress | 4624 | Counting In Progress |
| Thangmeiband | KHUMUKCHAM JOYKISAN SINGH | Indian National Congress | 157 | Result Declared |
| Thoubal | OKRAM IBOBI SINGH | Indian National Congress | 10470 | Result Declared |
| Tipaimukh (st) | DR. CHALTONLIEN AMO | Indian National Congress | 626 | Result Declared |
| Uripok | YUMNAM JOYKUMAR SINGH | National People's Party | 345 | Result Declared |
| Wangoi | OINAM LUKHOI SINGH | Indian National Congress | 36 | Counting In Progress |
| Yaiskul | ELANGBAM CHAND SINGH | Indian National Congress | 1 | Counting In Progress |
Updated Date: Mar 11, 2017 12:55 PM