Manipur Assembly polls 2017: Ibobi's move to create seven new districts may thwart BJP's march in state
Recent attacks on security forces by insurgent groups over the game changing electoral move of creating seven new districts by the Okram Ibobi-led Congress government marks the height of strife in Manipur. This move is Ibobi's desperate attempt to retain power.
Recent attacks on security forces by insurgent groups over the game changing electoral move of creating seven new districts by the Okram Ibobi-led Congress government marks the height of strife in Manipur. This move is Ibobi's desperate attempt to retain power.
The decision refreshed a divide, with Nagas on one side and Kuki and Meiteis on the other. This comes at a time when the state Congress government not only faces anti-incumbency among the public but also dissidence from it's own MLAs, just before the assembly elections to be held early next year.
In the last few months, the ruling Congress saw five of it's MLAs deserting the party.
The shift of support from Congress in Manipur, was seen when Bharatiya Janta Party (BJP) threw close contest by bagging 10 seats in Imphal civic polls held in June this year, while the ruling Congress was just a few steps ahead of it by winning 12 of them.
Even as the Okram Ibobi government was maintaining close watch of it's voter base shifting to BJP in Meitei Hindu dominated plains, the dispensation also saw back door entry of the saffron party in the Christian dominated hills.
Paojel Chaoba a political commentator in Manipur writes in one of his articles that BJP is playing second fiddle to Naga People's Front (NPF) in Manipur by assisting the regional party in the hills.
He adds, "In Manipur, the NPF seemed sanguine with the understanding that it would look for votes amongst the Nagas in the hills while the BJP would bank on Meitei votes in the valley."
Indicating the level of dependence of BJP on the NPF to win Manipur election, he says that three BJP leaders in Nagaland who voiced concerns of alleged corruption in the NPF government led by TR Zeliang were sacked by the party's General Secretary Ram Madhav in charge of North East.
"BJP's national general secretary, Ram Madhav, booted out three of its state-level organizational leaders-two vice presidents namely James Vizo and Yanghose Sangtam and one general secretary, Mughato Achumi. Their fault was speaking out against corruption in the Zeliang-led government in Nagaland," Chaoba contends.
Analysts further say that since the hills in Manipur have as many as 19 assembly seats out of 60 in total, it was a political compulsion for the BJP to prop up another party close to it in a covert alliance in these areas to ensure that both the parties win enough number of seats in hills and plains, to form a government striking a post-poll alliance.
Being an ally in the NDA and also in the Nagaland government, NPF, that has sound presence in the Naga dominated hills in Manipur was BJP's natural choice.
With BJP emerging as a threat in both plains and hills, Okram Ibobi, who holds the position of the chief minister for the last three terms in Manipur and keen to retain it, exploited the option of appeasing the majority Meteis and minority Kukis by creating seven new districts, a long standing demand both from the hills and plains.
Speaking on people's reaction in the plains to this decision Sinam Prakash, a leader of the North East student organization said to Firstpost, "The people are happy because it will add up the state's administrative infrastructure apart from facilitating public convenience in travelling to the district head quarters."
Professor Oinam Bhagat said that along with public convenience, people are also expecting new government jobs to be created to cater to the administrative demands of the newly created districts and new investments in public infrastructure are to be made.
George Guwaitye an office bearer of the Kuki State Demand Committee said to Firstpost relaying the emotion in the hills that he has no opposition to the move of creating new districts as it will help the government to administer better.
Though the chief minister managed to exploit the option of garnering support from majority Meiteis and minority Kukis, it came at a high political costs.
The decision faced stiff resistance from many in the Naga society, resulting in an economic blockade in Manipur. United Naga Council that called for the blockade says in a press release that it sees this decision as arbitrary bifurcation of Naga land without their knowledge and consent.
Protesting creation of Sadar Hills and Jiribam district, it further says that land and the Nagas are inseparable and Nagas are the owner of their land and they will not let anyone decide for them.
The release also mentioned a series of agreements those were signed in various dates starting from the year 1981 between a number of Naga civil society organisations and Government of Manipur agreeing that not even an inch of Naga ancestral land and it's original should be touched while creating a new district.
The press release further mentioned that the UNC also received written assurance from the Ministry of Home Affairs in 2011, saying that it will be consulted before any decision on creation of new district taken.
The economic blockade that was imposed on midnight of 1 November, has resulted in sky rocketing of prices of essential commodities along with heightened tension in Manipur.
Attacks on security forces by militant groups has escalated the stake of creating new districts much higher.
The first challenge to Okram Ibobi's government came after BJP's historic win in Assam, when it emerged with rejuvenated strength in Manipur. Considering the demographic similarity between Assam and Manipur, the state BJP chapter seemed quite confident of it's prospects in the next Congress bastion.
The state president of BJP Ksh Bhabananda Singh said to Firstpost,"The political situation in Manipur somewhat resembles Assam. Like Assam having large Assamese Hindu population we have a sizeable Meitei population who are also mostly Hindus."
Bhabananda Singh also said that there has been a long standing mistrust between the hills and plains. Quick in taking advantage of this divide BJP soon sided with the Meitei Hindus supporting the cause of Inner Line Permit System, a demand that faced resistance from the hills.
BJP was also smart enough to declare that it was not going to ally with NPF in Manipur, of which it is a partner in government in Nagaland.
The obvious reason for this declaration was NPF's grand standing in support of greater Nagaland, a demand that faces stiff opposition in the Meitei Hindu dominated plains in Manipur and the Kukis in hills.
In this emerging situation Manipur chief minister's move to create seven new districts is seen as a strategy to thwart BJP's march ahead in the state.
Subscribe to Moneycontrol Pro at ₹499 for the first year. Use code PRO499. Limited period offer. *T&C apply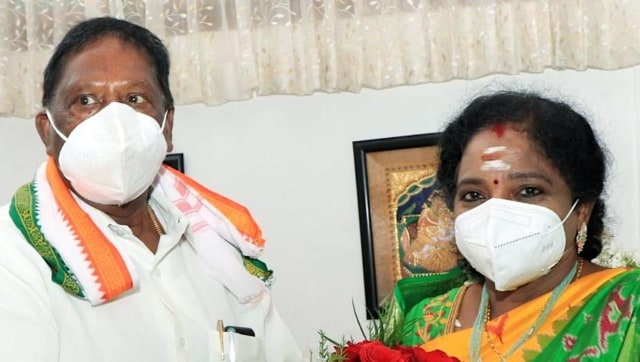 Politics
The move comes days after the Congress-led government in the Union Territory lost power during a vote of confidence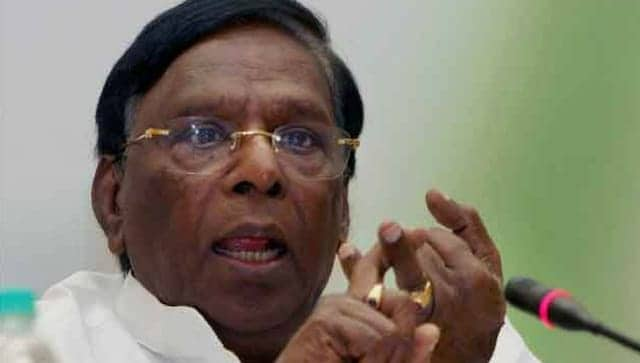 Politics
With the collapse of the Puducherry government, the Congress has lost its second government in a year after Madhya Pradesh
Politics
A floor test on Monday will decide the future of Narayanasamy's government, barely two months before the Assembly polls in the Union Territory are scheduled to be held