Cow protection gangs twist knife into BJP's chances as Mayawati's stock soars
In the 2007 Uttar Pradesh Assembly polls, Mayawati gave tickets to 61 Muslim candidates — 15 per cent of the total BSP candidates. In 2012, the count rose to 85. For next year's polls, BSP will field 100 Muslim candidates — a clear jump to 25 per cent of the total number of candidates.
It is said that each time a terrorist attack happens on American or even European soil, Donald Trump adds a few percentage points to his ratings.
In India, the lumpen 'cow protection' gangs are doing a similar favour to BJP's rivals. With their each act of sheer lunacy, these newly emboldened fringe bullies are undermining the Prime Minister's slogan of inclusiveness, creating an atmosphere of mutual animosity among communities and severely jeopardising BJP's chances before the upcoming Assembly elections.
And as it gets sucked into the beef politics tornado, the party's social inclusion project, that drew a vast number of Dalits towards the BJP during the 2014 Lok Sabha elections, lies in tatters. Narendra Modi and Amit Shah's grand plans of Dalit outreach is undergoing a spectacular implosion, the Muslims are hardening their stance and the party is lurching from one crisis to another with a nary an idea of how to control the fire.
The embers of a vicious attack on Dalits – in which self-styled gau-rakshaks (cow-protectors) stripped four Dalit youths and thrashed them for skinning a dead cow in Una on 11 July — had barely died down when another fringe gang lashed out.
On Wednesday, two Muslim women were reportedly assaulted by female members of Hindu Dal, a fringe cow protection gang, at Mandsaur railway station in Madhya Pradesh over suspicion that they were carrying beef. The women were reportedly carrying 30 kg of meat without proper permit. Though initial reports by a veterinary doctor suggested that the meat was that of a buffalo, both of them have still been taken into custody for 'smuggling and trying to sell' the meat. Importing of buffalo meat inside Madhya Pradesh without permission is illegal.
Damningly, however, an amateur video of the incident that has since one viral on social media and is being played on loop by TV channel shows cops policemen watching and making half-hearted attempts to intervene as the two Muslim women are slapped, kicked and abused by a mob led by the cow vigilantes.
In the video, the women are cornered by a crowd that is heard screaming "Gau Mata Ki Jai (Hail holy cow)". They are slapped and punched by the women in the mob until one of them collapses.
Though Madhya Pradesh Home Minister Bhupender Singh promised to take actin against the perpetrators, the damage was done.
BSP chief Mayawati was quick to start of the blocks. No sooner had listed papers been laid on the table of the House, she took up the issue and tore into the government, accusing it of running a hate campaign against Dalit and minorities. Ever the consummate politician, this was a juicy half-volley she'd never let go.
The BSP chief protested against Prime Minister Narendra Modi's "silence" on the issue and what she termed as "inaction" against cow vigilante groups by the governments at the Centre and BJP-ruled states. "The BJP raises the slogan 'Mahilaon ke samman mein, BJP maidan mein' slogan, yet in BJP ruled Madhya Pradesh women thrashed on beef rumours," Mayawati said.
Though Congress also joined in the protest, labeling the government as 'anti-Dalit' and 'anti-women' the politician who stands to gain the most from this unrest is the BSP chief.
A string of incidents — including BJP's now-deposed state unit president Dayashankar Singh's misogynist attack on Mayawati, the Dalit agitation in Gujarat and now the thrashing of Muslim women in Madhya Pradesh by a 'cow protection' — have taken place at just the right time for the BSP chief who is planning a grand Dalit-Muslim coalition for the 2017 UP Assembly polls.
Her strategy is clear. After burning her fingers during the 2014 general elections, when her wooing of upper castes alienated her core Dalit vote-bank who had gravitated towards the BJP, she has corrected her course and is now looking at a social engineering involving the oppressed and the minorities whom she plans to wean away from the ruling Samajwadi Party.
In the 2007 Uttar Pradesh Assembly polls, Mayawati gave tickets to 61 Muslim candidates — 15 per cent of the total BSP candidates. In 2012, the count rose to 85. For next year's polls, BSP will field 100 Muslim candidates — a clear jump to 25 per cent of the total number of candidates.
This is a winning formula because a Dalit-Muslim combine signifies 38.5 per cent of Uttar Pradesh's total population — enough to give any party absolute majority.
The BJP, which had assiduously courted the Dalit votes to add to its upper caste base, can only rue the latest developments. The Frankenstein is twisting the knife into its master.
Find latest and upcoming tech gadgets online on Tech2 Gadgets. Get technology news, gadgets reviews & ratings. Popular gadgets including laptop, tablet and mobile specifications, features, prices, comparison.
Politics
Singhvi alleged that the PM-CARES fund is not even subjected to audit by any public authority, including the CAG.
Politics
In his speech on Tuesday, Modi had referred to 'Chhath Puja' twice, though the festival which is the biggest in Bihar, is close to five months away.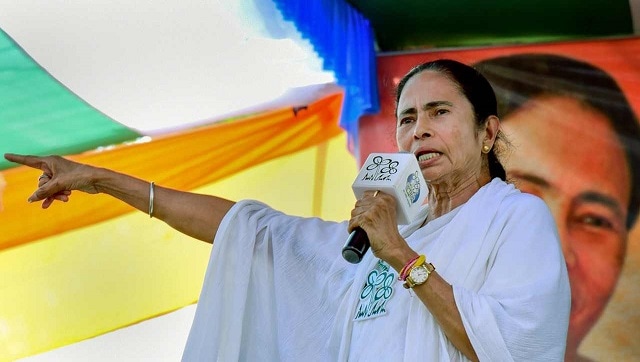 Politics
The announcement by Banerjee, who is also the chief of the ruling TMC, comes just months ahead of the Assembly polls, due in April-May.