Mamata, Modi 'two flowers form the same stalk', says Congress after she meets PM
The Left Front and the Congress on Wednesday expressed their apprehension over West Bengal Chief Minister Mamta Banerjee scheduled meeting with Prime Minister Narendra Modi
Kolkata: The Left Front and the Congress on Wednesday expressed their apprehension over West Bengal Chief Minister Mamta Banerjee scheduled meeting with Prime Minister Narendra Modi, pointing out she was earlier in the NDA and also a member of the Atal Bihari Vajpayee's cabinet.
The Modi-Mamata meeting on Thursday coincides with a protest march to the Kolkata police headquarters organised by the Bharatiya Janata Party's state unit.
"Modi and didi (elder sister, as Banerjee is affectionately called) are two flowers from the same stalk. She has been in the union cabinet during the BJP government earlier. Vajpayee had also visited her residence when he was the Prime Minister", said state Congress leader Manoj Chakravborty.
"She always does what suits her interest", he said.
Left Front legislature party leader Sujon Chakraborty wondered why Banerjee is not accompanied by her ministers and officials if she wanted to raise issues concerning the state.
"For raising issues concerning Bengal, she should have taken her aides. She says she wants to talk about central grants which her state is not getting. Then the Finance Minister and departmental officials should have accompanied her. If the CM is going without them, then one has to understand 'dal me bohut kuch kaala hai'," said Chakraborty.
The state BJP, however, said they were least concerned over the meeting.
"We aren't concerned over who is talking to whom on what issue. Such things happen.
"The BJP in West Bengal and its workers have started a struggle, which people of the state trust and support. Their trust is out strength and so we are marching to Lalbazar", said state party chief Dilip Ghosh.
On the other hand, the Trinamool pooh poohed the snide remarks of the Congress and the Left.
"We have always fought against communalism. We have never bowed our head. We will continue our fight. The Left and the Congress don't have have any programmes. When we oppose the BJP, then also they ask us why we are doing it", said Trinamool Secretary General Partha Chattjerjee.
Earlier in the day, Banerjee said she has sought an appointment with Modi to discuss the Ganga erosion issue, problems of other rivers and non-receipt of central grants.
It was later learnt, that the two leaders would meet on Thursday.
Find latest and upcoming tech gadgets online on Tech2 Gadgets. Get technology news, gadgets reviews & ratings. Popular gadgets including laptop, tablet and mobile specifications, features, prices, comparison.
India
'Those who want to exploit the poor will never want any Muslim to become a leader,' says the firebrand head of Bengal's Furfura Sharif dargah
Politics
Both the leaders took part in multiple events in West Bengal's Kolkata in a bid to host the biggest celebration of Subhas Chandra Bose's birth anniversary even as a clash between BJP and TMC workers earlier in the day left several injured in Howrah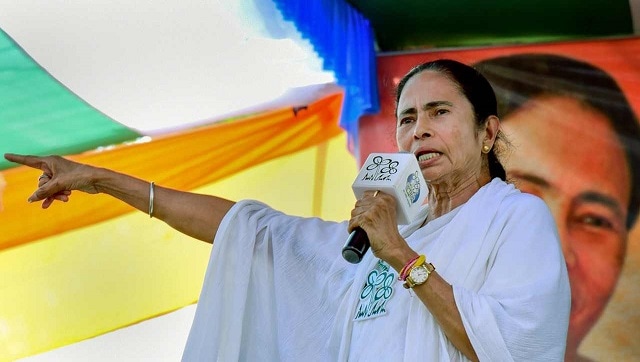 Politics
Banerjee refused to speak at an event on Saturday attended by Prime Minister Narendra Modi to observe Subhas Chandra Bose's 125th birth anniversary after being greeted by chants of 'Jai Shri Ram'