Mamata Banerjee's anti-Rahul Gandhi stand may force Congress to play a secondary role in 2019
Mamata is in Delhi on Tuesday to weave together an anti-BJP alliance. She has indicated her willingness to meet all like-minded leaders
At the recent plenary of the Congress, Navjot Singh Sidhu asked Rahul Gandhi to be ready to hoist the Tricolour at Red Fort. In case the Congress president took Sidhu seriously, he should be watching the evolving politics of Mamata Banerjee carefully, because she seems to have her own mind made up about who should be flying the flag next year.
Mamata is in Delhi on Tuesday to weave together an anti-BJP alliance. She has indicated her willingness to meet all like-minded leaders. Except, of course, the Congress president. The West Bengal chief minister has said she is ready to meet Sonia Gandhi, in case the Congress matriarch has recovered from her recent illness. The Congress could be happy about Mamata's overt anti-BJP crusade. But it should be wary also of her covert anti-Rahulism. It is apparent that Mamata is practicing in public what many other Opposition leaders believe in private: The reluctance to accept Rahul as the next prime minister.
During the past few weeks, Banerjee has emerged as an important player in national politics. She has gone out of her way to meet leaders from the North and South in a bid to put together a federal front against the BJP. Indicating that being anti-BJP is her only ideology, she has parleyed with leaders of parties as disparate as the Shiv Sena, Telangana Rashtra Samiti and Aam Aadmi Party. Her stance shows acceptance for anybody ready to take on the BJP.
The Congress should now be asking itself seriously: What if Mamata succeeds in putting together a coalition against the BJP? What if she manages to bring together the BSP-SP, TRS, AAP, TDP, TMC, BJD, NCP and a few more regional players? If that happens, we are looking at a coalition capable of winning around 120-150 seats in 2019 and giving both the Congress and the BJP a hard time.
Every permutation and combination suggests the Congress on its own can at best double its 2014 tally, putting it in the vicinity of 100 seats. It can gain seats only in Karnataka, Maharashtra, Gujarat, Rajasthan, Madhya Pradesh, Chhattisgarh and Haryana. Everywhere else, it will remain a fringe player.
So, how will the Congress counter a coalition with more seats than its own likely tally in 2019? The answer lies in Mamata's anti-Rahul politics. In every likelihood, the Congress will either have to forgo its dream of leading the next government, or it will have to ask Rahul to step aside for someone else within the Congress.
Mamata's reluctance to deal with Rahul is understandable. She has been in politics since the days of his father, the late Rajiv Gandhi. For her, it would be difficult to accept Rahul as leader just because he is the latest beneficiary of the dynastic culture of the Congress. And, like her, other senior leaders like Sharad Pawar, Chandrababu Naidu, and K Chandrasekhar Rao may have problems with the Gandhi scion. In all likelihood, they would say no to his leadership.
The Congress at the moment can do very little about this but wait for the politics to unfold. Over the years it has become a marginal players in so many states that regional parties no longer fear it. In West Bengal, for instance, Mamata doesn't need to pay much attention to the Congress. Similarly, in Telangana and Andhra Pradesh, where the Congress was the dominant force till 2014, the regional players don't need to keep Rahul in good humour. And since he is dispensable regionally, these parties can afford to dump the Congress president nationally too.
If Rahul can read the tea leaves, he should be ready to play a secondary role in the post-elections politics. The BJP may or may not form the next government. But, Rahul's chances of fulfilling Sidhu's prophesy appear bleaker still.
Politics
On 13 May, Congress leaders will travel to Udaipur to attend 'Chintan Shivir', a three-day brainstorming session, to deliberate on several themes including political, economical, farmers, youth and organisational issues. The last such programme was held in Jaipur in 2013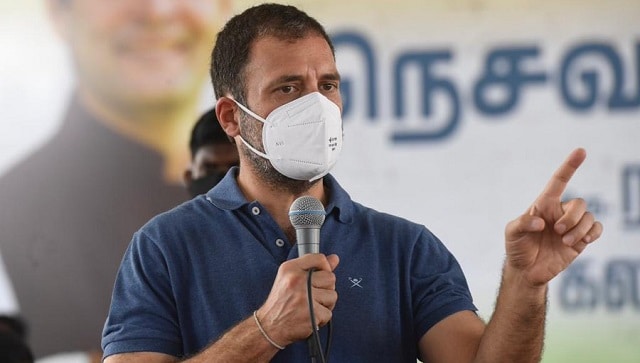 India
Congress leader Rahul Gandhi said there is a fight between two ideologies in the country
Politics
Addressing Congress leaders at the brainstorming camp in Udaipur, Rahul Gandhi said that regional parties lack ideology and cannot fight the BJP-RSS team. He believes it is the Indian National Congress party which can do it