Mamata ready for Delhi, but can old '3rd front' wine be sold in 'federal' bottle?
Handicaps of history can never come in the way of personal ambition though. Fresh from her massive mandate, Mamata Banerjee has already sounded the bugle for 2019. It remains to be seen how the 'alternative force' takes shape around her.
Several times during her election campaign, Mamata Banerjee had made it quite clear that a thumping win in 2016 Assembly election would be a stepping stone to her ambitious project: Mission Delhi 2019.
So it came as no surprise when Mamata, flush with success after decimating the Left-Congress alliance, leading Trinamool Congress to 211 seats (better than even her 2011 tally of 184) and securing a second successive stint as West Bengal's chief minister, announced that she is now ready to "work with friends" to fulfil that ambition.
Typical of Didi, however, to mask that aspiration with a rather exaggerated show of humility.
"I'm a Less Important Person, LIP," she said, emphasising on the acronym during an interview with News18 on Thursday. "I consider myself a commoner. I don't want to play any big role. But small persons can also play small roles. If the country requires me to play a small role, I'm ready for it."
The 2016 Assembly elections across five states have thrown up some home truths and interesting possibilities. The BJP appears well poised to replace the Congress as the new national party with a pan-Indian presence. It's not just the victory in Assam, where it ended Tarun Gogoi's hegemony, the BJP has made inroads into the Left-Congress bipolar citadel of Kerala and has increased its number of seats in West Bengal.
It is the clearest signal yet that at least in the short term, saffron is set to be the dominant colour in national politics beyond even the traditional strongholds of the Hindi heartland. And as is the wont in a multi-party democracy, BJP's rise as a new behemoth has triggered an urge among the regional forces to come together and offer an alternative. The situation has been exacerbated by Congress' rapid decline which otherwise could have served as a counter-balance, an issue that has been discussed in an earlier piece here.
For the third front or 'federal front' to materialise, however, a lot of political alignments and ideological adjustments have to be made. Mindful of the rocky road ahead, Mamata was careful not to pitch herself as the prime ministerial candidate, claiming instead that she's like to remain in the shadows.
"The federal front can play an important role in the country's development. There are so many regional political parties. They can come together. I have no problems in working with them. I can do it from behind also," the West Bengal chief minister told News18.
And later in another interview to NDTV, she hinted at playing the role of a mediator among "many friends" in several states should such a situation arise.
"There are so many friends (that I have). We can sit together and chalk it out. Chandrababu Naidu is my friend. Telangana is our friend. Arvind Kejriwal of course is my friend. I can talk to Naveen Patnaik, Jayalalitha, Mayawatiji, Mulayamji, Laluji, Nitish Kumarji… no problem."
But even if Mamata appeared reluctant to pitch herself to the forefront, her generals made it clear that Didi should be the prime ministerial candidate for 2019.
"The result in Bengal has given Mamatadi political immortality," TMC MP and spokesperson Derek O'Brien said. "She doesn't hanker for any chair but whether she will be the prime minister in 2019, I can only say please don't rule out anything," he told NDTV. "Delhi is two hours and 10 minutes away from Kolkata, but it's even closer if the headwinds are in favour".
The state's industry and finance minister Amit Mitra, fresh from his victory over Left Front candidate Asim Dasgupta, said in an interview to News18 that in the "new paradigm of regional politics, new metrics will be on offer and its contours will be defined by winners, not losers. Regional entities who have gained popular mandate will be ready to move to Delhi. Mamata is bound to play a big role in 2019 because she is the only leader to have beaten the BJP, Congress and the Left."
And later to Times Now, JDU leader Pavan Verma said: "All forces opposed to the BJP need to come together on a platform to work towards 2019."
So the broad outlines of the "federal front" are set. But will this loose conglomerate, even if it manages to put aside differences for a common cause of unseating Narendra Modi, be able to deliver?
The idea of a third front is anything but new. It has been tried so many times that it reminds one of the Mark Twain quote on smoking: Giving up smoking is the easiest thing in the world. I know because I've done it thousands of times.
It has been alternatively called 'third rate front' or the 'most enduring mirage of Indian politics.' The trouble with such an opportunistic front driven largely by negative motivation is not that there is lack of ambition among its proponents, rather the surfeit of it.
And according to Union Finance Minister Arun Jaitley, India can ill afford such a hotchpotch coalition whose emergence is still a matter of conjecture.
"Regional amalgamations are theoretical propositions," he told Times Now.
"In the world's largest democracy, a national government has to have an anchor with a sizeable presence. It could be 116 seats or 180 seats in Parliament, not a party with barely two digits. The confederation of regional parties is an experiment that has been attempted several times and each time, the idea has come a cropper.
"India's experience with such alliances has been disastrous. Therefore, from the point of view of governance, the major national force should be an anchor and keeping federal polity in mind, it will have regional parties around this."
Handicaps of history can never come in the way of personal ambition though. Fresh from her massive mandate, Mamata has already sounded the bugle for 2019.
It remains to be seen how the 'alternative force' takes shape around her.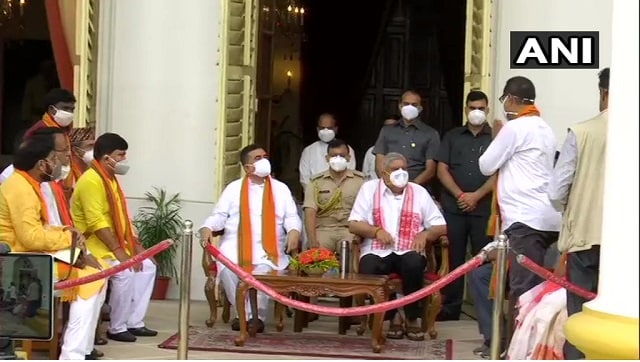 Politics
This is the second time when Adhikari met the governor in June. Earlier he met the governor and submitted a representation about unabated post-poll retributive violence
Politics
Prasada's induction will further wear away whatever's left of the Congress and the Gandhis in Uttar Pradesh, even if it does not yield dividends for the BJP
India
After Nusrat Jahan's case, the government should take a lead and codify the law on subjects like live-in relationships