Mamata Banerjee meets Sharad Pawar, MK Kanimozhi as talks of Third Front gather pace, may visit Sonia Gandhi tomorrow
Trinamool Congress chief Mamata Banerjee, who is currently in Delhi on a four-day visit, met opposition MPs in the Parliament on Tuesday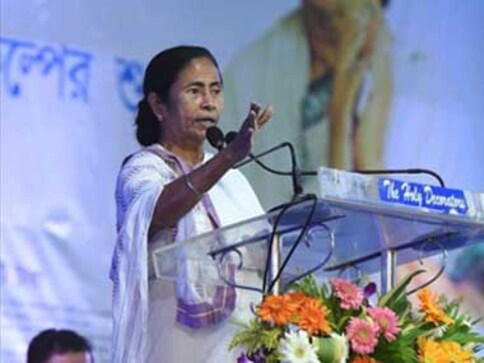 Trinamool Congress chief Mamata Banerjee, who is currently in Delhi on a four-day visit, met Opposition MPs in Parliament on Tuesday.
The West Bengal chief minister met Nationalist Congress Party (NCP) supremo Sharad Pawar and DMK MP Kanimozhi. The meeting focused on the formation of an anti-BJP front, India Today reported. Banerjee also pledged support to Kanimozhi and said DMK will come to power in Tamil Nadu.
Shiv Sena MP Sanjay Raut also met Banerjee in Parliament and said, "We are with you," according to Times Now. The Shiv Sena is an ally of the National Democratic Alliance (NDA).
Banerjee is expected to meet UPA chairperson Sonia Gandhi and Delhi chief minister Arvind Kejriwal while she is in Delhi. The meeting with Sonia Gandhi is expected to take place on Wednesday.
There have been suggestions that the Opposition parties should put up common candidates against the BJP-led National Democratic Alliance (NDA) in the 2019 Lok Sabha elections.
There have also been efforts to form a third front involving parties that want to be equidistant from both BJP and Congress.
Banerjee is seen as a key player in a possible grouping of non-BJP political parties ahead of the next Lok Sabha elections.
Telangana Rashtra Samithi (TRS) chief and Telangana chief minister K Chandrasekhar Rao, who is keen on a third front, had met Banerjee earlier this month.
With inputs from IANS
World
The government of President William Ruto has vowed to take a tough stance over the demonstrations, which opposition leader Raila Odinga vowed would go ahead despite not receiving police authorisation
World
Authorities said they were on high alert to prevent and fight any acts of criminality and maintain public order. Parliament announced that President Cyril Ramaphosa had authorised the deployment of 3,474 soldiers to assist the police
World
Macron's brazen move to force a pension reform bill through without a vote has infuriated the political opposition and could hamper his government's ability to pass legislation for the remaining four years of his term