Mai-baap no more: Cong losing Dharavi's WhatsApp generation
Cong will find that gimmicks can no longer get slumdwellers to vote en masse. Technology, TV and phones mean slumdwellers are connected with issues larger than bijli, paani and gutter. They are talking about corruption, price rise and more.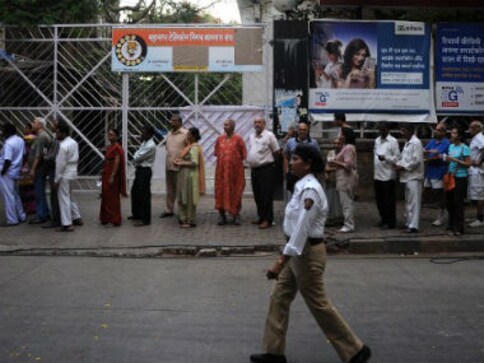 It's polling day in Mumbai and once again, the day has begun with at least one candidate alleging that there were vehicles carrying large sums of cash trying to enter slum areas in Bhandup and Shivaji Nagar, both in the Mumbai North-East constituency.
Elsewhere, a baker in a Muslim-dominated slum in Bandra told a foreign agency that some Muslims among the slum residents will vote for the BJP despite the community's wariness of Narendra Modi -- the Congress government has done nothing for the slums, he said. Mumbai's Congress candidates, on their part, are banking on their core constituents -- the slums and the Muslims -- to hold off the challenge from the Shiv Sena-BJP to their hold on Mumbai's six Lok Sabha seats.
Is there really a thing such as a slum vote? Literally millions of Mumbai residents, homogenous and unified in intent, or perhaps unthinking and illiterate, maybe paid and bribed, that votes en masse?
Not only do Congress workers tend to believe this, but this election there is also the Congress-NCP government's decision to extend protection to slumdwellers who settled any time before 2000, an extension from the earlier cutoff date of 1995. Owing to the new cutoff date -- which was first offered as an election promise in 2004 and then in 2009 and now finally executed weeks before elections were announced this year -- shanties built until 1 January, 2000 are considered protected and eligible for free rehousing under the state's Slum Rehabilitation Authority.
The SRA is in fact a colossal failure and Chief Minister Prithviraj Chavan is among those batting for it to be scrapped. The emotive appeal that new cutoff date of 2000 may have had for slumdwellers in 2004 is hardly there in 2014. And Mumbai's slumdwellers now know only too well that neither the SRA nor the new cutoff date is even the seed of a solution to the financial capital's housing woes.
And still, every Congress candidate in Mumbai disingenuously believes that the extension of cutoff date is reason enough for Mumbai's slumdwellers, who form a decisive voters' bloc at roughly 50 percent of the electorate, to return Mumbai's Congress MPs to Parliament.
No political mai-baap any more
But walk around Mumbai's slums and you won't find many residents so grateful to the Congress for the additional 4 lakh shanties now given protection from demolition. There is no political mai-baap any more, as most residents of the slums and their community leaders will tell you, adequate housing for the urban poor is now widely considered a right to joust for.
Jockin Arputham, now 67, has spent over four decades, working with slumdwellers across the country and is a very familiar face in Dharavi, where he continues to meet residents who come with problems ranging from domestic to housing-related. In 2000, Jockin won the Ramon Magsaysay award for his work with slumdwellers through his National Slumdwellers Federation.
"You cannot any more expect slumdwellers to be waiting for a free ride," he tells Firstpost. Chances that a gimmick like an extension of the "cut-off date" will sweep slum votes now stand completely shattered. "Residents of the slums now have strong and complex opinions about different parties. And they are looking at issues more and more like the middle classes do," he says.
That is possibly because the demographics of the city's slums are now altered far beyond the traditional image of these spaces as filthy and unfit for human habitation.
The idea that the shanty-dwellers are all your domestic help and chowkidars and hawkers and daily wage labourers is a very 1980s thing. Doubtless, these service providers in Mumbai continue to reside in slums but the informal housing sector has grown more nuanced. Slum residents now include your local restaurant manager, the contractor getting grills fixed on your windows, the garage owner, the cashier at the department store, the canteen contractor, all living in the better fitted out slums, some with airconditioners and microwaves.
In an earlier interview to Firstpost, Mumbai North-East candidate from the Aam Aadmi Party Medha Patkar spoke about the gentrification of Mumbai's slums.
"You know now that the slums, especially those that are pucca structures with two and three storeys and have lanes and drains, are home to the lower middle classes too. The residents are factory workers, people working with slum dwellers, all kinds of professionals. They have this feeling that after even 100 years, if their community can be destabilised, displaced, then the state doesn't function for them. These middle class people I meet are clearly taking a position that when they went to the state, their grievances could not be redressed," she told this correspondent.
The smartphone generation
In 2009, amid the global economic slowdown, members of the industrial associations of Dharavi's 13th Compound and Sanaullah compound, men who could speak as authoritatively about competitively priced industrial hubs and taxation as they could about their core skills as recyclers or paint manufacturers, told me that business was slow. "Dhanda is manda," I recollect them saying, very quickly explaining how the global slowdown had impacted them here, how remittances to their workers' native villages had slowed, how even established businessmen in Dharavi were battling the possibility of slowly sliding back out of the middle classes they had painstakingly clawed their way into.
That sense of being in a connected world is now apparent everywhere in Mumbai's slums. Whether it's the garment sweatshops in Bandra who're finding the electricity tariffs oppressive or the foodstuff manufacturers of Bhandup hit by rising input costs or the women making beaded jewellery in their homes in Govandi, slumdwellers find themselves in a shared context of struggle. And that struggle is no longer with some local politician who they can badger for doles. Their struggle is with Delhi, with policy formulation.
So it's little wonder then that Jockin believes the residents of Mumbai's shanty towns are thinking like middle class Mumbaiites do. It's not just paani, bijli and gutter safaai now, he says. The people he meets are talking about price rise, about corruption.
They are even talking about polarisation.
In fact, the lower turnout at Narendra Modi's rally in Mumbai last week, lower than even the turnout for Rahul Gandhi's rally the previous day, is being seen partly as a result of the previous days' anti-Muslim rhetoric, first by the BJP's Giriraj Singh and then by VHP leader Praveen Togadia.
"There were messages on Whatsapp the very next day about a BJP leader saying those who don't like Modi should go to Pakistan," says Idris Alam, 22, working in one of Garib Nagar's tiny clothing sweatshops, just a few metres away from the Western Railway bridge at Bandra. Though not for BJP rallies, his group of friends from Behrampada are rally regulars, borrowing bikes to visit Bandra Kurla Complex for every major event at the rally grounds there. They weren't planning to attend Modi's rally anyway, he says, pointing out that there was no mobilisation by the party in this area, for starters. But there was heated debate over the rally, over the election, over Giriraj Singh, and he got nervous enough to eventually drop out of a Whatsapp group that became too strident for him, he grins.
It's not specific to Muslim dominated slums such as Behrampada.
Every other slum you visit in Mumbai today has a sea of dish antennae from direct-to-home satellite television providers. Smartphones are mandatory, Whatsapp too.
"The arrival of the smart phone has definitely changed the way slum residents engage with issues. They were never really a homogenous group or a unified votebank, but now with smart phones, people realise what the bigger issues are," says Simpreet Singh of the National Alliance of People's Movements and a long-time slum and housing rights activist in Mumbai.
"Their horizons have widened. There are local concerns, but there are also wider issues," Singh says.
United for Congress no more
But that's not to say the Congress's old paani-bijli-sadak-gutter quartet is cast aside.
For example, Ambujwadi in Malvani, one of the most impoverished slums in the city, saw its first electrification as late as February this year. The first residents of Ambujwadi came in the 1990s, members of the Pardhi community who had been displaced from the area around Bandra's Lilavati Hospital where they had settled. They moved at the behest of Dalit leader Ramdas Athavale, but have since been less than loyal party supporters, suffering years of neglect and complete absence of civic amenities, electricity and water supply.
Until very recently, dusk in Ambujwadi meant thousands of kerosene lamps or battery-operated halogen lamps, no more than one to a home, giving the 65 acre sprawl of dirt the appearance of an ad-hoc stopover for its 50,000 residents, a dim, wretched resting place of a too-large caravan.
The Congress party considers Ambujwadi a useful votebank, electrification a big achievement this election. In 2009, Malad West, where Malvani's slums and Ambujwadi fall, gave MP Sanjay Nirupam his biggest lead, helping take home the Congress leader who was trailing the BJP's Ram Naik in two other Assembly segments.
Locals here say they are angry with the Congress MLA and MP, for failing to deliver on the promised water supply and toilets. But in the absence of better alternatives, they may vote their familiar foes back to power. But here too, there are residents of the newly sprouted apartment buildings in Malvani who want the slums wished away, and are threatening to vote against the Congress for encouraging votebank politics.
Dharavi, another long-time Congress stronghold, may no longer vote faithfully for the party. Jockin and others in Dharavi admit that there is widespread loss of faith in the Congress government, Gaikwad, his daughter Varsha Gaikwad who's a two term MLA from Dharavi and also a minister in the state government, over the Dharavi Redevelopment Project fiasco. After an embarrassing series of flip-flops and false starts, having included it as an election promise in 2004 and 2009, the Congress announced the project as having finally kicked off just before the municipal elections in 2012.
In a slum with at least 70,000 households, one single building had been okayed, lip service at its outrageous best. Not surprisingly at all, that building is also now stalled over permissions.
In 2002, the Congress controlled all corporator wards in Dharavi, with residents often saying they knew nothing more than to go and cast a vote in against the 'hand'symbol. In the 2007 poll, the party managed to retain five of the six seats. In 2012, they kept only one, and that too with an embarrassing margin of 68 votes. The people had voted two Shiv Sena corporators to power, and had also picked one 21-year-old first-timer and one RPI man, alleged gangster D K Rao's brother Mallesh Sabareddy Bora. Anybody but the Congress, literally.
Thursday's polling will see new political equations emerge in Dharavi once again. Even if sitting Congress MP Eknath Gaikwad eventually manages to retain his seat, the Assembly segments and municipal wards will be watched closely.
And among those studying those new equations closely is the AAP leadership in Mumbai, keen to build their base in the slums. In slum after slum, you can now find chaiwallahs, shopowners and others sporting AAP caps and volunteering to paste stickers at their establishments or their vehicles.
Simpreet Singh says this is welcome and reassuring, but he's not certain that it will translate into votes, at least not immediately.
"AAP has certainly reached many slums in Mumbai, there is a presence," he says. Their manifesto talks in detail about housing, bigger homes for slumdwellers under SRA. "That emotional appeal has happened," he says, but there is also the identity-based politics inside the city's slums where AAP has not made a dent because of its principled stand against invoking identity of any kind, religion, community or caste, to seek votes. "The Marathi-dominated slums, for example. There we have not made our presence felt yet," Singh says. AAP cannot practise the kind of politics that makes an impact in such slums, he adds.
But he says it'll be interesting to see how emerging parties dent traditional voting patterns in the slums, he says, "especially the Maharashtra Navnirman Sena". For, when Assembly elections come up in October, the new local-level politics playing out in slums could just alter the result of an Assembly seat, as there would be several Assembly seats completely dominated by the urban poor.
For now, the rumours of the vehicles laden with cash will eventually die down, but Mumbai's slumdwellers are probably smarter than the people despatching these vehicles.
also read
Explainers
Bernand Arnault, who owns LVMH – which includes luxury brands such as Louis Vuitton, Moet & Chandon, and Christian Dior – saw a considerable drop in his fortune after shares of the conglomerate declined five per cent on Tuesday. Arnault's net worth is currently at $192 billion
Explainers
The term 'comfort women' has been given to people that were forced to work as sex slaves by the Japanese Army during World War II. It comes from the Japanese word ianfu – which combines the Chinese characters 'comfort or solace' (i-an) and woman (fu)
Explainers
The trouble kicked off after armed miscreants forced people to shut their shops on Monday afternoon. A mob then torched two homes in Imphal, causing security forces to rush to the spot. Chief Minister Biren Singh has said the situation is now under control