Mahendra Singh Dhoni steps down: Virat Kohli's captaincy could lose edge with added responsibility
When Dhoni was reported in the media to have said that this was Kohli's team, he was only stating the obvious: Kohli had succeeded in moulding the players to respond to his outlook.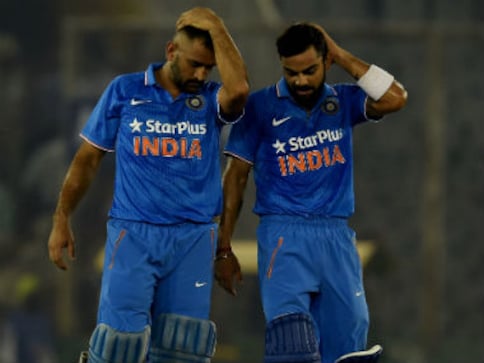 Mahendra Singh Dhoni lived up to his reputation of doing the unexpected when he abruptly quit as captain of India's ODI and T20 team. His resignation after nine years at the helm has caught the followers of Indian cricket off guard.
The decision coming just days before the start of the ODI series against England, from 15 January, could have been termed untimely, except that it provides the new captain an opportunity to test the waters in ODIs before the more challenging multi-nation Champions Trophy to be held in England from 1 to 18 June this year.
Obviously ODIs call for a lot of strategising, from bowling different lines and lengths to different batsmen, to understanding their comfort zones and reactions under pressure and assessing rival bowlers and fielders. Each player in the team is made aware of his role in the drill, though that could be constantly tweaked.
Under the circumstances, because time at their disposal is minimal, the BCCI may anoint Virat Kohli as India skipper across all formats. The logic would be that he is already captain of the Test team and could thus easily slip into the role in other formats too. Thus he would need a shorter gestation time.
While this is true, it would be prudent to move cautiously in this regard. Kohli has a quality that has not been evident in any other Indian skipper: positive aggression.
Unlike many others who use aggression to let off steam or hit their way out of trouble, Kohli's instinctive aggression encompass choice of team, strategies and reaction.
His aggressive instinct has been honed pretty well in the Test arena and he has also got the team responding positively to it. His batsmen, bowlers and fielders are all primed to react like predators and they pounce on every little opening or chance. This trait was seen in the Test series in Ravichandran Ashwin, Ravindra Jadeja, and the others, Umesh Yadav, KL Rahul, Mohammed Shami have also adusted to Kohli's mode of functioning with ease. Even newcomer Karun Nair fulfilled his captain's expectations and delivered in fantastic fashion during that epic triple ton last month.
Thus when Dhoni was reported in the media to have said that this was Kohli's team, he was only stating the obvious: Kohli had succeeded in moulding the players to respond to his outlook. His aggressive approach and delivery paid such rich dividends in Tests that Indian cricket must strive to protect it for as long as possible.
Having said that, it must be accepted that limited overs formats are a different ball game altogether. You need considerable strategising during powerplay overs at the start of an innings and with bowling and fielding restrictions there is precious little a captain can do when things go wrong with a bowler or two.
Dhoni, with his deadpan expressions, mastered the art of conveying to all that he was in control. He ensured that his calm approach spread to the rest of the team and they would not panic when under the cosh. This cool and calculated approach while batting, bowling and fielding reflected well on the team and helped India win matches, including three major ICC tournaments over the two limited-overs formats.
Kohli, on the other hand, is a lot more expressive. He always likes to be in the thick of things and ticks off his players if they don't meet his expectations, whether bowling or fielding.
This was repeatedly seen in the Indian Premier League (IPL) while leading Royal Challengers Bangalore (RCB). In fact, in an open press conference he ticked off Sarfaraz Khan, telling the media that the batsman was dropped from the team, not rested. "There is more to cricket than just batting. If he improves his running between the wickets and fielding he can get back into the eleven next season," he said mid-way through the IPL schedule.
But what could really drag him down is the silly field restrictions in ODI cricket where only four fielders are allowed outside the circle for a large part of the match. This would cause immense hardship for his spinners. The opponents may not be as badly hit as they usually field just one spinner in the eleven and have many fast bowlers as back up.
Constant setbacks and excessive number of matches in which he would have to lead with a different mindset might tell adversely on Kohli's current approach to Test captaincy. In fact, most teams recognise the need to have different folks to captain for the two formats.
But Dhoni's resignation so close to the Champions Trophy and the absence of any worthwhile crop of leaders for the limited-overs format have ensured that Kohli will be asked to lead across formats. Hopefully, it won't blunt Kohli's competitive edge and instead work well for Indian cricket.
First Cricket News
There has been some speculation that CSK captain MS Dhoni will retire after IPL 2023.
First Cricket News
Ravichandran Ashwin and Ravindra Jadeja finished with 25 and 22 wickets respectively as India defeated Australia 2-1 in the Test series.
First Cricket News
On a true track with very little assistance, Ashwin unloaded his bag of tricks to finish the first innings with figures of 6/91 against Australia at the Narendra Modi Stadium