Mahatma Gandhi's legacy will be debated for many years yet: Ramachandra Guha
2 October 2016 will mark Mahatma Gandhi's 147th birth anniversary. Writer Ramachandra Guha discusses the controversies that have now cropped up around the Father of the Nation.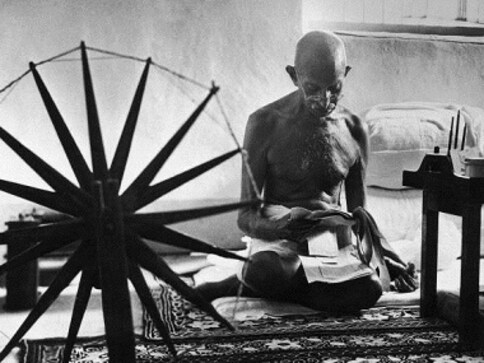 With a low-intensity war but a high-voltage hate campaign against Pakistan in full throttle, with Dalits being horse-whipped in public and Muslims being persecuted for their food preferences, never has the country appeared further from the ideals that the Father of the Nation had lived and died for.
Yet, the Mahatma continued to make news even at age 146, a trend that will only gather steam now that he is turning 147 — on Sunday, 2 October 2016 — and nudging 150, which will fall in the election year 2019.
Sadly, the news is not all good, some downright disturbing.
Who could have imagined that hashtags such as #GandhiMustComeDown would be doing the rounds in the cyberworld and begin trending in the continent that made Mohandas Karamchand Gandhi the Mahatma: Africa.
September saw professors at the University of Ghana start an online petition to remove a statue of Mahatma Gandhi from their campus in Accra because of what they describe as his "racist identity" as exemplified by his use of words such as "savages" and "kaffirs" to describe the indigenous population of Africa. The petition picked up more than a thousand signatures within a matter of days.
The statue was a gift from the Government of India to the Ghanaian government and was unveiled by President Pranab Mukherjee when he visited Accra in June. This is the only statue of any historical figure on the University of Ghana's Legon campus.
Closer home, the new Dalit movement that has been gathering momentum in Gandhi's homestate Gujarat and is capturing the imagination of not just Dalit youth but many across the country, barely acknowledges the man who taught us to discard the wounding appellation "Untouchables" and replace it with the gentler "Harijan" instead.
Caste is Not a Rumour: The online diary of Rohith Vemula, published recently, refers to Dalit icon BR Ambdekar of course and even to America's Black Panther leader of the Sixties, Malcolm X, but not to the Mahatma. "A for Ambedkar, B for Bhimrao, C for caste, D for doctor, E for English, F for foreign..." was sung lustily on the march to Una this August but G is not for Gandhi. G is for Great, the Great Bhim Rao. In fact, all the alphabets all the way to Z record the singers' devotion for only one person, their "L for leader" Babasaheb Ambedkar.
On the other hand, the two "national" parties cannot have enough of the Father of the Nation. If Rahul Gandhi has finally made up his mind to fight it out in court whether he was correct in saying "RSS people killed Gandhiji", one-time RSS pracharak and now Prime Minister Narendra Modi relived in July the train journey in South Africa that started a young, London-educated lawyer on the road to becoming the Mahatma.
Gandhi's compatriot has also exhorted his countrymen to ensure a "Swachh Bharat" as "A clean India would be the best tribute India could pay to Mahatma Gandhi on his 150th birth anniversary in 2019" (even if he inadvertently called him "Mohanlal Karamchand Gandhi" in one rally). The run-up to 2019 has begun.
Who better to explain these confusing signals than historian, columnist, public intellectual par excellence and, above all, Gandhi's biographer Ramachandra Guha. September was an extra busy month for the workaholic Guha, with an interminable round of interviews and talks promoting his new book of essays, Democrats and Dissenters, the routine business of writing his innumerable columns as well as getting packed and ready for on extended book tour-cum-lecture tour abroad beginning on the last day of the month.
Still, he found time to squeeze in answers to a few questions for this Gandhi Jayanti, mainly because he can never enough of Gandhi, "a colossal figure who was without doubt the most influential figure of the 20th century".
Some excerpts:
In their petition demanding the removal of Gandhi's statue from their campus grounds, the professors of the University of Ghana have said, "How will the historian teach and explain that Gandhi was uncharitable in his attitude towards the Black race and see that we're glorifying him by erecting a statue on our campus? The same goes for the human rights lecturer, the International Law lecturer, the Political Science lecturer teaching on apartheid in South Africa, etc." How justified do you think is their move? Was Gandhi really a racist?
Ramachandra Guha: Gandhi was a racist in 1893, when he first reached South Africa. At that time he was in his early 20s, full of the prejudices of his Indian and British upbringing. He then thought Africans inferior to Indians and whites, and said so in public.
However, over the two decades he lived in South Africa, he slowly shed these prejudices. He came to appreciate the quality of African life, to admire their moral sense, and the beauty of their languages and culture. By about 1908 or so, he was advocating the equality of all races.
After he returned to India, Gandhi's views further evolved. He asked the Indians in South Africa to forge a common front with the Africans against the white racist regime. Meanwhile, a steady stream of African-Americans came to visit him in his ashram, taking back his ideas of civil disobedience to their fellows. One of these visitors to Gandhi was Howard Thurman, a great influence on Martin Luther King itself.
Those who today accuse Gandhi of racism are (a) judging the 19th century by the canons and values of the 21st century; (b) cherry-picking from Gandhi's own writings. Gandhi was always willing to change and grow, to acknowledge his errors and mistakes, and his evolution from racist to anti-racist is an example of this.
Those in Ghana or elsewhere who damn Gandhi as a racist are misguided and misinformed. That said, I do not think the Government of India should be funding and installing statues of Gandhi in other countries. That is patronising; besides, would it not be better for the Government to honour and practice Gandhian principles at home?
Staying in Africa, Nelson Mandela had said the teachings of Gandhi had helped topple apartheid in South Africa. Yet, the Ghana university professors' petition says "if there should be statues on our campus, then, first and foremost, they should be of African heroes and heroines... Why should we uplift other people's 'heroes'?" Isn't Gandhi a hero in Africa then?
Mandela was right. By standing up to racist laws, and using collective and non-violent methods of protest in South Africa, Gandhi inspired later generations of anti-apartheid activists; black, white, and Indian. To be sure, Mandela and his African National Congress took the struggle further and deeper. Gandhi is, as I argue in my book Gandhi Before India, in the second (not first) rank of the heroes of the struggle against apartheid. Gandhi is a minor African hero, but a major Indian hero. Finally, to say that Africa needs only (black) African heroes is a form of reverse racism that denies the oneness of humankind. Mandela would have been appalled by the narrow-mindedness of these protesters.
But even in India, the recent upsurge in Dalit pride has little room for Gandhi. Some Dalit leaders have even said "there can be either Gandhi or Ambedkar, there can't be both". And they choose Ambedkar. Why is Gandhi not an inspiration to today's Dalit youth?
It is just and inevitable that Ambedkar should be the great icon of the young Dalits today. He was their emancipator. At the same time, it is a mistake to discount Gandhi's own lifelong fight against caste discrimination. Upper caste Indians should take inspiration from it, since caste prejudice is still so prevalent today.
Any struggle for social justice needs pressure from above and from below. This was true of the movement for universal adult suffrage, where guilt-ridden men finally acted on the demands of activist women, and of the struggle for civil rights in America, where white liberals in power finally bowed to the pressure of the struggle led by Dr King. Likewise, to end caste discrimination India needed, and still needs, both Ambedkar and Gandhi.
The Congress and the BJP are still fighting over the ownership of Gandhi though. Why is that?
The Congress and BJP invoke Gandhi's name for their own cynical purposes. Dalit and Maoist ideologues abuse Gandhi, sometimes in extreme ways. In between lie those Indians who admire Gandhi quietly, persistently. They include those in the environmental movement, many social workers, and even some feminists. And of course all those Indians who stand for inter-religious harmony, which along with the abolition of untouchability was the great theme of Gandhi's life.
Gandhi was extraordinarily compassionate and he believed in dialogue, he believed in listening. When he ran his journal Indian Opinion in South Africa and later Harijan and Young India here, he would give a huge amount of space to his critics. And then he would patiently, carefully try to argue back. He would explain his arguments, sometimes he would elaborate, sometimes he would define them.
As one historian has said, Gandhi's was a dialogic imagination, his politics were of dialogue, reciprocal understanding, listening, the beauty of compromise. These are things that I find wholly lacking in our politics today, and this is particularly true of the BJP and the Congress. I have never seen such poisonous partisanship, the name calling by both sides.
On the other hand, look at the extraordinary work of Ela Bhatt and SEWA, look at such wonderfully selfless social workers like Abhay and Rani Bang in Gadchiroli, the doctors who have eliminated leprosy and malaria among Adivasis, look at the environmental movement, people like Medha Pathkar, look at young Indians — I think there are various ways in which ordinary people discover, rediscover, re-interpret and affirm Gandhi across the world.
Is Prime Minister Narendra Modi's announcement that India will sign the Paris climate change accord on 2 October another such political move? How much of an environmentalist was Gandhi?
Gandhi was indeed a precocious environmentalist. He had warned, as far back as in 1928, about the unsustainability, on the global scale, of Western patterns of production and consumption. "God forbid that India should ever take to industrialisation after the manner of the West," he had said. "The economic imperialism of a single tiny island kingdom [Britain] is today keeping the world in chains. If an entire nation of 300 million took to similar economic exploitation, it would strip the world bare like locusts."
But Modi's invocation here is cynical and amoral, not least because his own Government has further dismantled the environmental safeguards that existed under Indian law. Both the UPA and the NDA have promoted polluting industries like mining at the cost not just of forests, water, and wildlife but also the livelihoods of those rural and tribal communities who depend on these gifts of nature.
Gandhi made news even at the age of 146. But history does not appear to be treating him kindly. Will things go better for him at 147?
There will always be arguments about Gandhi, praise by some and denunciation by others. Since he lived such a long life, worked in three continents, and was active in so many fields — politics, caste and gender reform, religious pluralism, rural uplift — and since he wrote so extensively about his own work (including his failings) he remains a reference point for so many individuals and movements in India and the world. We will be debating his legacy for many years yet!
Politics
Nearly two months after Andhra Pradesh chief minister YS Jagan Mohan Reddy inaugurated 13 new districts, there's trouble brewing in one. Clashes broke out in Amalapuram city against the government's move to rename Konaseema district after Dr BR Ambedkar
Politics
Narendra Modi first entered Parliament in 2014 to much pomp. Be it his speeches or his witty remarks, when the prime minister is in attendance, it comes with some bit of drama
Politics
As a political party with an eye on securing power, expanding its social reach and responding to new challenges, the BJP has often remodelled itself, but without giving the impression of discontinuity. By contrast, its rivals have been less nimble-footed