Maharashtra loan waiver: On 77th birthday, Sharad Pawar tells farmers to start non-cooperation movement against state govt
On Tuesday, NCP president and former Union agriculture minister Sharad Pawar headed an anti-government rally in Nagpur.
On Tuesday, NCP president and former Union agriculture minister Sharad Pawar headed an anti-government rally in Nagpur.
The Halla Bol Jan Aakrosh Morcha, which was held on Pawar's 77 birthday, was attended by around 50,000 people. Senior leaders such as Ghulam Nabi Azad, Ashok Chavan and Prithviraj Chavan from the Congress besides Pawar's daughter Supriya Sule and nephew Ajit Pawar were also present.
The Congress and NCP jointly led the rally and were joined by leaders from the Samajwadi Party, CPI, CPM, RPI and Republican Party of India (Kavade Group). The march aimed to corner the BJP-Shiv Sena government in the state for its unfulfilled promises, including the loan waiver programme, farmer suicides and minimum support price (MSP) price for farmers.
Pawar, addressing the public, said, "Ten years ago, after farmer suicides in Yavatamal, Manmohan Singh visited. We sanctioned Rs 70,000 crore as loan waiver across country in eight days. Of that Rs 8,000 crore was given to Maharashtra."
Pawar added that the earlier government trusted farmers and banks, and said that for the past six months, the government had been repeatedly promising to waive loans. "But the loans have not been waived. Every time the chief minister says 'we'll give, we'll give'. But when will they give?"
Pawar then called for the farmers to start a non-cooperation movement against the state government. "Till the time the money is not deposited in the accounts, no farmer must pay his light bill, society bill or taxes."
Pawar said that the movement would continue until the farmers received the MSP and the loan waiver. The NCP supremo urged the people attending the rally to go from village to village and spread the word. "We do not want charity," he added. "We want our promised to be fulfilled."
Pawar also took aim at Chief Minister Devendra Fadnavis. "Two days ago, Fadnavis threatened an NCP leader. He said that whatever scams, scandals and corruptions took place, we will act against it. As a chief minister, as head of state, no one has stopped you. Take whatever action you please. However, if you try to threaten us, know that we have the strength to root you out. Do not underestimate the power of farmers. The farmers who gave you the seat of the chief minister can take the seat away."
Pawar also took aim at Prime Minister Narendra Modi over his remarks about the meeting held at Mani Shankar Aiyar's residence last Wednesday. "As head of the country, Modi should be ashamed. How can he even think such dirty thoughts? Manmohan Singh's integrity and patriotism should not be questioned. We have not allowed foreign powers to come here and take root."
"This morcha will not end here," Pawar concluded. "We will uproot the Fadnavis and Modi government."
Former Jammu and Kashmir chief minister Ghulam Nabi Azad also addressed the crowd: "This government lied its way to power. It made false promises, lying is in their nature. Modi ji, you are the prime minister, and you made certain assurances to the people, especially farmers, about MSP, farmer suicides and increasing the standard of living of farmers so that they can stand on their own feet. However, three years later, not one promise has been fulfilled."
Azad, the group leader of Congress in Rajya Sabha, termed Modi as the guru of making announcements, adding: "We are used to hearing your lies as you have repeatedly done so in Parliament, but you have lied to farmers. Insulting farmers is an insult to the nation and that is something we will not forget and the farmers will not forget."
Azad added that he had a great attachment to Maharashtra because he was elected Member of Parliament for the first time from the state. "The fame I have achieved in politics is because of Maharashtra and Nagpur. Even though I belong to Jammu and Kashmir, I have a special fondness for the people of Maharashtra, so I am here to share your pain."
Azad added that both the Modi government at the Centre and the Fadnavis government at the state make false promises and both have done great injustice to farmers. "This Halla Bol Jan Morcha, which has started from here, will be taken to Parliament on 15 December," he said. "It is our responsibility to do so." He added that wherever he went, people said that under the UPA, the problems of farmers were solved immediately. But now, only promises about transparency were made and nothing is solved.
Speaking on Modi's accusations about the Mani Shankar Aiyar meeting, Azad added: "We've never played such type of low politics. But we can't expect anything from you Modi ji, because you are an expert at lying."
Azad concluded that after many years, Congress and NCP were sharing a dais together, adding that perhaps someday, they would be united again. "2019 is only a year away. Don't forget the way they've treated you," he exhorted the crowd. He said the removal of Modi government at the Centre and the Fadnavis government at the state would start in Maharashtra and Nagpur.
News & Analysis
The Bajaj Chetak e-scooter is now available in Nagpur, and will soon be introduced in Mysore, Aurangabad and Mangalore.
India
As the Opposition creates ruckus in Parliament, the Centre says the controversy is an attempt to malign Indian democracy and its well-established institutions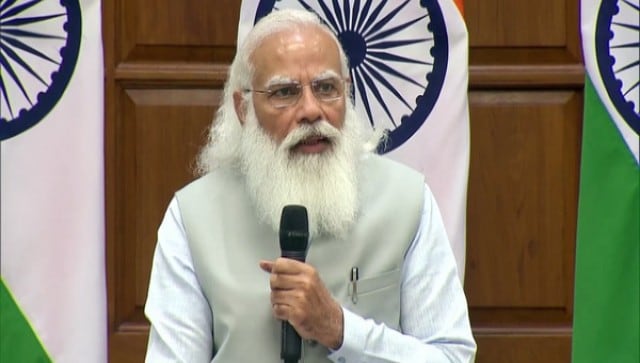 Politics
Leaders, including from the TMC and the CPM, also said that when the pandemic and issues related to it can be discussed on the floor of the House, what was the need to go 'outside'