Maharashtra, Gujarat civic polls: BJP sweep shows demonetisation dividend for PM Modi
If he was catapulted to power in 2014 in a wave of support, Modi has also worked assiduously towards maintaining this bond.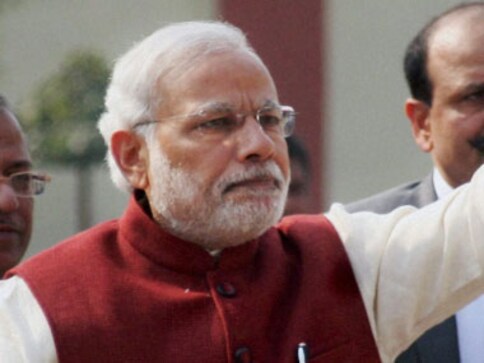 The sheer audacity of the concept, the lack of global precedents of outlawing in one fell swoop practically the entire circulating currency of a booming economy of this scale and size and the shock and awe it has generated have prompted many commentators to call demonetisation a breathtaking gamble.
And yet Prime Minister Narendra Modi isn't a gambler. To take a decision that so deeply, overwhelmingly and adversely (at least in the short term) affects 1.25 billion people at the same time requires nerves of steel, massive self-confidence and an unshakable conviction in one's actions. This isn't the faux bravado of a punter walking into the betting zone hoping for a favourable roll of the dice.
Modi's confidence, the bedrock behind his insanely risky manouvre, stems from a deep connect with the masses. The courage to venture where lesser politicians fear to tread comes from a belief that he has the plebeian pulse. This belief, in turn, is based on his shtick as a people's leader. Two and a half years into his tenure as prime minister, Modi has avoided the trappings of India's most powerful office and has gone out of his way to nurture this umbilical cord. This not only gives him a perspective few politicians can match, it also keeps him rooted.
If he was catapulted to power in 2014 in a wave of support, Modi has also worked assiduously towards maintaining this bond. He has attended more public rallies in two and a half years as prime minister than many former officeholders have done in their entire tenure. While to a certain degree it reflects the paucity of leaders in BJP who can match his stature, it also indicates Modi's willingness to remain in constant touch with the electorate.
Between now and next year's Assembly elections in five states, for instance, Modi will attend a slew of public rallies and yatras. He will attend one rally per week in UP alone. Apart from these direct outreaches, the prime minister maintains a close relationship with his social media followers, reaches out to the youth and takes feedback through a variety of mobile phone apps and uses the radio to address people every fortnight through his Mann ki Baat programme which is translated in 30 different languages.
This breathless, non-stop conversation with people allows Modi to gain insights that enable him to not only take decisions that may seem political suicide to many and befuddle rivals, but also to stay the course even under extreme pressure. He has refused to buckle under Opposition demands to roll back demonetisation and has appeared unwilling to engage with them on their terms, firm in a credence that people still trust him.
That this isn't a misplaced trust has been made clear by recent events. If recent bypoll results are any indication, demonetisation has not been able to dent Modi's popularity, in fact has even enhanced it.
In the first phase of Maharashtra municipal council elections, results of which came in on Monday, BJP managed to make significant inroads and is heading towards getting 50 mayors elected, winning in places where it never had any footprint. The party won 851 seats in the polls conducted in 165 civic bodies.
As a report in The Telegraph points out, "How big the BJP leap is can be gauged from its winning a clear majority in 31 municipalities, bagging 52 president's posts and pocketing about 900 municipal councillors' seats. In 2011, the BJP had no ward member in 80 of the 147 councils; in the remaining 67, it had some 200 councillors. Its ally, the Shiv Sena, had about 250 councillors in all." In 2011, adds the report, "The NCP and the Congress were no. 1 and 2 with 950 and 771 seats, respectively. This time, the two have won about 900 wards."
Municipal polls are fought on local issues. This time, however, poll pundits had predicted a backlash against BJP with demonetisation woes and ban on corporate banking expected to weigh down the party.
A report in The Indian Express just ahead of the polling day claimed that a polarisation had taken place against the BJP with even ally Shiv Sena joining the Congress and NCP corner in targeting the prime minister over currency woes.
"In a clear departure from the past, the local body elections in Maharashtra are veering around demonetisation instead of local issues. The bijli, sadak, pani slogan has given way to a currency debate across districts gearing for local polls. In the last 72 hours, it has become evident that the BJP is facing isolation even as Congress, NCP and Shiv Sena are making currency replacement a weapon to target Modi and the BJP."
So if the referendum was sought on demonetisation, BJP's overwhelming success would indicate that people not only are staying strong behind Modi, the note ban has actually brought political dividends for BJP.
The Maharashtra municipal polls results are in sync with the recent bypoll results where BJP either retained their seats where they are the incumbent power or registered a handsome increase in vote share. In the North East, it replaced Congress as the dominant force and emerged as the main Opposition force to Trinamool Congress in West Bengal.
In Tamil Nadu bypolls where it's usually a two-party fight between the AIADMK and DMK, a Livemint report points out that while AIADMK retaining the top spot followed by DMK is not a surprise, what is definitely astonishing is that Vijayakanth-led Desiya Murpokku Dravida Kazhagam (DMDK) has been pushed to fourth place by the BJP.
And in results which came in on Tuesday, the BJP followed up its success in Maharashtra civic polls with another thumping win in Gujarat.
According to a NDTV report, of the 126 municipal and district panchayat seats in 16 districts which went to polls, the BJP won 109, gaining 40 seats from the Congress. The Congress, added the report, managed to win only 17 seats. The mandate comes as an adrenaline boost for BJP with less than year to go for Assembly elections in a state which seemed to have slipped out of BJP's grasp under former chief minister Anandiben Patel. The win, therefore, is an unquestioned backing for Modi's note ban policy that transcended local discontent.
Modi's detractors and political rivals, who were until very recently projecting the bypolls as a dipstick for Modi's demonetisation, have since been found busy trying to explain why these results should not be taken as indicative of public support for currency ban. The rhetorical gymnastics shall continue. Truth is, if Modi is getting away with such a large-scale disruption and is even benefiting from it, it is a testimony to his intense and reciprocal relationship with the masses.
Politics
The BJP has put a full stop to the unending chain of Harak Singh Rawat's bouts of unhappiness, tantrums, complaints, uncharitable statements on former chief ministers over five years.
India
Khanna is a businessman and two-term former MLA who had not been much active politically after quitting the Congress some years ago
Politics
Rawat, who holds the forest, environment, labour and employment portfolios in the Uttarakhand cabinet, had left Congress to join BJP in 2016