Maharashtra farmers call off stir; four protesters critical after 180-km-long march: Key developments
The march has been organised to protest the alleged failures of the BJP government on the farm front, demanding a complete and unconditional loan waiver, ensuring implementation of minimum support price and implementation of recommendations of the Swaminathan Commission and the Forest Rights Act 2006.
Thousands of protesting farmers who had thronged streets of Mumbai have decided to call off their protests on Monday, after receiving a written reassurance from Chief Minister Devendra Fadnavis. The government and protesting farmers were able to break the impasse after a three-hour-long meeting in which the government agreed to sincerely look into their requests, while promising time-bound action into some of them.
The government has also made arrangements to send back protesting farmers; Central Railway will run two special trains from Mumbai's CSMT to Bhusawal at 8.50 pm and 10.00 pm on Monday to send the agitating farmers back, ANI reported. The government had also arranged for medical vans and a team of doctors to treat those who suffered injuries along the enduring 180-kilometre-long walk.
According to Thane Civil Hospital in-charge Dr Sanjay Wathore, over 600 people were treated for complaints like feet blisters, minor injuries and dehydration, of which four remain critical. Three people have been admitted to the JJ Hospital while one person is undergoing treatment at St. George's Hospital.
Mumbai's Azad Maidan turned into a sea of red on Monday morning as over 35,000 people converged at the venue after embarking on a 'Long March' last Tuesday. The march was organised to protest the alleged failures of the BJP government on the farm front, including non-implementation of recommendations of the Swaminathan Commission and the Forest Rights Act by the CPM-affiliated All India Kisan Sabha. Senior communist party leaders such as Sitaram Yechury also came in to extend their support to the protesting farmers, while Opposition Congress and Nationalist Congress Party rounded the government over the alleged failure of its agrarian policies in the Assembly.
Government promises time-bound action on demands, says farmers satisfied after discussion
Farmers have been demanding an unconditional loan waiver scheme as opposed to the announced cap of Rs 1.5 lakh in the waiver announced in 2017. The government has said it will consider their request. However, the major breakthrough was the announcement of a special committee, headed by the chief secretary to look into the forest land rights. The government promised that the discrepancies will be resolved within six months.
The Fadnavis government also assured farmers to ensure better implementation of social welfare schemes and promised to issue new BPL ration cards to the farmers and tribals as they have not been renewed in many years. The chief minister also announced setting up a ministerial committee to review and process the farmers' demands. The committee includes revenue minister Chandrakant Patil, water resources minister Girish Mahajan, co-operation minister Subhash Deshmukh, public undertakings minister Eknath Shinde and tribal welfare minister Vishnu Savra.
What are the protesters' demands?
The march has been organised to seek a complete and unconditional loan waiver, ensure implementation of minimum support price and implementation of recommendations of the Swaminathan Commission and the Forest Rights Act 2006.
The farmers have demanded a change in the plan to link rivers in Nashik, Thane and Palghar districts so as to ensure that tribal lands are not submerged and water from the scheme be made available to these areas and other drought-prone districts. They are also protesting against the state government's land acquisition for projects such as high speed rail and super highways.
"We are demanding an increase in pension schemes for poor peasants and farm workers, compensation for losses due to pink bollworm and pest attacks and rehauling of the public distribution system," the march organisers had earlier said.
The agitating farmers are also demanding compensation of Rs 40,000 per acre for destruction of crops due to hailstorm and pink-worm, allocation of forest land under cultivation to farmers
Why farmers' demands are no longer about loan waiver
Economists, politicians and policy experts alike have been flaying state governments for announcing farm loan waivers as a measure for immediate relief. Fadnavis too had gone on record to say that he does not believe that farm loan waivers can be a lasting solution to agrarian crisis. But this time around, the host of issues raised by farmers were much more than just loan waivers.
An outstanding majority of those who marched to Mumbai constituted of tribal people which brought to the fore a different edge to the agrarian crisis faced by rural Maharashtra. The agitation was less about farm loan waivers and more about drawing the government's attention to policy loopholes that have failed to help impoverished farmers of the state.
Many of the participants in the protests were either tribals, demanding implementation of Forest Land Rights Act 2006, or land tillers (not owners) who have no institutional credit to their name but suffer excruciatingly in case of a failed crop. Their demands included basic things such as new and renewed ration cards so that they can access the Public Distribution System, which is their right; or imploring the government to fix data/ technical errors in the database of beneficiaries for social welfare schemes such as Sanjay Gandhi Niradhar Yojna and Shravan Bal Yojna.
The farmers were also demanding better irrigation facilities and better implementation of Minimum Support Prices, previously declared by the government.
Political reactions
BJP's ally in government Shiv Sena threw its weight behind the thousands of farmers and said the party would back them regardless of their red flags. "They are farmers who need to be heard. It's unfortunate to be insensitive to those who feed us and put ideological cages on them. I'm proud of my fellow Shiv Sainiks who are with them nursing their wounds, and voicing the farmers in the Assembly too, only seeing their need," Aditya Thackeray tweeted.
I spoke to them yest., and before when we toured the State to hear them, help them. No I didn't see the red flags, I saw their red blood which is the same as ours. Whichever the flag they carry, whoever their political hero, govt has to hear them. Fellow citizens #Farmers (1/2) pic.twitter.com/016vWnq999

— Aaditya Thackeray (@AUThackeray) March 12, 2018
Former union agriculture minister and NCP leader Sharad Pawar criticised the government for its failure and warned that if the demands were not conceded, "the fire of the farmers' ire will spread from all over Maharashtra to all over India,". Congress president Rahul Gandhi urged Fadnavis to shed his ego and accept the "just demands" of farmers.
The mammoth #FarmersMarchToMumbai is a stunning example of people's power. The Congress party stands with the Farmers & Tribals marching to protest against the Central & State Govts. apathy. I appeal to PM Modi and the CM to not stand on ego and to accept their just demands. — Office of RG (@OfficeOfRG) March 12, 2018
The BJP's Poonam Mahajan had said that the farmers' protest is fuelled by 'urban Maoists'. "They (farmers) are holding the flag of Communists, and urban Maoists are misguiding them," she said.
"If you have seen this march, it is a big and peaceful march, with farmers holding a communist flag. They've all come from northern Maharashtra. With respect to all this, what do all these farmers want? They have accepted the loan waiver has happened. When the chief minister sits with the farmer leaders, they'll sort out the issues," Mahajan said earlier. However, the chief minister had said that the government was sensitive to their demands.
Mumbaikars helped protesting farmers, offer food, flowers, footwear
As politics over the political inclination of those protesting goes on, Mumbaikars have come out in support of the poor farmers who took a long march to reach Mumbai. City residents were seen offering 'Vada-pav', other food items and water to farmers last night. A Mumbai resident also posted on social media a picture of food and water being distributed to farmers. Reports also came that several people offered more comfortable footwear to those walking for miles in their chappals.
The famed dabbawalas of Mumbai also came out to help the protesters who had taken on to cover around 180-kilometre on foot in six days, braving scorching heat.
Subhash Talekar, the spokesperson of Mumbai Dabbawala Association, said, "We thought about helping the farmers with food as they are our food-providers and have come from remote parts of the state."
"We asked our men working between Dadar (in Central Mumbai) and Colaba (South Mumnbai) to collect food and deliver it to our farmer brothers at the Azad Maidan," he said.
Dabbawalas, the tiffin-carriers known for their efficient delivery service, provided food to the protesters as a part of their 'roti-bank' initiative.
Govt reached out to protesters from start, tried dissuading from march: Fadnavis 
Reacting to criticism for 'making' farmers come this far to talk to the government and not meeting them half-way, Fadnavis said his government was in touch with the march organisers before the protest began.
"When this protest march was about to begin, Girish Mahajan from the government side spoke to the farmers and tried to dissuade them from starting the protest march. The government tried to start a dialogue with the farmers but they were adamant to start a protest march," Fadnavis told the Assembly.
"But they were adamant on the march. We tried to talk to them. All help was provided, like traffic management and deployment of medical vans," he said.
Opposition leaders Vikhe Patil had said, "Why couldn't the government talk to them before the march began from Nashik on March 6. Such hardships for tribals and farmers could have been avoided."
The chief minister had faced backlash on this accord on social media as well.
With inputs from agencies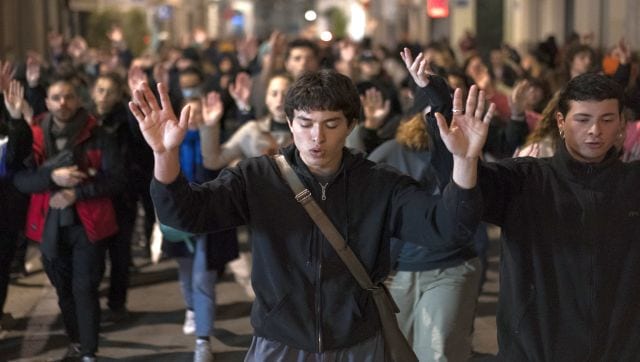 World
France has been seeing protests, which have turned violent in recent days, as the Emmanuel Macron government pushes pension reforms through parliament. In India too, there's a debate on the pension scheme, some arguing that the old method is fiscally unsafe
Explainers
India recorded 3,016 new COVID-19 cases in the past 24 hours — a 40 per cent jump since the day before. Experts attribute the rise in infections to the emergence of the XBB.1.16 Omicron variant, which has a high transmission rate