Maharashtra and Haryana campaign: How Modi's foreign trips could help BJP in state assembly polls
It was heartening to see PM Narendra Modi putting foreign policy to electoral use during the ongoing assembly elections in Maharashtra and Haryana.
It is heartening to see Prime Minister Narendra Modi putting foreign policy to electoral use during the ongoing assembly elections in Maharashtra and Haryana.
It shows that the 130 days he has been in office, Modi has focussed really hard on foreign policy. And why not? Apart from receiving all seven SAARC leaders (and Mauritian PM) for his 26 May swearing in, Modi has paid bilateral visits to Bhutan, Nepal, Japan and the United States (in that order) and Brazil for the BRICS summit in the past four months.
This is indisputably a very crowded diplomatic calendar for a new Indian PM, something which is rather unprecedented in such a short duration at the beginning of tenure in the history by any Indian Prime Minister.
That is why in his election rally in Mumbai on Saturday Modi invoked his recent trip to the United States and his talks with the visiting Chinese President Xi Jinping.
On the former, he repeatedly explained how Brand India had reached the American shores and rhetorically asked who had made it possible. Very graciously and self-effacingly he responded to his own question by saying that no, it was not Modi, but the 125 crore Indian people who had made it possible.
As an aside, it must be pointed out that Modi has historically talked about the number of the people he is leading as it was his constant refrain of "five crore Gujaratis" when he was chief minister of Gujarat.
Throughout his speech at the Mumbai election rally, Modi tried to repeat his Madion Square Garden (New York) magic and rhetorically asked leading questions from the crowd, expecting chants of "Mo-di,Mo-di, Mo-di" from the crowd. The Mumbai crowd did respond but unfortunately in much lower decibels.
Quickly realizing that Mumbai is not Madison Square Garden, Modi shifted to another "foreign policy victory" of his and mentioned how he had successfully pulled off a major concession from his interactions with the visiting Chinese President by getting another route for Kailash Mansarovar Yatra.
Modi told the audience that he had been on Kailash Mansoravar Yatra thirty years ago and it was a hazardous trek. He also remembered that the only available Yatra route to Kaliash Mansarovar was too hazardous for the old and the infirm and added that the new route, available to India now (only because of him), was pilgrim-friendly.
Modi's first day of electioneering for the Maharashtra and Haryana assembly polls puts foreign policy at the center of his publicity blitz. It clearly demonstrates the Modi government's strategy of using foreign policy in state assembly elections which has never happened in India before.
The Modi pitch on foreign policy for the assembly polls is a good thing to happen for India as it tends to integrate the Indian masses to a wholistic concept of India and seeks to sensitize the man on the street about the wonders foreign policy can bring about.
This is something no Indian Prime Minister has done before and in that respect Modi's approach is laudable.
Though, in the political context, it remains to be seen whether such an approach can set the vote registers ringing.
Opposition parties, naturally, will think otherwise. The opposition, for instance, is not at all convinced that Modi's trips abroad and his engagements with top foreign leaders at home have actually led to India shining.
Well, the world will get to know on 19 October (when results of Maharashtra and Haryana assembly polls are announced) whether Modi's hard-selling of his supposed achievements on the foreign policy fronts are actually bought by the electorate or not.
During his foreign trips, particularly his just-concluded US visit, Modi got an indulgent Indian media. The Indian journalists, from electronic as well print media, were virtually engaged in a competition with one another to eulogize Modi, much to the consternation of the opposition.
And yet there were oases of criticism in the Indian media; those who had a much different point of view about Modi's US visit.
Sample the editorial comments of Business Standard, published on 2 October, under the headline "Flawed news coverage of prime minister's US trip". It opens like this:
"Prime Minister Narendra Modi's trip to the United States was marred by news reporting that was excessively fawning. Coverage was, in fact, reminiscent of the bad old days of state-controlled media, when the nightly news bulletin on Doordarshan was little more than a paean of praise to Rajiv Gandhi or Indira Gandhi. In fact, the saturation coverage was so disproportionate to the actual scope or achievements of the prime minister's visit that it was embarrassing."
The Business Standard editorial comment can be read in its entirety here.
The Modi government's spin doctors described on Saturday PM Modi's US visit as "a game-changer" and pointed out how the USIBC (United States India Business Council) had expressed "willingness" of American companies to invest $42 billion in India in the coming years. They also said that such a determination was made by just 20 per cent of the companies affiliated with the USIBC and if all the companies' views were taken into account then it won't be unfair to presume that at least $100 billion worth investments from American companies would flow into India in the near future.
However, the stated figure of $42 billion worth of investments by American companies into India is only a statement of intent; nothing more.
For the next eight days, Modi is expected to showcase his "achievements" in the foreign policy arena as he criss-crosses the poll-bound Maharashtra and Haryana.
But the proof of the pudding will be in eating!
Find latest and upcoming tech gadgets online on Tech2 Gadgets. Get technology news, gadgets reviews & ratings. Popular gadgets including laptop, tablet and mobile specifications, features, prices, comparison.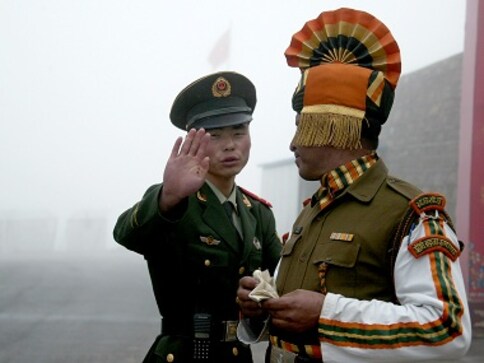 India
Such online psychological operations target internet users with selective messaging, which includes altered facts and disinformation which then influences the targeted users' emotions and objective reasoning.
India
Narendra Modi reached Ladakh early in the morning and is being given a joint briefing by the Indian Army, Indian Air Force and the Indo-Tibetan Border Police (ITBP) at one of the forward locations in Nimu
Politics
In his speech on Tuesday, Modi had referred to 'Chhath Puja' twice, though the festival which is the biggest in Bihar, is close to five months away.